Cloud Native Ambassadors (CNAs) are individuals who are passionate about Cloud Native Computing Foundation technology and projects, recognized for their expertise, and willing to help others learn about the framework and community.
Successful ambassadors are people such as bloggers, influencers, evangelists who are already engaged with a CNCF project in some way including contributing to forums, online groups, community events, etc.
The Cloud Native Ambassador program exists to empower community members with tools and resources needed to:
Promote cloud native projects and technology
Educate a local community on the CNCF mission
Contribute to CNCF projects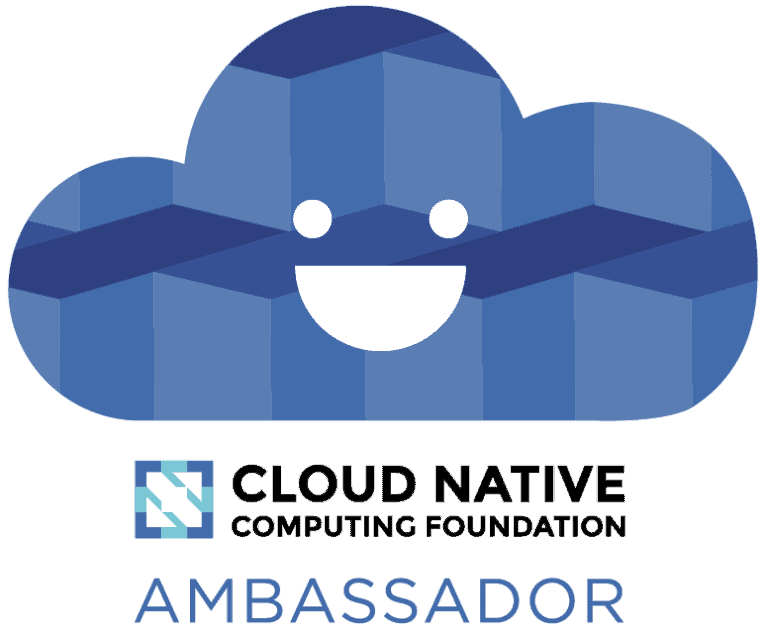 Requirements for becoming an official Cloud Native Ambassador are:
Affiliated with a CNCF member OR is a contributor to a CNCF project.
Already engaged with the project in some way whether that's as a contributor, blogger, speaker, etc.
Willing to either speak at community events OR write technical content such as blog posts.
Host a cloud native community meetup. See our community for areas already covered.
Are you interested in becoming an official Cloud Native Ambassador?
We are currently looking for Ambassadors who organize/can organize meet-ups around containerd, CoreDNS, Fluentd, gRPC, Kubernetes, Linkerd, OpenTracing, and/or Prometheus in countries/states not already represented.
Ambassadors
Abubakar Siddiq Ango
GitLab
Abubakar Siddiq Ango is a Developer Evangelism Program Manager at GitLab, where he finds better ways for the Developer Evangelism team to engage with the community and measure its impact. He is…
Alessandro Vozza
Microsoft
Alessandro is a Technical Evangelist at Microsoft based in Amsterdam, and very passionate about open source communities, DevOps and Kubernetes.
Alex Ellis
OpenFaaS
Alex leads the OpenFaaS project and community. Through his consultancy, he also helps companies reach developers and adopt Cloud Native technologies.
Alison Dowdney
Independent
Alison is a Cloud Enthusiast and Kubernetes Contributor who is passionate about Cloud Native Technologies.
Pronouns: She/Her/They/Them
Anais Urlichs
Codefresh
Anaïs is a Developer Evangelist at Codefresh. When she is not advocating DevOps best practices, she runs a YouTube Channel centered around Kubernetes. Before Codefresh, Anais worked in the blockchain space, contributing to Community…
Animesh Singh
IBM
Animesh is an STSM and Lead for IBM Cloud Platform. He has been with IBM for more than 10 years and currently works with customers in designing cloud computing solutions on OpenStack, Cloud Foundry, Docker and Serverless Architecture, and is the lead for IBM Bluemix.
Annie Talvasto
Annie Talvasto, a cloud-native technology marketer, is an international technology speaker and specialist in Kubernetes & cloud native ecosystem. Annie hosts & produces the Cloud Gossip podcast and has been a co-organizer…
April Kyle Nassi
Google
April Kyle Nassi is a community manager at Google, where she helps to support and grow the gRPC ecosystem, as well as other open source projects.
Ariel Jatib
NetApp
Ariel is Principal Designer at StackPointCloud, Inc. He founded and organizes the New York, Seattle and San Francisco Kubernetes Meetups, regularly hosting the New York event.
Aurélie Vache
OVHcloud
Aurélie is a DevRel (Developer Advocate) at OVHcloud in Toulouse, France.
Pronouns: she/her
Ayrat Khayretdinov
Google
Ayrat (a.k.a Archy) is a Hybrid Cloud and Application Modernization Specialist at Google.
Bart Farrell
Bart Farrell is the Community Leader of the Data on Kubernetes Community where he gets to interact with folks from all over the world committed to open source and sharing knowledge.
Bartłomiej Płotka
Red Hat
Bartek Plotka is a Principal Software Engineer at Red Hat with a background in SRE, currently working on Observability. As the co-author of the CNCF Thanos project and core maintainer of various…
Baruch Sadogursky
JFrog
Baruch Sadogursky (a.k.a JBaruch) is the Developer Advocate at JFrog. His passion is speaking about technology.
BMK Lakshminarayanan
Bank of New Zealand
BMK is a passionate Solutions Architect with over 20 years of ICT experience with the Bank of New Zealand.
Bob Killen
University of Michigan
Bob is a Research Cloud Administrator with the Advanced Research Computing Technology Services (ARC-TS) group at the University of Michigan.
Brad McCoy
Moula
Brad is the Head of Cloud Engineering at Moula focusing in the Cloud Innovation space, and DevOps. He contributes to a lot of open source projects focusing on Kubernetes, Argo and Keptn. Brad has a passion for mentoring and guiding people through their open source journey.
Pronouns: he/him
Carlisia Thompson
VMware
Carlisia works as a Senior Member of Technical Staff at VMware.
Chakradhar Rao Jonagam
Red Hat
Chakradhar is a Solutions Architect specialized in Container technologies at Red Hat inc. Evangelizing containers to customers is his day to day job. traveling is another obsession.
Chris Gaun
D2iQ
Chris is the Product Manager for Mesosphere Kubernetes Engine.
Chris Hein
Apple
Chris is an Engineer & Developer Advocate for Apple with a focus on Kubernetes, open source and cloud native technologies.
Chris Kühl
Kinvolk
Chris is CEO & co-founder of Kinvolk, a Berlin-based Linux development company working on technologies at the foundation of cloud native computing.
Chris Short
AWS
Chris Short has spent more than two decades in various IT disciplines, from textile manufacturing to dial-up ISPs to DevOps engineer to manager of DevOps to senior Developer Advocate.
Pronouns: He/Him/His
Christian Jantz
Safewrd Ventures
Open source person since the early days by joining Fedora Linux, who ended up doing cloudy things.
Craig Box
Google
Craig joined Google as the Kubernetes project was being conceived, and has worked on it ever since.
Dan "Pop" Papandrea
Sysdig
Dan "Pop" Papandrea is the Lead of Open Source Community and Ecosystem at Sysdig, focused on helping the Falco community to contribute to and adopt the runtime security project. Previously, he was…
Daniel Oh
Red Hat
Daniel Oh is a senior principal technical marketing manager at Red Hat. He's well recognized for the cloud-native microservice and serverless functions development with Kubernetes, Quarkus, and many other open-source projects across regions.
Dave Zolotusky
Platform Engineer at Spotify
Dave is an engineer in Spotify's Platform team, where his focus has been core infrastructure, the data platform, and Spotify's use of cloud services
David McKay
Equinix Metal
David is a Senior Developer Advocate at Equinix Metal and a member of the Kubernetes org and release team. As a professional technology magpie, David was an early adopter of cloud, container,…
Diane Mueller-Klingspor
Red Hat
Diane is the Director of Community Development at Red Hat, laser-focused on OpenShift ecosystem and passionate about creating new models of cross-community engagement. She codes and makes things in Canada.
Diógenes Rettori
JPMorgan Chase & Co.
Diógenes is an Executive Director at JPMorgan Chase & Co.
Divya Mohan
HSBC
Divya is an active contributor to the Kubernetes project and is the lead for SIG Docs in the LitmusChaos project.
Duffie Cooley
Isovalent
Duffie is Field CTO at Isovalent. He works in our community helping folks understand and adopt a range of technologies. From Kubernetes to a deep understanding of networking and security to…
Pronouns: He,His
Eileen Teng
Alibaba Group
Eileen is the Manager of Developer Relations and Manager of Community Development at Alibaba Group, where she helps to support and grow the Dragonfly ecosystem, as well as other open source projects.
Es Zou
zouyee is a maintainer of coredns project, also the member of kubernetes and knative community. He founded and organizes the SUZHOU CloudNative Meetups, leads some local meetups such as Kubernetes Meetup SuZhou and Serverless&CoreDNS Meetup…
Fabian Reinartz
Google
Fabian is a software engineer at Google, one of the core developers of Prometheus, and a co-founder of the Kubernetes SIG instrumentation.
Feynman Zhou
Feynman is a technical writer and open source community manager at QingCloud, he is growing and maintaining the KubeSphere open source community, which helps users to widely adopt Kubernetes and reduce the learning curve…
Gianluca Arbezzano
InfluxData
Gianluca is a Site Reliability Engineer at InfluxData. He was previously a Software Engineer focused on PHP development for CurrencyFair. He is a big Open Source contributor for several projects including and not limited to Zend Framework, Docker, and InfluxDB.
Giri Kuncoro
GOJEK
Giri is a software engineer at GOJEK, one of the fastest growing unicorn in Southeast Asia.
Han Sol Park
Samsung
Han is a Senior Engineer at Samsung SDS focusing on Kubernetes and cloud-native open source projects.
Harry Lee
Harry is the Lead DevOps Consultant at Melio Consulting.
Hunter Nield
Govtech
Hunter is a Distinguished Engineer at the Government Technology Agency of Singapore, where he guides strategy around Cloud and Containers.
Ian Coldwater
Twilio
Ian Coldwater is Kubernetes SIG Security co-chair and an Architect at Twilio, who specializes in hacking and hardening Kubernetes, containers and cloud-native infrastructure.
Ilya Dmitrichenko
Docker
Ilya is a Staff Software Engineer at Docker, working on image build tools. Prior to Docker, Ilya worked at Isovalent & Weaveworks.
Itay Shakury
Aqua Security
Itay is an experienced technologist, floating between dev, ops, and architecture.
Jacopo Nardiello
SIGHUP
Jacopo is the founder of SIGHUP (a Milan based startup focused on Kubernetes and Cloud Native technologies).
Janakiram MSV
Janakiram is an analyst, architect, and advisor. He is a Google Developer Expert for Cloud. Janakiram advises startups from the microservices and IoT domains. Janakiram is a regular contributor to Forbes, The New Stack, TechRepublic, and Gigaom Research.
Jeffrey Sica
Red Hat
Jeffrey is a Senior Software Engineer at Red Hat focusing on testing managed services and Kubernetes.
Jérôme Petazzoni
Jérôme was part of the team that built, scaled, and operated the dotCloud PAAS, before that company became Docker. He worked seven years at the container startup, where he wore countless hats and ran containers in production before it was cool.
Jessica Andersson
Annotell
Jessica is the Team Lead for Engineering Enablement at Annotell and is located in Gothenburg, Sweden.
Jessica Deen
Microsoft
Jessica is a Senior Cloud Advocate for Microsoft focusing on Azure, Containers, OSS, and, of course, DevOps.
Jessie Qian
Alauda
Jessie is the Director of Marketing and Community Development in Alauda, dedicated in Alauda ecosystem and promoting Kubernetes-based PaaS platform to organizations across industries.
Jia Xuan
China Mobile Research Institute
Jia is a project manager for China Mobile Research Institute in China, working on edge computing and NFV (5G using cloud native technology).
Jiayao (Julia) Han
Caicloud
Co-founder and COO at Caicloud Technology LLC in Hangzhou (China) that provides Kubernetes based toolings and platform for enterprises in production. Organizer of Kubernetes China Meetup and has held multiple K8S meetups in various cities in China.
Jim Angel
Google
Jim Angel is a Cloud Consultant at Google and is active in the Kubernetes community as a SIG Docs Co-Chair and a SIG Release Release Manager Associate. He helps with the local…
Jimmy Song
Tetrate
Jimmy is a Developer Advocate at Tetrate
Johann Gyger
Levingo
Johann is a passionate software engineer at Levingo, a boutique IT company located in Bern, Switzerland. He has 20 years of industry experience working as a developer, architect and consultant in various domains and for different customers and employers.
Joseph Jacks
Joseph is the founder and GP of OSS Capital, Open Core Summit, Aljabr, KubeCon, and Kismatic. He previously worked at Mesosphere, Enstratius, TIBCO Software and Talend.
Josh Berkus
Red Hat
Josh works on Project Atomic at Red Hat, and leads the Cloud Native PDX meetup group. He also contributes to PostgreSQL.
Julius Volz
Julius co-founded Prometheus and lead the project to success at SoundCloud and beyond. He now focuses on growing the Prometheus community and is the main organizer of PromCon, the first conference around Prometheus. In a previous life, Julius was a Site Reliability Engineer at Google.
Karen Chu
Microsoft
Karen is a community manager on the Azure Container Compute team with a focus on open source and upstream developer tools such as Helm, Brigade, Virtual Kubelet, CNAB, and more
Kaslin Fields
Google
Kaslin is a Cloud Advocate at Google, a cloud native tech enthusiast, and comic artist/writer.
Kasper Nissen
Lunar
Kasper is a passionate software engineer, with a special interest in cloud infrastructure and containers.
Kat Cosgrove
Pulumi
Kat Cosgrove is a Developer Advocate at JFrog, and an actual cyborg.
Kazuki Suda
Preferred Networks
Kazuki is an engineer at Preferred Networks, Inc. He leads some local meetups such as Kubernetes Meetup Tokyo and Prometheus Meetup Tokyo and helps expand cloud native technologies into Japan by organizing meetups, speaking, and writing books.
Kevin Wang (Zefeng)
Huawei
Kevin Wang is a contributor in the CNCF community since its beginning, co-founder of the KubeEdge and Volcano projects, and leader of the Cloud Native Open Source Team at Huawei. Kevin has contributed to Kubernetes upstream…
Kohei Ota
Hewlett Packard Enterprise / Kubernetes SIG Docs Japanese translation Owner
Kohei is a Cloud Native and DevOps Solutions Architect at HPE. His passion is creating scalable infrastructure using Kubernetes combining with public cloud solutions. He is an organizer of CloudNative Days Tokyo…
Kris Nova
Sysdig
Kris, Chief Open Source Advocate at Sysdig, focuses on security, intrusion detection, and the Linux kernel with Kubernetes and eBPF. As an active advocate for open source, Kris is an ambassador for the CNCF and the creator of kubicorn, a successful Kubernetes infrastructure management tool.
Krishna Kumar
Accenture
Krishna is a Technology Architect building cloud native solutions for large enterprise customers.
Kunal Kushwaha
Kunal is a developer from New Delhi, India.
L Körbes
Tilt
L does DevRel at Tilt, on a mission to make developers' workflows friendlier and more intuitive
Lachlan Evenson
Microsoft
Lachlan is a Principal Program Manager on the open source team at Azure.
Lee Calcote
Lee is an innovative thought leader, passionate about developer platforms and management software for clouds, containers, infrastructure and applications.
Lei (Harry) Zhang
Alibaba Group
Lei is a member and co-maintainer of the Kubernetes community and is now co-leading the Kubernetes & OSS effort at Alibaba Group.
Lisa-Marie Namphy
Lisa is Head of Developer Relations at Cockroach Labs.
Liviu Costea
Liviu filled many roles during his career from developer to architect, team leader, technical manager and cto. But the ones where he felt most comfortable were the technical ones and which involved…
Liying Zhang
JD.com
Liying (Vivian) Zhang is a product and open source community manager at JD.com.
Lucas Käldström
Lucas is a passionate Kubernetes Maintainer that is excited about all things cloud native. Lucas has been engaged in Kubernetes work for about two years now and been involved in work like porting Kubernetes to multiple platforms, getting Minikube off the ground, being a core contributor in SIG Cluster Lifecycle and maintaining kubeadm.
Mario Loria
Carta
Mario is orchestrating Kubernetes at StockX while helping advance the DevOps community. He's founded and co-organized meetups, conferences, and other events advocating and educating the masses about containerization and Kubernetes.
Mars Toktonaliev
Nokia
Mars is a system engineer at Nokia and leads Dallas Kubernetes meetup group. He also contributes to Linux Foundation open source networking projects.
Matt Baldwin
NetApp
Matt is the former Founder and CEO of StackPointCloud, now a NetApp company. As part of NetApp he serves as the Director of Cloud Native Engineering and is their Chief Kubernetes Architect, helping drive the company's multicloud Kubernetes vision.
Michael Goodness
Ticketmaster
Mike is a Lead Systems Engineer on the Kubernetes implementation & cluster operations team at Ticketmaster.
Michael Hausenblas
AWS
Michael is a Developer Advocate for containers at AWS, where he helps appops to build and operate cloud native apps.
Michael Mueller
Container Solutions
Michael is Director Technology at Container Solutions Switzerland. Before joining CS, Michael was heading the IT and Cloud Innovation team at Swisscom Innovation.
Michelle Noorali
Microsoft (Developer Seat)
Michelle is a Sr. Software Engineer on the Azure Containers team and a core maintainer of Helm.
Michelle Ye-Chen Xu
Intel
Michelle is a Cloud Technology and Integration Manager at Intel. She earned her Ph.D. in Electrical and Computer Engineering from University of Toronto and was a Postdoctoral Fellow in Atomic Physics at U.C. Berkeley.
Mike Coleman
Google
Mike works at Google focused on Kubernetes / Cloud Native as a Developer Advocate.
Naeil Ezzoueidi
Naeil Ezzoueidi is a Lead DevOps engineer, focusing now on CNCF technologies. Naeil worked on many open source projects and communities. He contributed to the kernel of Ubuntu/Vanilla, LibreOffice and many other…
Nana Janashia
Nana Janashia is a DevOps consultant and trainer. She started the Techworld with Nana channel to share her expertise about various DevOps topics and to help DevOps enthusiasts get into the field easier and…
Neependra Khare
CloudYuga
Neependra is the Founder and Principal Consultant at CloudYuga Technologies, which offers training and consulting services around cloud native technologies such as Kubernetes, Prometheus, Service Mesh, etc.
Nikhita Raghunath
VMWare
Nikhita is a contributor to Kubernetes and is the technical lead for SIG Contributor Experience. She works as a Senior Member of Technical Staff at VMware remotely from Mumbai, India.
Nitin Agarwal
Nitin is a seasoned technical professional with expertise in Enterprise DevOps, Cloud Infrastructure, Cloud Native Applications, Containerization, and Continuous Delivery.
Noah Abrahams
StormForge
Noah is the VP of Customer Enablement at InfoSiftr, where he advises on the containerization journey, including delivering official Docker training.
Nuno Do Carmo
SUSE Rancher
Nuno is a Tech Writer at SUSE Rancher. He's also a Docker Captain, Microsoft MVP and passionate for Cloud Native technologies. He is specially invested on bringing the Cloud Native technologies to Windows and more…
Pronouns: he/him
Orlin Vasilev
VMware
Orlin is a Engineer and Community Manager at VMware, working on Contour and Harbor.
Paris Pittman
Apple (K8s Rep)
Paris is a Program Manager at Apple working on internal and external cloud native community building.
Paul Burt
NetApp
Paul is a Technical Product Marketing Engineer at NetApp. He's upvoting your /r/kubernetes threads and answering your questions on freeNode.
Phil Estes
AWS
Phil is a Principal Engineer for Amazon Web Services working on core container technologies for Amazon's cloud platform.
Pini Reznik
Container Solutions
Pini is Co-Founder and CTO at Container Solutions, European consultancy helping clients to implement cloud native apps. He has extensive experience in configurations management that he is now applying to the cloud native world.
Povilas Versockas
Povilas is a Software Engineer who is passionate about Prometheus, Thanos, Kubernetes & Cloud Native technologies.
Puja Abbassi
Giant Swarm
Puja is a Developer Advocate at Giant Swarm. He's passionate about bringing Cloud Native technologies to more developers and their companies around the globe.
Queeny Jin
PingCAP
Queeny is a seasoned technical writer from PingCAP. She loves open source, especially Cloud Native technologies related to Kubernetes and TiKV.
Randy Abernethy
RX-M
Randy is a Managing Partner at RX-M, a global cloud native advisory and training firm in the founding classes of Kubernetes Certified Service Providers (KCSP) and Kubernetes Training Providers (KTP).
Ranga Rajagopalan
Avi Networks
Ranga is a co-founder, chief architect, and the CTO of Avi Networks. He is also the brains behind Container Networking and Application Services meetup group.
Reda Benzair
CenturyLink
Reda is a Director of Development at CenturyLink.
Ricardo Katz
VMWare
Ricardo is the Cloud Engineering Coordinator of SERPRO, the IT company from the Brazilian Government. He contributes to CNCF projects Kubernetes (mainly NGINX Ingress) and Harbor.
Roby Chen
DaoCloud
Roby Chen is the CEO of Shanghai DaoCloud Network Technology Co., Ltd.
Roman Tarnavski
VMware
Roman leads the Cloud-Native Applications Practice across Asia Pacific and Japan, as part of VMware's Centre of Excellence team.
Ross Kukulinski
VMware
Ross is a Staff Systems Architect at VMware, where he focuses on growing the Kubernetes community, tackling global-scale engineering problems, and guiding businesses on their Cloud Native journey.
Sabree Blackmon
Docker
Sabree is a Security Engineer at Docker. He is passionate about open source and helping engineers develop & deploy secure distributed systems and applications.
Saiyam Pathak
Civo
Director of Technical Evangelism at Civo
Salim Lakhani
Salim Lakhani is a technology executive with over 30 years of operations experience. He's helped companies benchmark, compare, select, and deploy the best DevOps solutions for their needs
Sanjeev Rampal
Cisco
Sanjeev is a Principal Engineer in the Cloud Platforms and Services Group at Cisco, where he is helping develop the Cisco Container Platform, an enterprise Kubernetes platform.
Sarah Novotny
Microsoft
Sarah leads the Kubernetes Community Program for Google. She has long been an Open Source community champion in communities such as NGINX and MySQL and ran large scale technology infrastructures before web-scale had a name.
Sarah Young
Microsoft
Sarah is an experienced public speaker and has presented on a range of IT security and technology topics at industry events both nationally and internationally (BSides Las Vegas, The Diana Initiative, Kiwicon,…
Scott Coulton
Microsoft
Scott is a Developer Advocate and Docker captain with 10 years of experience as a software engineer in the managed services and hosting space.
Sebastian Scheele
Kubermatic (Silver Member Rep)
Sebastian is co-founder of Kubermatic, a start-up with 60 employees that is the #7 committers to Kubernetes and that is focused on developing open core software solutions for automating Kubernetes operations at scale.
Shilla Saebi
Comcast
Shilla is an Open Source Program Manager who is passionate about building inner source communities and helping grow open source communities.
Smaïne Kahlouch
Kubespray
Smaine is a system engineer with more than 10 years experience in open source software.
Srikar Ananthula
Srikar is currently working as Senior Operations Engineer. He is working on cloud, big data, Docker, and Kubernetes. Apart from professional work, he is passionate about mentoring and motivates people around him to adopt latest technologies.
Steve Speicher
Red Hat
Steve is Principal Product Manager on OpenShift at Red Hat, focusing on developer experience and public cloud offerings (single-tenant Dedicated and multi-tenant Online). Steve previously worked at IBM as a software engineer with a focus on open integration solutions and change management products.
Suraj Narwade
uSwitch
Suraj is a Platform Engineer at uSwitch (End User Community Member) with focus on Kubernetes, Open Source and cloud native technologies.
Takuya Noguchi
Takuya is Development Group Manager at iRidge, Inc., working as cloud native systems architect. After receiving his Ph.D. in Chemistry from The University of Tokyo, he decided to introduce cloud native technologies into startup companies to boost their business. He leads many communities including Kubernetes Meetup Tokyo and Prometheus Tokyo to promulgate CNCF products in Japan.
Tammy Bryant Butow
Kubernetes, Site Reliability Engineering and Chaos Engineering
Pronouns: she/her
Taylor Dolezal
HashiCorp
Always happy to chat about public clouds, infrastructure, and developer experience.
Tom Kerkhove
Microsoft
Tom is a Software Engineer at Microsoft working on Azure API Management. He is one of the maintainers of KEDA, Promitor & Azure Deprecation and …
Uchechukwu Obasi
Grafana Labs
Uche is a software engineer at Grafana Labs and contributor to the Thanos project. He's the co-organizer of the CNCF Mentees Meetup. He is really passionate about creating a safe space for newbie…
Vadim Solovey
DoiT International
Vadim is a solutions architect who helps startups to design complex distributed systems serving millions of users in technologically elegant and yet cost-effective ways.
Vallery Lancey
Lyft
Vallery is an Infrastructure Software Engineer at Lyft. She specializes in Kubernetes and application orchestration.
Will Wang
Tencent
Will Wang is the senior architect of Tencent Group's CODING DevOps, he is the author of PHEI(2 books published in China), and the city partner of Cloud Native Community (https://cloudnative.to) in China….
Xiaocui (Tree) Lin
Ant Financial
Tree Lin is the Operation Manager of Cloud Native Technology at Ant Financial. She helps to operate the Service Mesh Community in China since April, 2018. She is in Hangzhou, China, and…