Community post originally published on Medium by Dotan Horovits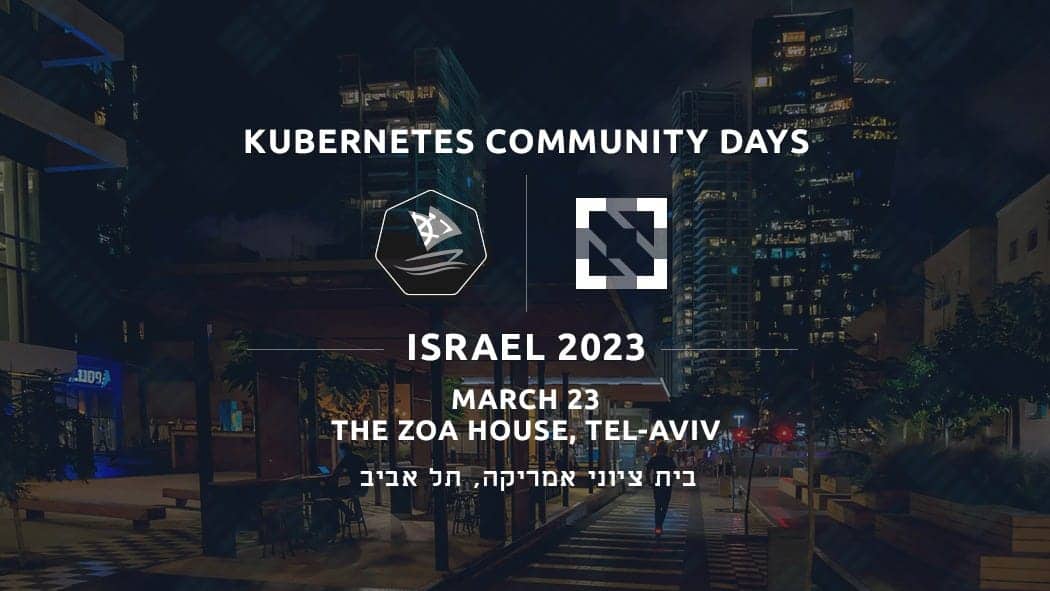 Celebrating Israel's First Kubernetes Community Days: A Look at the History of Our CNCF Community
After over 30 community meetups of CNCF's Israeli chapter in the past years, it's time we had a full-day event for the community! Welcome Israel's first Kubernetes Community Days (KCD), coming 23–03–23 (an auspicious date 🙂). Here's a bit on the story that led us here.
My road to open source communities
I'm an evangelist of open source and communities. My journey with open source communities started a decade ago, when I was at a startup called Cloudify which offered an open source cloud orchestration platform. We worked closely with the OpenStack project, and started the first OpenStack Israel community, with events and courses. We also got involved with the local DevOps Israel community and more.
In recent years my focus has been around open source for better observability. with CNCF projects such as Prometheus, OpenTelemetry and Jaeger. I even started a podcast dedicated to the topic called OpenObservability Talks. That naturally led me to seek the CNCF community, which back then has been pretty nascent.
A local CNCF chapter is born
My co-organizer Itay Shakury, who also came from a community background in a local Kubernetes meetup, and started exploring the CNCF local chapter path, was the right person to approach.
Since then the community has grown to over 2100 members on Meetup.com (the old platform) and nearly 800 members on community.cncf.io (the CNCF's new designated platform for communities).
These have been exciting years. We've held over 30 meetups, on a variety of cloud native and open source topics. Our in-person meetups were growing, and the members were super engaged and enthusiastic.
During the COVID-19 pandemic, when we were unable to hold in-person meetups, we reinvented ourselves as virtual meetups and kept the momentum going. We also grew the organizing team during that time, adding Arthur Berezin, Shimon Tolts, and Dana Fine, each bringing a unique perspective and vibe that enriched the community.
Time for our first community event
As we survived the pandemic and got back to meeting in person, it was time for our first community full-fledged event, a Kubernetes Community Days (KCD). In fact, we planned to hold a KCD back in 2020, and were in advanced planning stages, when the pandemic broke. At first we postponed it by a few months, in hope that it was just a passing episode. But as we realized what the pandemic was really about, we had to shelve the idea.
Now, in brighter times, we're back on track, and in fact we've just published the agenda for KCD Israel 2023! We are honored to have two CNCF chairs as keynotes:
Andrew Martin, CEO @ ControlPlane | Co-chair @ CNCF TAG Security, and
Lori Lorusso, Open Source Program Manager @ JFrog, and the newly elected Marketing Chair @ CNCF.

We've got so many good talk submissions on our call for proposals, and choosing the speakers was difficult. The result is an amazing roster of speakers from the local community, as well as international speakers.
KCD Israel is a non-for-profit community event. We've got amazing volunteers helping us pull this off. I'd like to mention in particular Ronen Levinson, a community veteran and co-organizer of the local GitHub user group, who joined us on the core organizer committee and has been instrumental to making the event happen.
I'd also like to thank to our sponsors that helped finance and support this community event: Komodor, groundcover, Commit, Logz.io, JFrog, AppsFlyer, DoiT, ARMO, Cisco, TeraSky, Couchbase and lool ventures.
Join us and help us spread the word
If you want to learn more about the Israeli CNCF chapter, check out the community page, and reach out to us on the CNCF slack at the #cncf-tlv channel.
Check out the details and RSVP on the event page. And help us spread the word.
Looking forward to seeing you with us at KCD Israel 2023, and at one of our meetups!