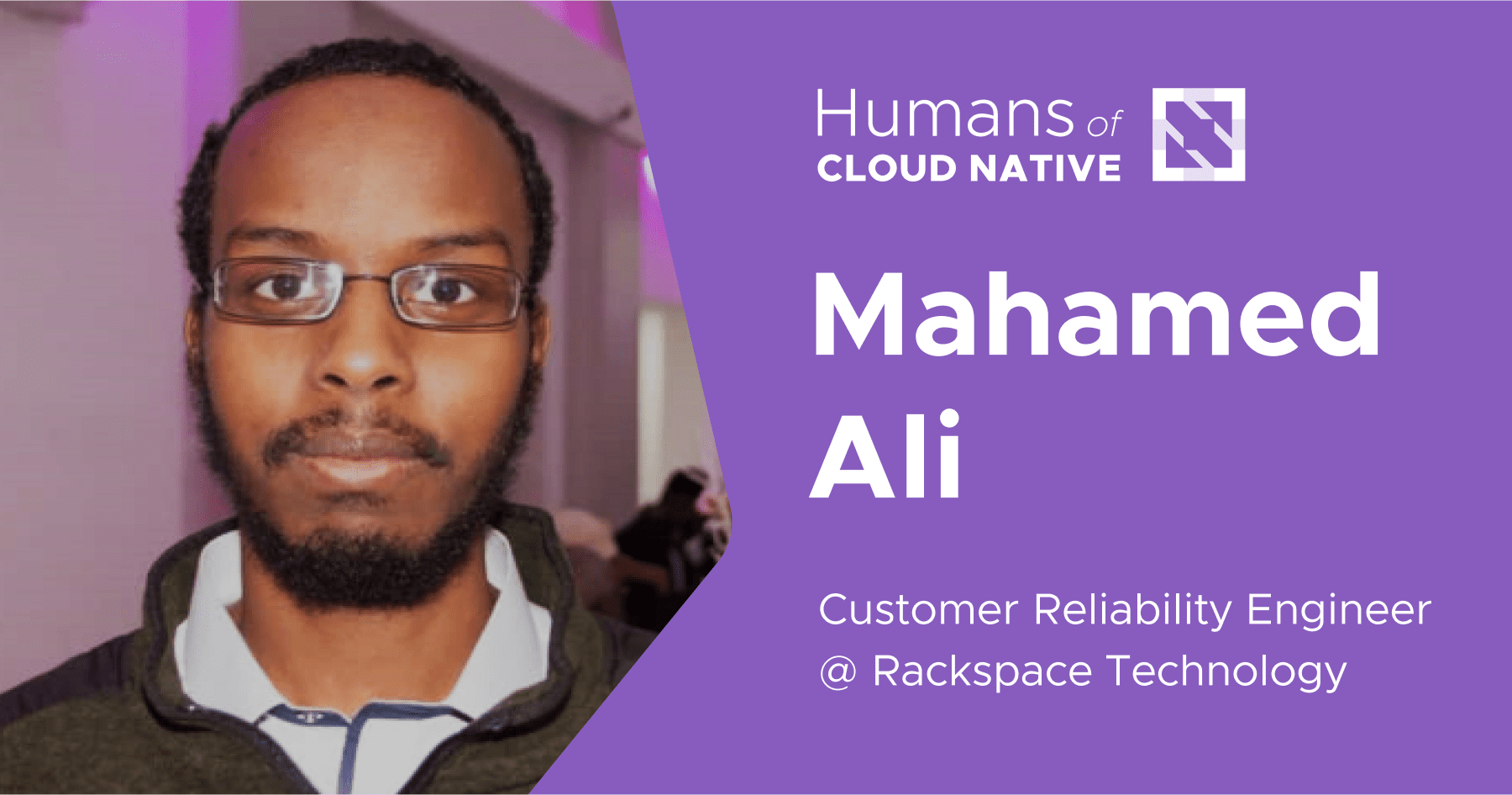 As a contributor and a Productivity Working Group Lead within Knative, you may imagine that Mahamed Ali writes a lot of code. But the fact is that Mahamed hasn't contributed a single line of code to Knative throughout his involvement in the project.
Mahamed is currently a Customer Reliability Engineer at Rackspace Technology based in the United Kingdom. He got his feet wet in open source by submitting features and fixes to the Google Cloud Terraform Provider. Though code and features receive much community fanfare, he believes it's the plumbing that makes a project sustainable in the long run.
"It's not as exciting as developing features, but it needs to be done. Otherwise, the project suffers from a lot of technical problems."

Mahamed Ali
The value of community
Last year, while exploring Knative at work, Mahamed made two useful non-code contributions around observability and monitoring. In a short time, his involvement in the project grew, and when it was announced that Knative was entering the incubation stage at CNCF, Mahamed came aboard the Productivity Working Group to oversee testing infrastructure and ensure a smooth developer experience. He delivered the key project initiatives for the shift to incubation in coordination with CNCF.
Mahamed spoke about this work with Knative at KnativeCon at KubeCon+CloudNativeCon EU in Valencia, Spain, last May, where he says he experienced the real value of CNCF: Its community. "One of the established contributors of Kubernetes showed me around, took me to meet a lot of interesting people," he said.
Simply through working on a CNCF project, Mahamed has experienced several community and collaborative benefits. For example, he pointed to the useful tools and assistance that CNCF provides to incubating projects. "You meet people from other projects. If you're stuck on something you can always reach out to them. …You see who else is working on the same thing, or something that you're very good at, and then you can make some new friends and solve new problems," he shared.
In fact, attending the SIG Release session at KubeCon + CloudNativeCon Europe in Valencia, he met the project leads, including Adolfo García Veytia and Carlos Tadeu Panato Jr. ,who gave an update on Supply Chain Security for K8s. Mahamed was already working on something similar for Knative and was able to reuse some of the tooling that they built, alongside leveraging their expertise.
Great things come in no-code packages
Mahamed thinks that reporting infrastructure and test tooling bugs is a good entry point for newcomers looking to break into open source communities. In particular, taking projects for a spin at work, or conducting a proof of concept, can quickly turn up defects developers may have missed.
"If you see gaps, find the maintainers and either fix it yourself, or give enough information for someone to fix it. Even that itself is a very valuable contribution."

Mahamed Ali
Mahamed also encourages users to fill in documentation gaps. Enterprises tend to be risk-averse and expect extensive documentation, so lightly documented products are especially challenging for them, he explained. "If you're using these projects, please tell us all the gaps in documentation or features around making these enterprise-friendly," he said. After all, as Mahamed's story demonstrates, good things can come in unexciting, non-code packaging.
Get Started Contributing!
If you're feeling inspired by Mahamed's no-code contributions, why not start your cloud native journey? We welcome all contributors, whether you're a coder or a creative. You can find out how to take your first steps on the contributors page and join the community conversations on the CNCF slack channels.