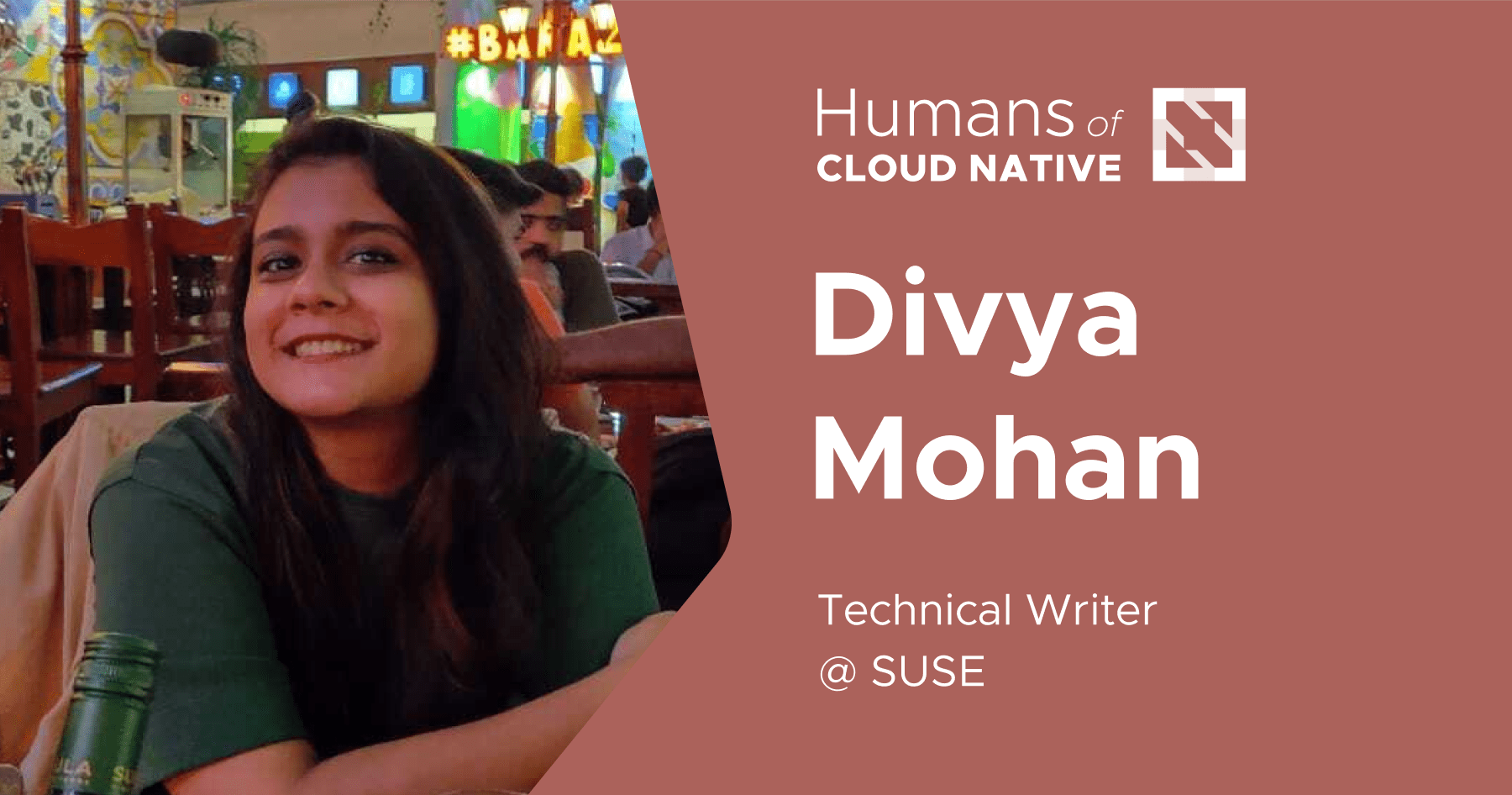 From a small edit to the Kubernetes docs, to co-chairing documentation for the Kubernetes project, Divya Mohan has successfully navigated her own path through the complex cloud native ecosystem, and today is actively helping others to do the same.
Divya, a technical writer with SUSE and joint co-chair for documentation on the Kubernetes and LitmusChaos projects, was working as a systems administrator at global bank HSBC when Kubernetes was on-boarded to the remit of apps her team supported.
"I came from an educational background of electronics engineering. This meant that while I was vaguely aware of open source, it wasn't something that I got involved in until I actually had to learn more about Kubernetes," Divya explained.
"Being open source, it piqued my interest since not only could I learn more about it as a tool, I was also able to meet and work alongside several phenomenal human beings. I came for the learning, but stayed for the community is a great way to put it."

Divya Mohan
In fact, #TeamCloudNative has helped her uncover her passion for purposeful projects that benefit people. "This might be very cliche of me to say, but I find work that directly benefits people the most meaningful," she said. "There are, of course, many ways to go about doing this in open source which is why I absolutely love the ecosystem we've built."
Her first contribution was a minor edit to the Kubernetes docs, since, as she puts it, "I wasn't great at coding. Since I am not from a development background, it is something I am still figuring my way around actively." Proving you don't need to be a pro developer to make a difference to the ecosystem.
Alongside co-chairing docs for Kubernetes and LitmusChaos, she also advocates for cloud native technology in her role as a CNCF ambassador, as well as empowering others to take their first steps into the cloud native ecosystem. She's presented countless times at industry events, like joining the CNCF Mentee panel discussion along with Kunal Kushwaha, Ihor Dvoretskyi, and Uchechukwu Obasi at KubeCon + CloudNativeCon North America 2021. Recently she joined Open Source Summit Japan where she spoke on breaking barriers: effectively engaging and Sustaining New Contributors.
As somebody who's carved their own cloud native path, from beginner to ecosystem leader, Divya recommends keeping in mind that everybody's journey in this ecosystem is unique and you should give back when you can.
"I urge newcomers to research, ask questions, have empathy, and always give back when you have the opportunity to. These four things take you a long way and hold you in good stead wherever you go," she advises. "Don't forget to give back because all take and no give is as harmful, if not more, as the other side of the coin."
And to not feel frustrated as you get started! After all, it's easy to feel like you're not making progress sometimes.
"The key is to try different things, seek mentorship, and figure out what you're good at because you're afforded this wonderful ecosystem. Not a lot of industries can boast of this safe space privilege, and it's something you should fully leverage to your benefit."

Divya Mohan
If you're feeling inspired by Divya's cloud native journey, why not start yours? We welcome all contributors, whether you're a coder or a creative. You can find out how to take your first steps on the contributors page and join the community conversations on the CNCF slack channels.