Telecoms are rolling up their sleeves to build network and customer-facing applications and services on a cloud native architecture.
Three-quarters of respondents told the CNCF's Telco Microsurvey that they are converting services running either as Physical Network Functions (PNF) or Virtual Network Functions (VNF) to Cloud-native Network Functions (CNFs) – the microservices architecture delivered using a container and Kubernetes platform.
The largest group – 52.38% – will convert between 76% and 100% of their PNF and VNF infrastructure. The next biggest group, 23.81%, will migrate between half and 75%.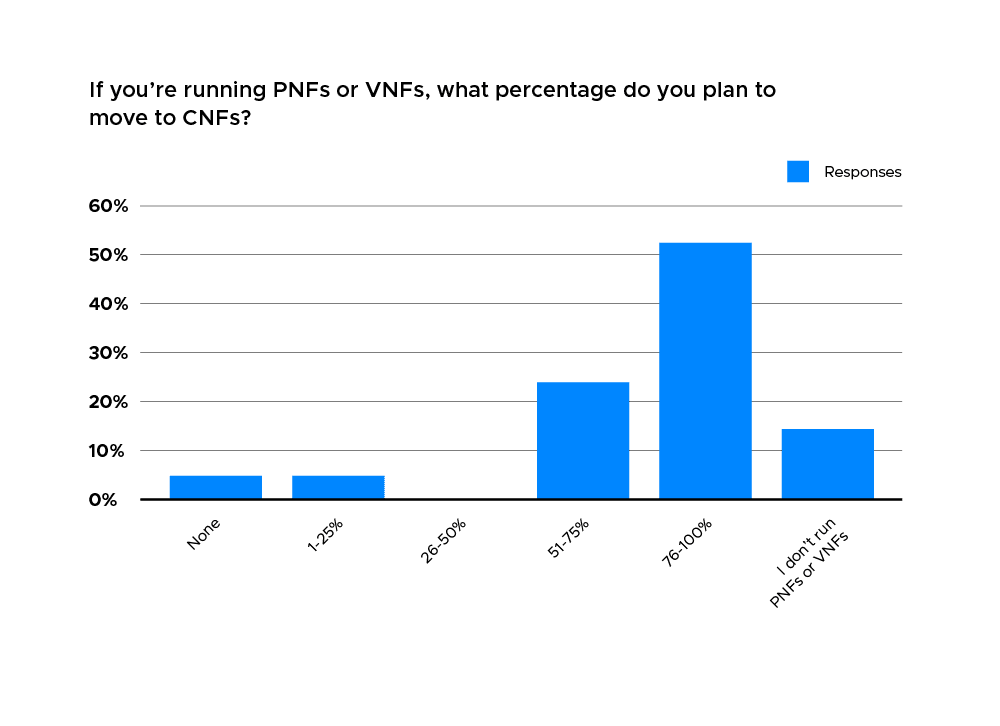 Regarding sourcing CNFs, Communications Service Providers (CSPs) do it themselves. A third, 33.33%, told us they are building CNFs, while just under half that figure, 14.29%, are taking a mixed approach of build and buy. That's compared to 14.29% who have opted to source CNFs commercially.
Why are CSPs migrating to CNFs? Among the reasons given:
Part of a wider corporate move to cloud native would allow teams to quickly roll out new features, updates, and upgrades through existing DevOps processes.
CNFs would mean more flexible deployment, management, configuration and operations of services.
Decoupling hardware and software eliminates vendor lock-in and dependencies, while supporting portability, performance and scale.
An array of functions are headed for CNFs. They include 5G core, network functions, routers, load balancing, data analytics, and user-defined and policy-defined functions – to name just a few.
These rollouts mirror uptake of Kubernetes. The top three workloads CSP are currently running in K8s are:
control plane network functions – such as 5G core Session Management Function (71.43%);
operations (61.90%);
and data plane network functions such as 5G core User Plane Function (57.14%).
We asked respondents to list what they believed to be Kubernetes' most important features. Coming joint first were scalability (61.90%) and resilience of applications and services (61.90%); ease of integration with CI/CD pipeline was second (57.14%), while in joint third place were simplicity of deployment and maintenance (52.38%) and observability and management (52.38%).

Does it work… everywhere?
The CNCF has been working on certification of Kubernetes and CNFs to ensure interoperability and portability.
We wanted to know people's biggest concerns or challenges in adopting Kubernetes. Interoperability between different products scored high – coming second (42.86%) behind networking (57.14%) and ahead of cluster management and complexity (both third with 33.33%).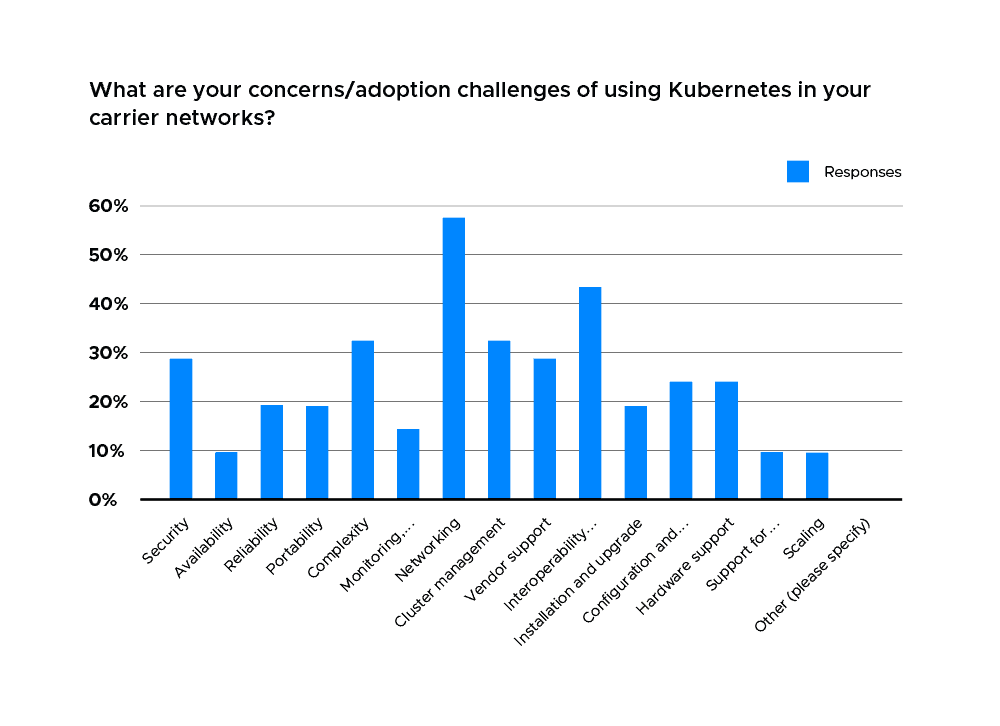 We also asked participants to rank the most significant integration, compatibility, and portability problems Kubernetes faces. Integration of custom Container Network Interface (CNI) plugins supporting carrier networks topped the list – 57.14% – followed by the use of Network Address Translation (NAT) as a default (52.38%). Incompatibility between vendors' API endpoints and Custom Resource Definitions (CRDs) came third on 42.86%.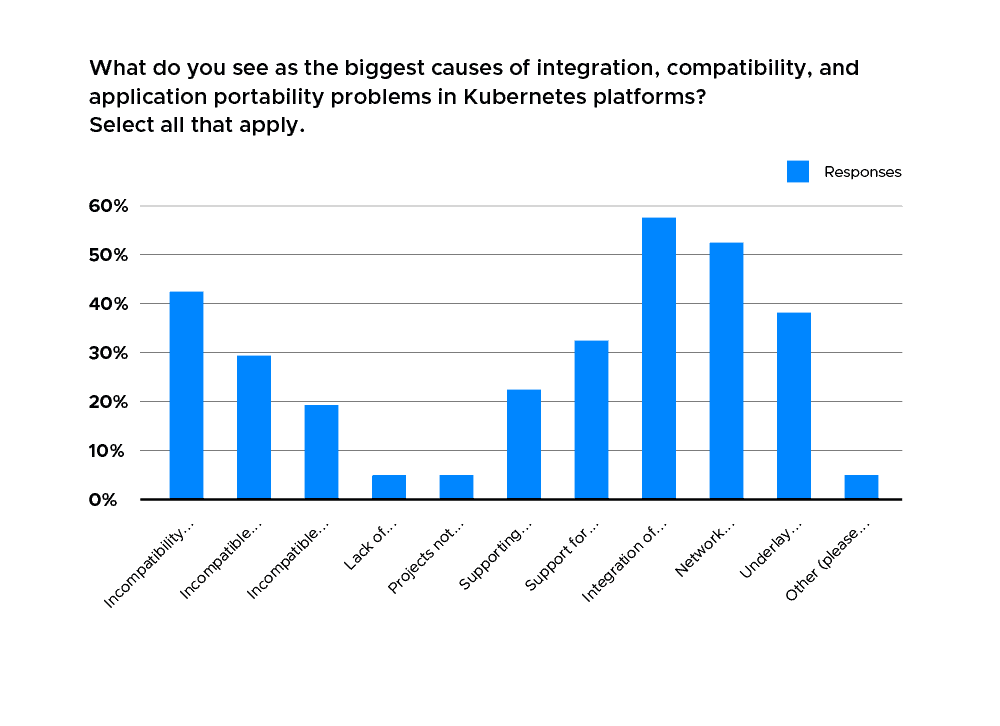 We asked, too, what concerned respondents most when using Kubernetes from different suppliers. The ability for applications and CNFs to perform consistently tied for first place with Kubernetes' ability to run consistently across the carriers' infrastructure. They scored 57.14%.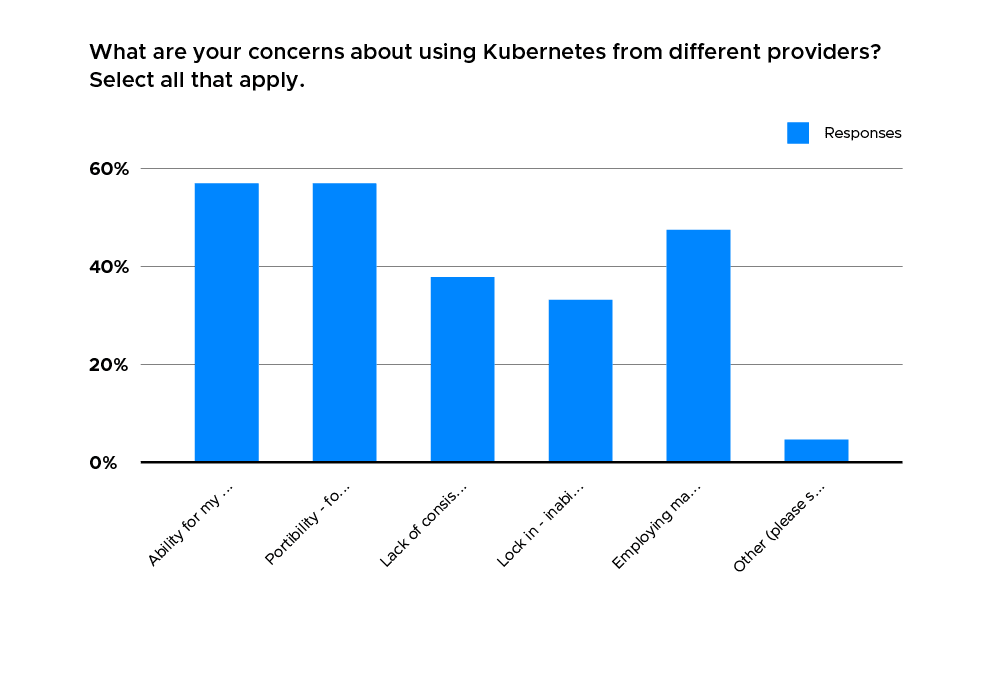 By extension, certification of CNFs was therefore viewed favorably. The single most significant perceived advantage is to help guarantee interoperability between CNFs (66.67%). This was followed by the potential to help simplify and streamline deployment (57.14%) on carriers' networks and infrastructure. Rounding out the top three is the belief that certification will help to ensure developers and operators building CNFs follow industry best practices (52.38%).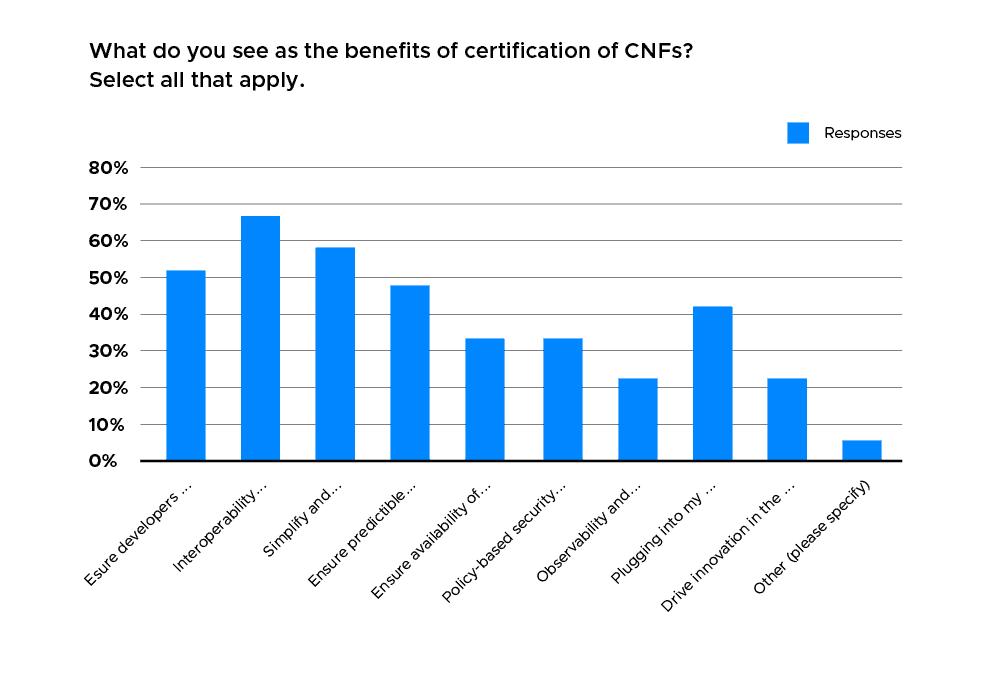 The microsurvey was designed by CNCF and conducted between May and June 2022 and received 77 respondents. The largest group of respondents came from organizations with more than 5,000 employees (53.25%) followed by 1,000-4,999 (18.18%), with software architect and SRE/DevOps engineer the two most common job roles (24.68% and 16.88%). Responses were primarily from Europe (44.16%), North America (25.97%) and Asia (23.38%).
To learn more, please join us at Cloud Native Telco Day at KubeCon + CloudNativeCon North America on October 24, 2022 by registering here.
And for CSPs and telecom organizations looking to adopt Kubernetes and other cloud native tooling, CNCF now offers a Cloud Native Network Function (CNF) certification to help identify which Network Equipment Providers (NEPs) follow cloud native best practices. To learn more about CNCF's certification efforts, click here.