The global cloud native developer population has grown by 1 million in the last 12 months, according to the Q3 2021 State of Cloud Native Development Report developed for CNCF by SlashData. The company estimates that there are now 7.1 million cloud native developers worldwide. This represents an increase of 51% from our first report with SlashData in May 2020 when there were 4.7 million cloud native developers.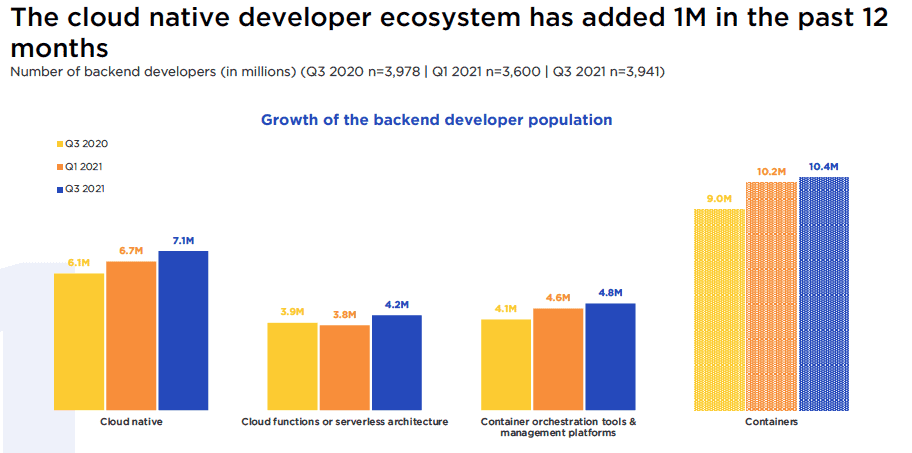 The cloud native developer population includes 4.8 million developers using container orchestration tools and 4.2 million developers using serverless platforms. These are both up from 4.6 million and 4 million, respectively, since late last year.
Kubernetes remains stable, but new trends emerge
At the same time, the usage of Kubernetes has remained relatively stable, increasing by 2 percentage points over the last year. Some 61% of backend developers have used containers in the previous 12 months, with 30% using Kubernetes to orchestrate them. There are now an estimated 5.1 million Kubernetes users globally.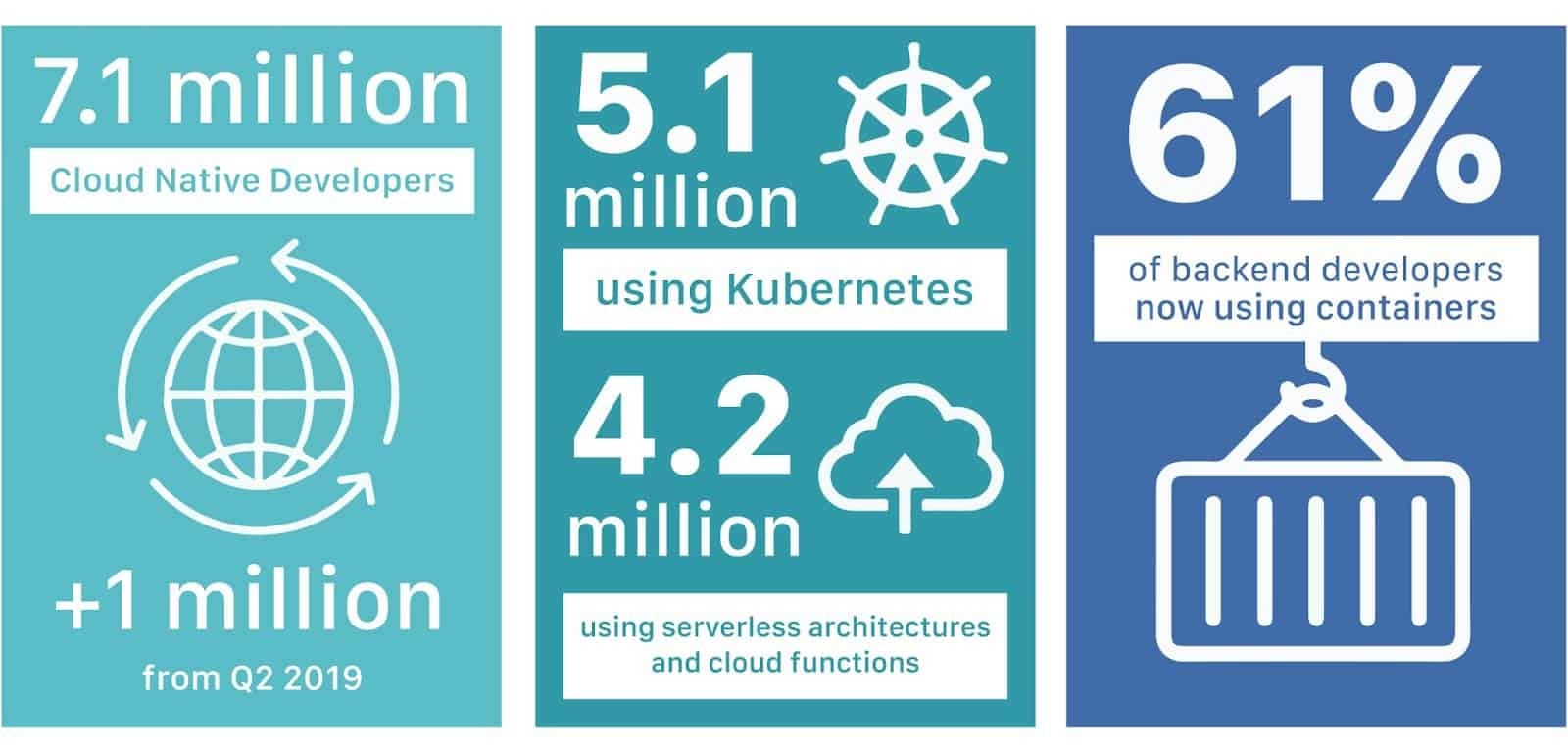 As we saw in CNCF's 2021 Cloud Native Survey, there are a few trends driving Kubernetes adoption. For one, larger organizations are more likely to be using Kubernetes. SlashData found that close to one in four developers working for very large enterprises (with more than 5,000 employees) use Kubernetes.
Another trend from our Cloud Native Survey was the rise of managed services as Kubernetes goes "under the hood." According to SlashData, the majority of container orchestration tools — including five of the top six most used — are managed Kubernetes solutions. Further, the proportion of developers choosing a single orchestration tool has decreased: 49% of developers who use orchestration tools used only one tool in Q1 2021. Six months later, this has decreased to 46%, with many reporting that they ​​use self-managed solutions in conjunction with vendor-managed services.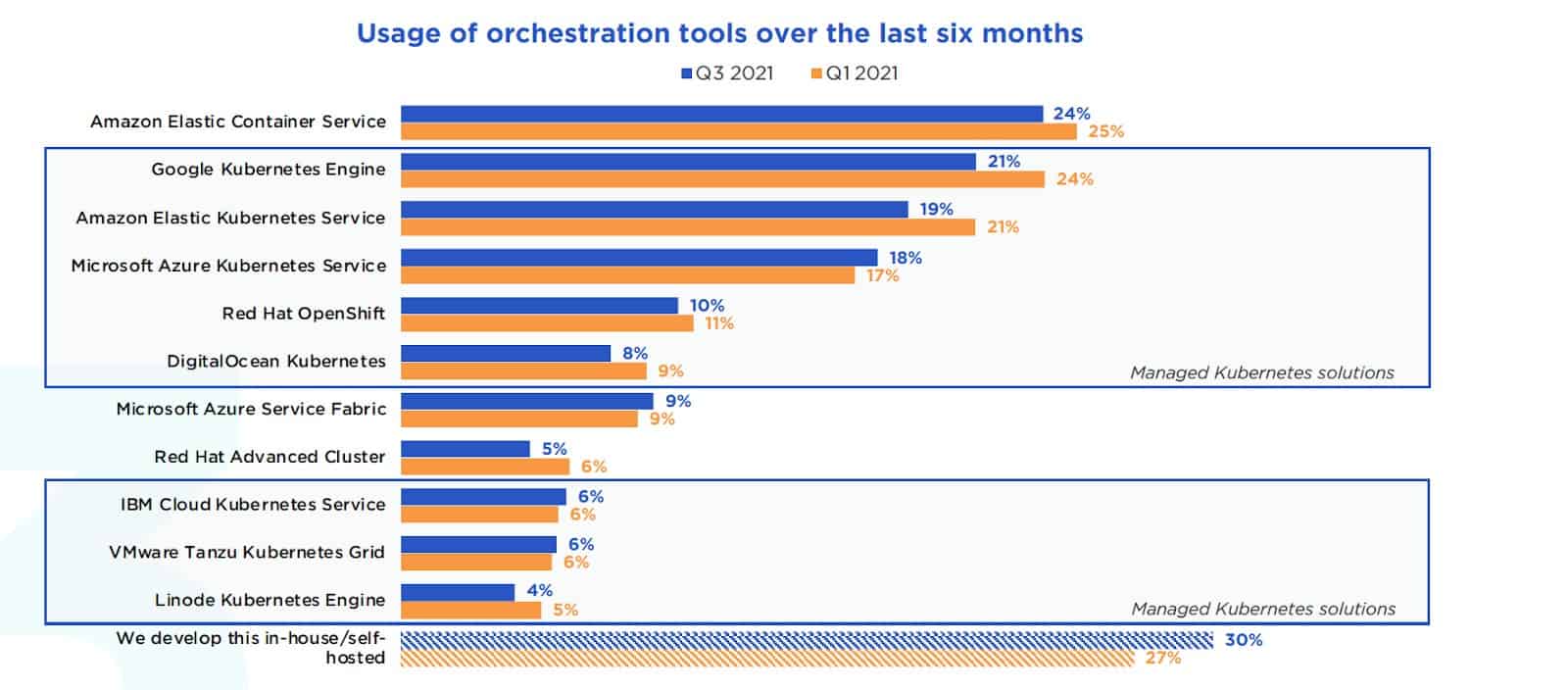 Finally, Kubernetes developers are also more likely to be involved in emerging technologies like Blockchain, edge computing, and 5G.
Is the consolidation of serverless coming?
After seeing a slight decline in the last report, the use of serverless tools has increased by 5% from 4 to 4.2 million. However, the way developers engage with serverless products is changing, with developers using fewer serverless tools simultaneously. In Q1 2021, 23% of developers who used serverless used three or more tools. Six months later, this has decreased to 19%.
Download the report to learn more about Kubernetes and cloud native trends!
This is our fourth time working with SlashData to gain insights on cloud native development.
The report is based on the 21st edition of SlashData's Developer Nation survey, which was fielded between June 2021 and August 2021 and reached more than 19,300+ developers globally. More than 3,900 survey participants answered questions relating to the development of backend services and the technologies they use.