Kubernetes has demonstrated impressive growth over the past 12 months – 5.6 million developers use Kubernetes today – according to the most recent State of Cloud Native Development Report developed for CNCF by SlashData. This represents a 67% increase from a year ago when, adjusting for a change in the question methodology, there were 3.9 million Kubernetes developers worldwide. This group now represents 31% of all backend developers, an increase of 4 percentage points in the last year.
This is our third time working with SlashData to gain insights on cloud native development. Since then, the global cloud native developer population has also continued to grow. Today there are 6.8 million cloud native developers – 4.6 million using container orchestration tools and 4 million developers using serverless platforms, with an overlap of 1.8 million using both. The first report, published in May 2020, reported 4.7 million cloud native developers, and the second, published in August 2020, saw a big jump to 6.5 million.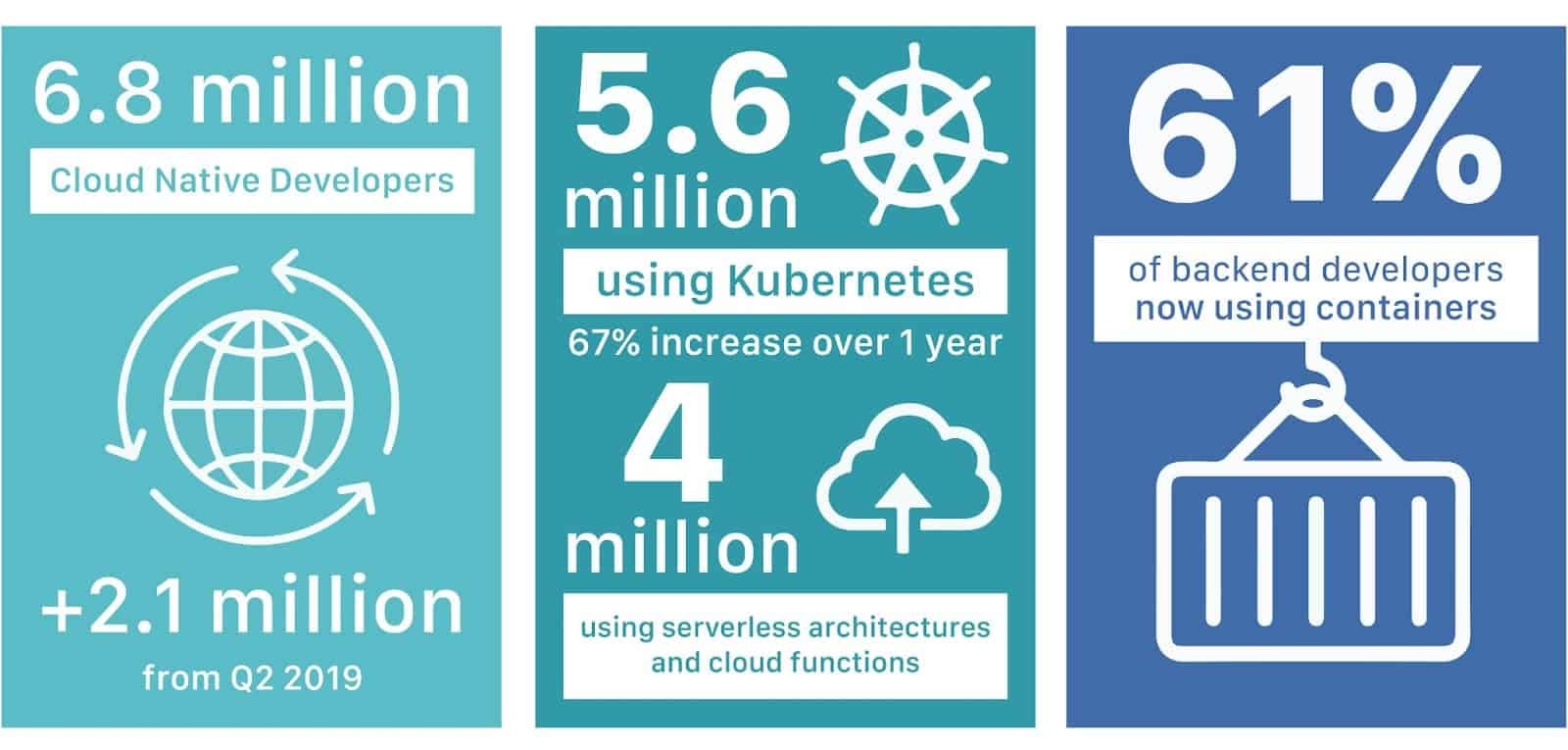 Serverless loses some momentum
While cloud native overall has seen growth in the past year, the proportion of backend developers involved in cloud native technologies declined slightly from 44% to 41%. This is in part due to a large increase in the overall number of backend developers and to a drop in the adoption of serverless architecture. While the total number of developers involved in serverless architecture stayed the same at 4 million, the proportion of developers involved in serverless architecture decreased from 27% to 24%.
Keep calm and cloud native on
With an increase of 300,000 developers, cloud native is still growing, but it is ostensibly growing at a slower rate than the last report, which saw a 1.8 million increase. One interesting trend is regarding large organizations with more than 500 employees the adoption of both Kubernetes and containers skyrockets, which means Kubernetes has safely met the needs of the enterprise.
Another consideration is that developers are using Kubernetes without being aware of it. While overall awareness of Kubernetes has significantly increased since last year, many backend developers remain unsure of what it can do for them – 21% say they have heard of Kubernetes but are unsure what it does while 11% say they have never heard of it. As we inferred last year, developers may not realize that many of the most popular services use Kubernetes under the hood. When you consider that 61% of backend developers report using containers, while 31% say they use Kubernetes and 28% say they use container orchestration tools, there appear to be some gaps in understanding how the technologies are interconnected.
These are topics we plan to explore more in our 2021 cloud native survey, the results of which will be released early next year.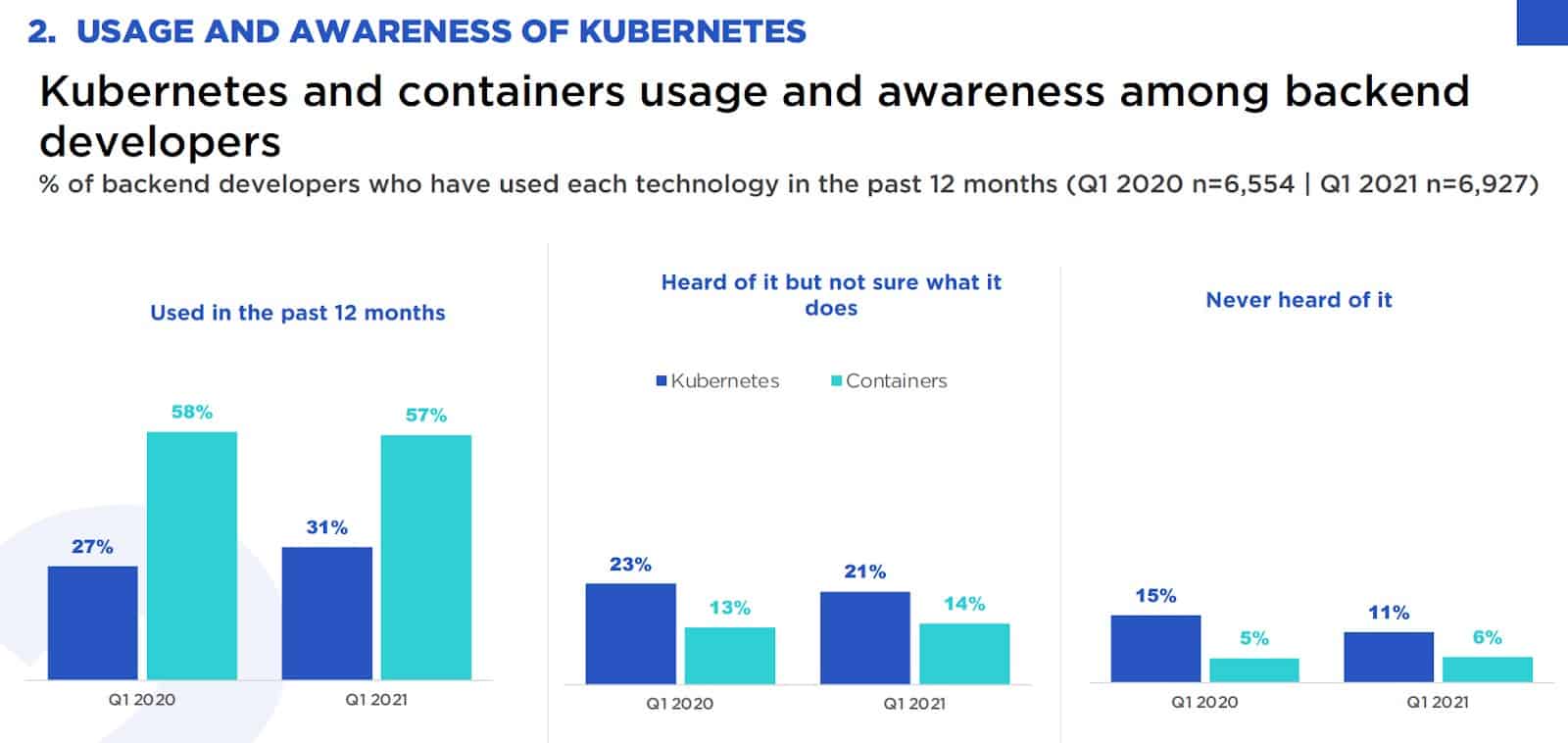 Edge is driving cloud native growth and into new frontiers
Across sectors, one area is cloud native growth more than any other – edge computing now has the highest usage rates of containers and Kubernetes. Among edge developers, the adoption of Kubernetes increased by 11 percentage points to 63%. The use of containers among edge developers was 76%.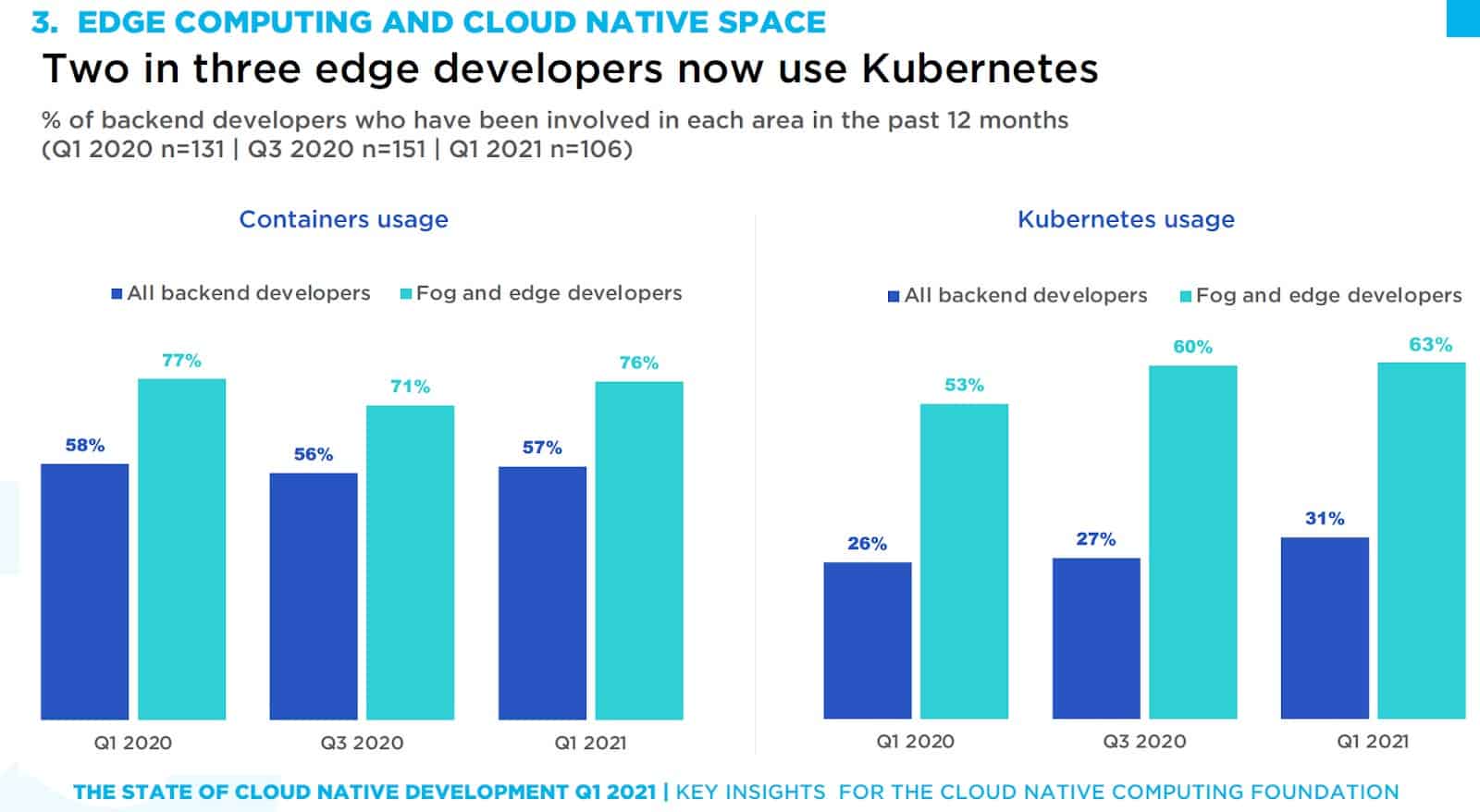 The State of Cloud Native Development reports are based on data from SlashData's biannual Developer Economics survey of 19,000+ software developers with questions about the development of backend services and the technologies they use. This latest report was conducted between November 2020 and February 2021 and featured data from more than 3,800 respondents.
Download the report now to learn more about Kubernetes cloud trends and the most popular tools among Kubernetes and serverless users.