The first virtual KubeCon + CloudNativeCon just wrapped up and it was a huge success thanks to our amazing community of doers – builders, operators and advocates. We are so thrilled that the cloud native community came together with hope and positivity to make this a truly community-driven event we will remember for a long time. We may not have been able to meet in person this year but we are indomitable!
Go #TeamCloudNative!!
According to the new State of Cloud Native Development Report developed for CNCF by SlashData, there are 6.5 million cloud native developers around the globe, 1.8 million more than in Q2 2019. Of these developers, 2.7 million are using Kubernetes, and 4 million are using serverless architectures and cloud functions.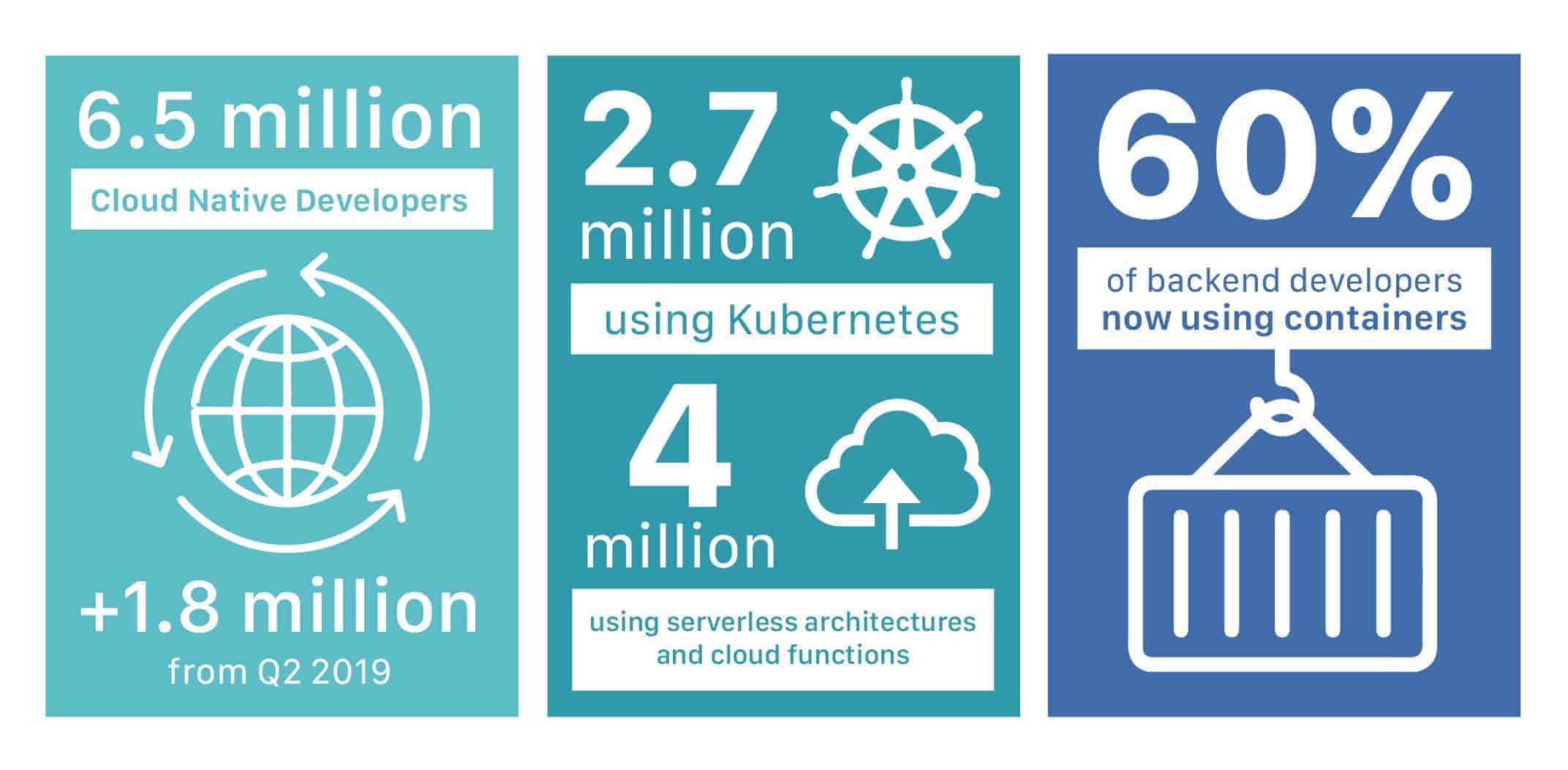 Keynote and Session Highlights
The keynotes were a huge hit! On Day 1, we welcomed our new KubeCon + CloudNativeCon co-chair Constance Caramanolis and welcomed back Vicki Cheung, who did an amazing job MC'ing the event, with some special cameos.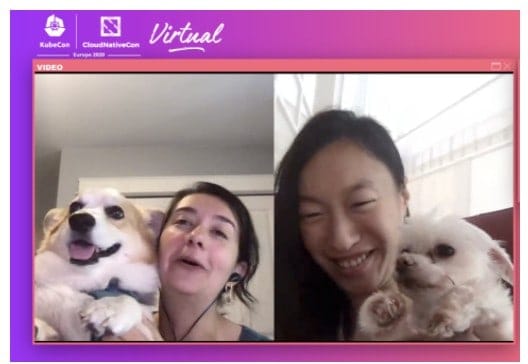 We heard from the new CNCF general manager, Priyanka Sharma who talked about the importance of end users in open source and being a foundation of doers.
We also heard from VP of ecosystem, Cheryl Hung, who talked about the CNCF End User Technology Radar and how she got started with Linux at 17.
Next up was KubeCon co-chair Constance Caramanolis who gave a project update on Argo, Contour, TiKV, and Jaeger.
Shane Lawrence and Kris Nova talked about Shopify's use of cloud native technologies and Falco.
We celebrated five years of collaborative innovation around the Open Container Initiative with Sally Ann O'Malley and Urvashi Mohnani!
Finally, we got a really informative overview of CNCF and the TOC from TOC Chair, Liz Rice.
Videos: All presentations and videos are still available to registrants to watch on demand in the InExpo platform. They will also be publicly available on the CNCF YouTube channel in early September.
Presentations: Presentation PDFs + closed caption transcripts can be found by navigating to the specific talk on the KubeCon + CloudNativeCon EU schedule. The presentations are listed after the speaker's bio. We are publishing them as we receive them and some talks may not be available by presenter request.
Photos: Visit the event website to view the Snapbar mosaic!
Continuing to Embrace Diversity in the Ecosystem
74% of keynotes and 21% of all talks during KubeCon + CloudNativeCon EU – Virtual were given by people identifying as women or non-binary!
We were also thrilled to offer 438 diversity scholarships to traditionally underrepresented and/or marginalized groups in the technology and/or open source communities—including, but not limited to persons identifying as LGBTQ, women, persons of color, and/or persons with disabilities. Since 2016, CNCF has offered more than 1,000 diversity scholarships to attend KubeCon + CloudNativeCon events!
ITRenew hosted its EmpowerUS event for attendees who identify as women or non-binary to come together. Attendees shared stories of overcoming adverse circumstances and discussed the best ways to empower yourself, your company, and each other through innovation.
We also hosted Peer Group Mentoring and Career Networking, which gave attendees the chance to meet with experienced open source veterans across many CNCF projects.
Keep Cloud Native Connected
During our first virtual event, Slack engagement was off the charts!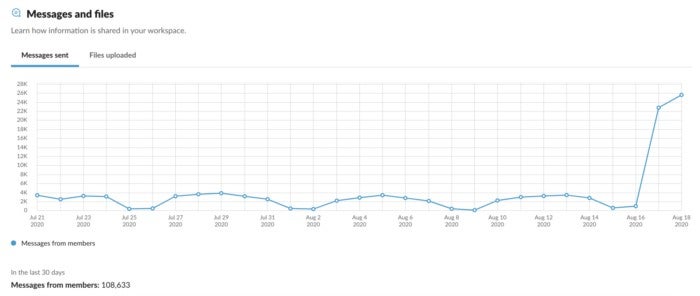 Channels like #kubecon-mixandmingle and #kubecon-networking replaced the "Hallway Track" for bumping into friends and colleagues.
#kubecon-keynotes was full of 👏 for the speakers.
Channels like #kubecon-food and #kubecon-movies allowed attendees to share virtual meals and recommendations for new favorite movies and songs.
We have FUN at KubeCon!
The events team planned a ton of really great experiences:
Zee's Selfie Snapbar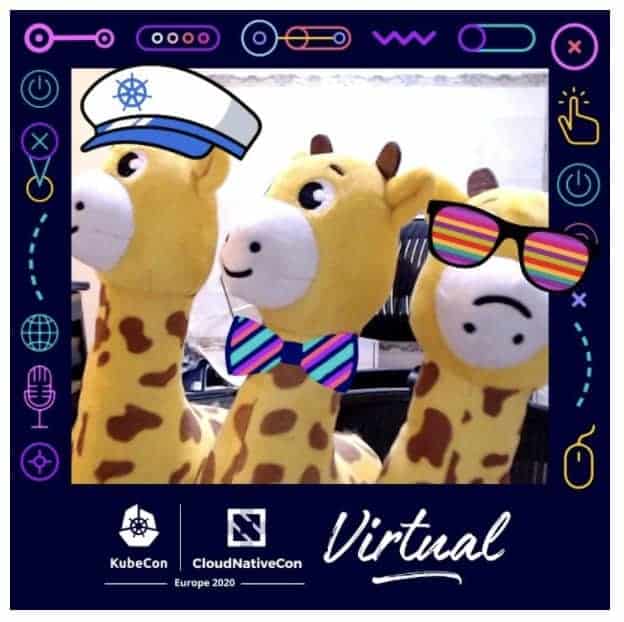 Songwriter Showcase + Meet & Greet with Michael Hicks + Band
Drag Queen Bingo with Miss Ellaneous + Marzi Panne
Goldies Games
That's a Wrap!
Don't worry, there's more – Save the Date!
EnvoyCon 2020 | October 15 | Virtual – Register now!
KubeCon + CloudNativeCon NA Virtual 2020 | November 17-20 | Virtual – Registration opens soon!