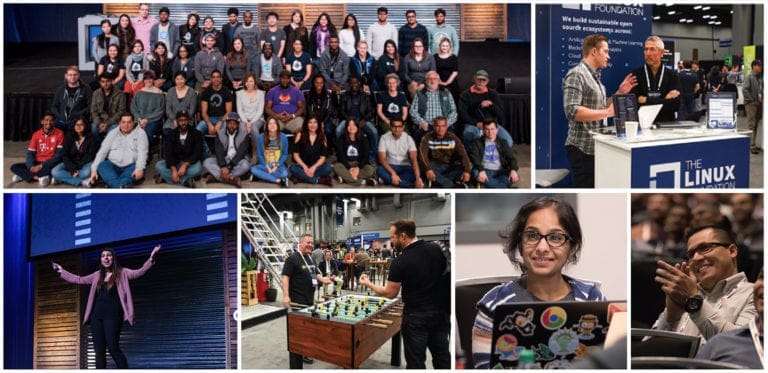 The Cloud Native Computing Foundation (CNCF) annual report for 2017 is now available here. The CNCF annual report includes highlights, activities and community engagement from 2017.
CNCF was formed under the Linux Foundation in 2015 and serves as the vendor-neutral home for many of the fastest-growing projects on GitHub, including Kubernetes, Prometheus, and Envoy, fostering collaboration between the industry's top developers, end users, and vendors.Kubernetes and other CNCF projects are some of the highest velocity projects in the history of open source. When founded, CNCF had 28 members and we ended the year with 170 members and growing. We are an open source software foundation dedicated to making cloud-native computing universal and sustainable.
CNCF is catalyzing the cloud-native movement and we are regularly adding new projects to better support a full stack cloud-native environment.To better listen to our community, we conducted a survey to learn more about the state of Kubernetes' deployments and other container management platforms, as well as the progress of container deployment in general. More than 550 community members responded. The future of cloud-native is exciting, with more than 93% of respondents recommending CNCF technologies.
Our end user community is growing and we finished 2017 with 32 top companies and start-ups that are committed to accelerating the adoption of cloud-native technologies and improving the deployment experience.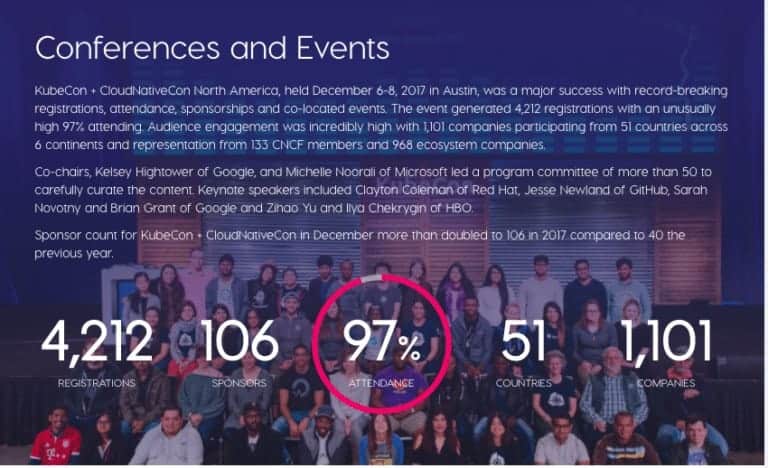 None of the work we do or the impact we have would at CNCF would be possible without the dedication of our global community of members, end users, developers, contributors and maintainers. We are incredibly grateful for the support and we will continue to enable software developers to build great products faster.
Adopting new technologies can be challenging, especially when it's hard to find qualified people. Early training/certification draws talent in early and gives employers confidence to deploy cloud-native technologies faster.
CNCF offers training and certification for key CNCF technologies like Kubernetes to ensure that organizations can train their own employees or hire from a strong body of experienced talent. It is nearly unprecedented to get every cloud company, enterprise software provider and startup in the industry to support a conformance program. It is an extraordinary accomplishment that there are no forks in our industry, which speaks to the commitment that companies of all sizes have made to be good partners in the community. The community response was overwhelming; CNCF had certified offerings from 44 vendors in 2017. Learn more about our software conformance and training programs.
CNCF will continue to build sustainable ecosystems and foster a community around a constellation of high quality projects that orchestrate containers as part of a microservices architecture. We hope you will join us on our mission in 2018. Learn more at www.cncf.io.
Come join us at KubeCon + CloudNativeCon in Copenhagen on May 2 – 4, 2018 , Bella Center, Copenhagen, Denmark to foster collaboration, community engagement, and further the education and advancement of cloud native computing.