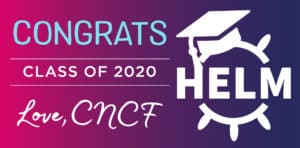 Popular packaging manager used widely in production by organizations like AT&T, Conde Nast, JD.com, Microsoft, and VMWareSAN FRANCISCO, Calif. – April 30, 2019 – The Cloud Native Computing Foundation
® (CNCF®), which builds sustainable ecosystems for cloud native software, today announced that Helm is the tenth project to graduate. To move from the maturity level of incubation to graduation, projects must demonstrate thriving adoption, an open governance process, and a strong commitment to community, sustainability, and inclusivity.
Helm is a package manager that provides an easy way to find, share, and use software built for Kubernetes. The project uses a packaging format called charts, which are a collection of files that describe a related set of Kubernetes resources. It is used in production by a variety of organizations, including AT&T, Bitnami, CERN, Conde Nast, Microsoft, VMWare, and many others. Since its inception, there have been more than 13,000 contributions representing over 1,500 companies to the Helm project.
"Because of its close ties to the Kubernetes community, Helm has been involved with CNCF since the foundation was created," said Chris Aniszczyk, CTO/COO of the Cloud Native Computing Foundation. "Since joining CNCF as an independent project outside of Kubernetes and with their recent v3 release last year, the project has proven to be incredibly popular with end users by lowering the barrier of entry to install and manage software in Kubernetes."
Helm was created in 2015 at Deis, which was later acquired by Microsoft. What is now known as Helm classic was introduced at the inaugural KubeCon that November. In 2016, the Helm team joined forces with Google, Skippbox, and Bitnami to produce Helm 2, which defined a workflow for creating, installing, and managing Helm charts. In June 2018, Helm joined CNCF as an incubating project. The Helm Hub was launched in late 2018 as a centralized home for Helm charts and today sees more than hundreds of millions of downloads a month. Late last year, the Helm team released Helm 3, which builds upon the Helm 2 workflow, changing the underlying infrastructure to reflect the needs of the community as they change and evolve.
"When we set out to build Helm, we had two goals in mind," said Matt Butcher, principal software development engineer at Microsoft and Helm maintainer. "First, make it easy for Kubernetes newcomers to get started deploying cloud native applications. Second, provide a package manager that can scale with enterprise needs. With today's graduation announcement, we're happy to see how these two goals have been fulfilled on a larger scale than we ever imagined!"
Across Helm and all its sub-projects, there are 28 active maintainers from 16 different organizations, including Blood Orange, IBM, Microsoft, Samsung SDS, and more. The project also has more than 30,000 GitHub stars and receives close to 2 million downloads a month from across the globe.
"We're absolutely thrilled to hear about Helm's graduation," said Matt Fisher, software engineer at Microsoft and Helm maintainer. "We've accomplished so much together as a community over the last four and a half years. Helm was built with the goal to help teams collaborate together, share their experiences with the Kubernetes community, and discover new ways of accomplishing tasks with Kubernetes. We're really proud of the work we've done up to this point, and look forward to the work ahead of us."
CNCF recently funded an open source, third-party security audit of Helm 3, which concluded that Helm is "recommended for public deployment," and did not pose significant security risks.
"Throughout my time at Condé Nast and American Express, Helm has swiftly become the de facto package manager to Kubernetes," said Katie Gamanji, CNCF TOC member and cloud platform engineer at American Express. "It is a highly customizable tool, and it abstracts the application deployment to a simple configuration file. I am excited to see Helm as a graduated CNCF project, as it is a mechanism that sustains open collaboration and closes the gap between the application and infrastructure teams."
"Helm has empowered our developer teams to leverage our on-premise multi-tenant Kubernetes installation in a big way," said Nick Shine, technology engineer at State Farm. "With the power of Helm and a GitLab CI Runner Helm Chart, developers were able to take control of and manage their own CICD infrastructure in a single command without the overhead and redundancy of every team becoming experts in Kubernetes. Our internal Helm Chart Repository has grown from just a few charts, customized to comply with our security policies, to almost 40, providing developer teams with a wider range of tools, databases, and language choices than ever before."
"Helm is a fantastic tool for Kubernetes application deployment," said Liying Zhang, product manager, JD Retail. "We recently started to use Helm for deploying our ChubaoFS cluster on JD's Kubernetes platform, where it has helped to reduce the deployment time from several hours to a few minutes. In addition to ChubaoFS, we also use Helm to manage many other charts including ectd, grafana, MySQL, zookeeper, etc. I'm thrilled to see Helm graduate, and hope this project becomes increasingly active and benefits more users."
To officially graduate from incubating status, the project has adopted the CNCF Code of Conduct. It has also defined transparent open governance and has a security assurance case, part of the requirements for CII Silver level, that did not find any issues.
For more about Helm, please visit https://github.com/helm/helm.
Additional Resources
About Cloud Native Computing Foundation
Cloud native computing empowers organizations to build and run scalable applications with an open source software stack in public, private, and hybrid clouds. The Cloud Native Computing Foundation (CNCF) hosts critical components of the global technology infrastructure, including Kubernetes, Prometheus, and Envoy. CNCF brings together the industry's top developers, end users, and vendors, and runs the largest open source developer conferences in the world. Supported by more than 500 members, including the world's largest cloud computing and software companies, as well as over 200 innovative startups, CNCF is part of the nonprofit Linux Foundation. For more information, please visit www.cncf.io.
###
The Linux Foundation has registered trademarks and uses trademarks. For a list of trademarks of The Linux Foundation, please see our trademark usage page. Linux is a registered trademark of Linus Torvalds.
Media Contact
Jessie Adams-Shore
The Linux Foundation
PR@CNCF.io