How does photography and live music translate into tech? For Whitney Lee, Technical Advocate at VMWare and CNCF Ambassador, it turned out to be the ideal blend of skills for a thriving technical career, and the start of long-term open source contributions that have significantly aided others in the cloud native ecosystem.
Whitney, who has a fine arts degree, spent a decade working as a wedding photographer. But when burnout struck, she decided to completely change direction.
"Around that time, my brother's band, Mutual Benefit, was having a lot of success and he invited me to play in the live version of the band. So I quit everything. I put all my belongings into storage and I lived without an address for a year, in a van, touring the world.

"When I came back, I needed something to do with my life. And that's when my son, who's a software engineer at Adobe, recommended that I get into tech."

Whitney Lee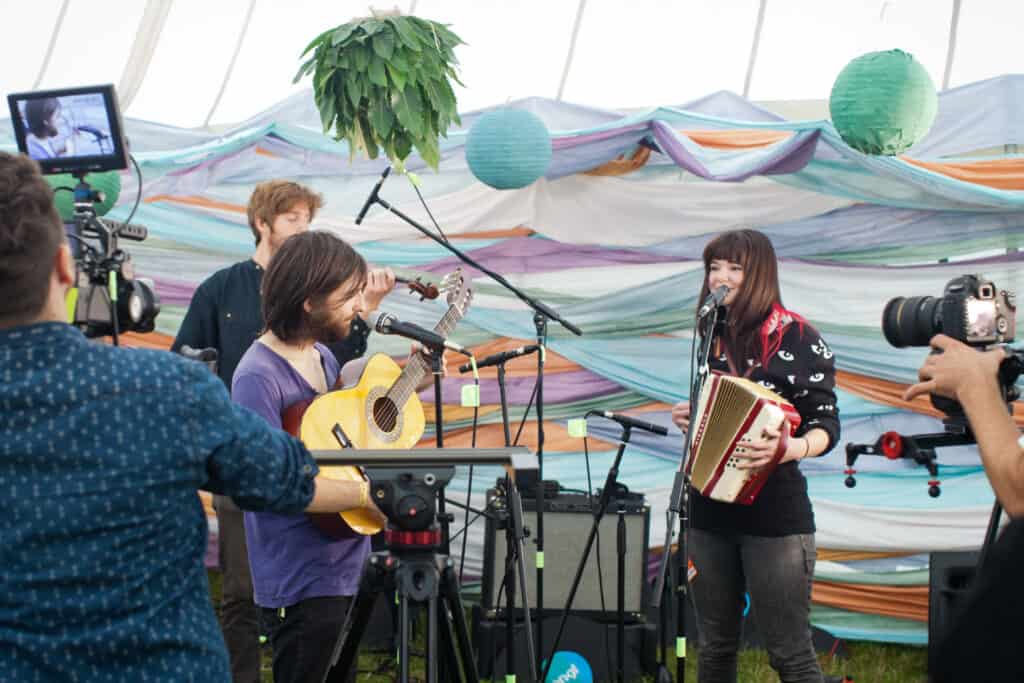 Code Bootcamp
In 2019 Whitney wrote her very first line of code – embarking on an intensive three-month bootcamp that focused on full stack web development. When she'd completed the course, Whitney discovered that IBM was recruiting cloud developers from her graduating class for its Cloud Pak Acceleration Team. Her interview preparation was her first introduction to Kubernetes.
"For the job interview, I used Docker and packaged up an application into a container and talked about how Kubernetes works, and they hired me! At bootcamp, cloud stuff was thought of as being dry and boring. I didn't expect to fall in love with Kubernetes and cloud native computing."

Whitney Lee
Whitney was hired into a traveling pre-sales position where she built out proof-of-concept projects, and then the pandemic struck. Her job moved online, so, in between client engagements, Whitney dedicated herself to learning and discovered a way to combine her tech skills with her creativity.
"I found my way to the IBM Cloud Youtube Channel. Jason Goode, who was the content director for the channel, had posted in the IBM Slack workspace that he was looking for Austin-based SMEs to help make content, because they had a lightboard studio in Austin.
"At that point I'd been in the job for six months. I was barely getting my feet wet in terms of what everything is. I'd been in tech, period, for less than a year-and-a-half. I filled out the form just to learn a little more because I thought maybe they have it scripted, and I just have to come in and perform. And I'm a performer, I've been in a band!"

Whitney Lee
Jason and his team responded, asking her to join them on the channel, which turned out to be Whitney's first open source contribution.
Being new is a feature, not a bug
At first, Whitney felt unqualified, but was encouraged by the team who offered coaching and reassured her that she could re-do the video if she wasn't happy with it. She also found a technical mentor in Rick Osowski, who she would practice with before going to the studio so she felt confident in her presentation.
"Because he was there I felt safe that I definitely was presenting correct and good information and not leaving out a big part of the picture or anything like that," she said.
"Looking back on it, the fact that I was so new was a feature, not a bug, even though I viewed my newness as a bug for so long. The way that I had to think about cloud development as a beginner, and the way I presented it, made it very, very accessible, and I love my child's mind, and as I'm learning more and more, I'm doing what I can to keep that child's mind."

Whitney Lee
From Videos to VMware
Whitney went on to make seven videos for IBM Cloud YouTube channel, and realized that she enjoyed making the videos more than her sales-focused work.
"I started looking at Developer Advocacy jobs and I saw one at VMware that called for deep Kubernetes expertise. I knew that I was wildly underqualified but I applied anyway because I had nothing to lose, and I thought I might have some good conversations as part of the interview process."

Whitney Lee
In the end, VMware did not offer Whitney the Kubernetes expert position on their advocacy team –- she indeed wasn't qualified enough. But VMware advocacy manager Tasha Isenberg loved Whitney's lightboard videos, as well as her curiosity and willingness to be genuine and vulnerable, so Tasha created a position just for Whitney and invited her to be part of the team!
Streaming queen
During her short time at VMware, Whitney has become a warm and welcoming presence in the cloud native community, and her technical expertise has skyrocketed.
"I have a lightboard studio in my home, and I host a streaming show called ⚡️Enlightning where on each episode I invite a member of a different CNCF project to come on and teach a beginner about what their tool does – me! I ask a ton of clarifying questions and I draw out the material on the lightboard as I learn, and we end up with a great entry-level overview of each project.

"The problem is that I'm learning so much – I've done more than 60 episodes now – I'm not a beginner anymore! I've developed some rather deep knowledge. But I do my best to not make assumptions and to keep the show accessible to viewers of all skill levels. I still vividly remember what it is like to hear all of the jargon for the first time – it is overwhelming!"

Whitney Lee
Whitney also co-hosts a delightfully fun streaming show You Choose, alongside Viktor Farcic, which is a 'Choose-You-Own-Adventure'-style journey through the CNCF landscape, and she is one of the hosts of Cloud Native Live.
Somehow she finds time to speak at conferences too, and she has delivered many engaging presentations, including keynotes at both KubeCon + CloudNativeCon North America and China – all of which demystify cloud native development. 
"Of course, I love getting to know each technology specifically. But I'm also really enjoying getting to know the spaces in between the technologies as part of You Choose and Enlightning. On Enlightning, I recently wrapped up a series of episodes on ingress and it's been really wonderful to get to know folks from each ingress project, and to connect them a little bit to each other."
Beginners – don't make assumptions
During her early days in the cloud native community, Whitney found it "terrifying" to ask questions in the CNCF project Slack channels. But once she took her first steps, she found a community that is deeply kind and welcoming. Now she recommends folks who are new to the community should assume the best intentions.
"I've interacted with probably more than 100 people in the cloud native ecosystem, and without exception, everyone has been kind. If you are going to assume anything, assume that people are coming with kindness, and that they want to help beginners because that is how this space works, and probably a big reason why I love it here so much."

Whitney Lee
In fact, maintainers are eager to attract new contributors, and often broadcast requests for assistance on Whitney's streaming shows.
"Folks are hungry and they want you around!"
Get Involved
If you're feeling inspired by Whitney's cloud native journey, why not start yours? We welcome all contributors, whether you're a coder or a creative. You can find out how to take your first steps on the contributors page and join the community conversations on the CNCF slack channels.
Don't forget to check out the CNCF Job Board if you're looking for your next cloud native opportunity, or for the next great person to join your team!