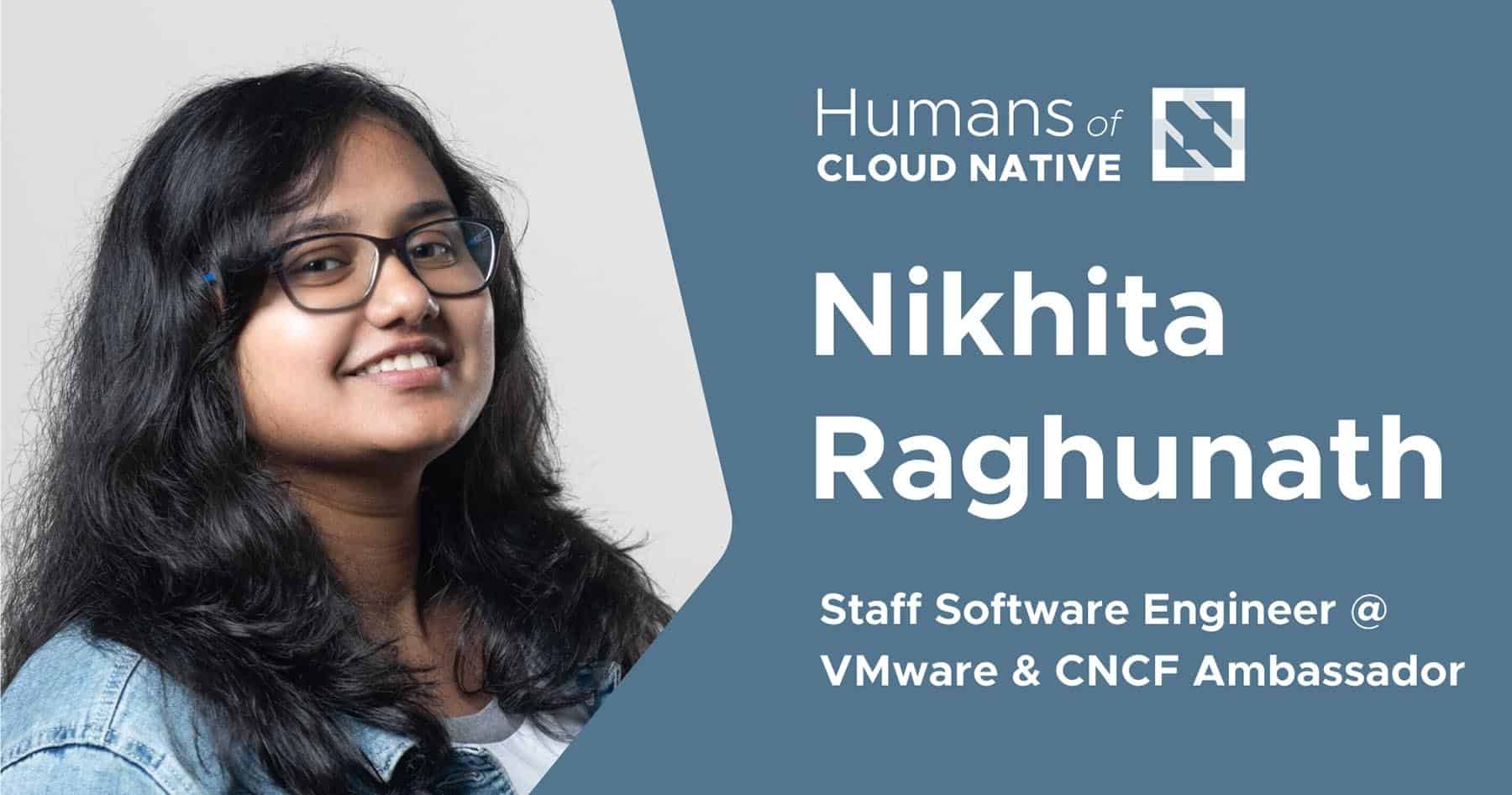 From her work on the Kubernetes Steering Committee and SIG Contributor Experience group, to helping hundreds of folx on their cloud native journey through ongoing mentoring with the Google Summer of Code and Outreachy internship programs, VM Staff Software Engineer Nikhita Raghunath is one of the most experienced and welcoming faces in #TeamCloudNative. And what's even more remarkable – she's self-taught.
"I was an electronics major studying electronics engineering, but I was really interested in programming and I just learned by myself," she explained. "I started learning more about it and I came across this programming language called Go and kept diving deeper."
In fact, she hadn't heard of Kubernetes before attending her first tech conference!
"I thought: maybe this thing is cool and I should check it out, so I went home and read up more about it. And I saw that there was an internship program called Google Summer of Code, where students work on open source projects and are mentored by experienced engineers."
Learning on the fly
Accepted into the 2017 GSoC program, Nikhita was thrown in the deep end, quickly learning and experimenting as she improved third party resources for Kubernetes.
"It was pretty scary at first, because I didn't have much Kubernetes experience so I was learning things on the fly. But one thing that really helped me was asking questions. Sometimes I look back in hindsight and think 'maybe that was a dumb question', but my mentor Stefan Schimanski was so patient and I kept learning and absorbing."

Nikhita Raghunath
Building new skills
In fact, at the end of GSoC, Nikhita wanted to keep contributing beyond her original project, so when Stefan offered her an internship at RedHat she jumped at the chance. Before long, she was working as the Technical Lead for CNCF's SIG Contributor Experience and serving on the Kubernetes Steering Committee, which presented a new set of challenges.
"As engineers, we've taught ourselves how to write code, we've taught ourselves design skills and so on, but being on the Steering Committee required an insane amount of people skills," she explained. "You're the face of the community's project, no one other than the Steering Committee can speak on behalf of the project and it's definitely taught me a lot more than I could ever imagine."
Heart of the community
More than five years since joining #TeamCloudNative, Nikhita says the community has a special place in her heart. She continues to mentor and give back, and is currently working as an LFX mentor on CNCF – Kubernetes SIG ContribEx: Improvements to Kubernetes maintainers-related automation.
"I've been around so long not just because of the technical aspects but because of the people. I've made a lot of good friends in the community and I think that's the one of the things that I cherish the most. And on that same note, it's also been very meaningful for me to bring other people into the community."

Nikhita Raghunath
Chop wood, carry water
Longevity within the community is something she's actively trying to encourage among new contributors, because one of the most valuable contributions others can make is to stick around for the long haul.
"Even though we have thousands of contributors, most people actually contribute one or two things to the project. This is fantastic, but we'd also like people to stick around and make sustained contributions. It also means that our investment in mentoring them plays out in the long-term because then they go on to mentor thousands of other contributors."
Get started contributing
If Nikhita's contributions have inspired you to get started, she advises folx to be specific, find a niche you love, and not to worry about 'lurking' in meetings!
"Poke around in the slack channels and learn what people are talking about and who does what before you start contributing – just jumping in can be intimidating!," she shared.
"My other suggestion is to attend SIG meetings that you're interested in – there will be quite a few people there and no one is going to ask you to speak up if you don't want to. But say someone's talking about a cool thing that they're working on and you think like that's something that you would also want to work on, you can reach out to them on Slack afterwards. Be specific about how you could help with a feature."
Plus if you're interested in mentoring or being mentored, check out the CNCF Mentoring Initiatives , where there's hundreds of interesting issues to get stuck into.