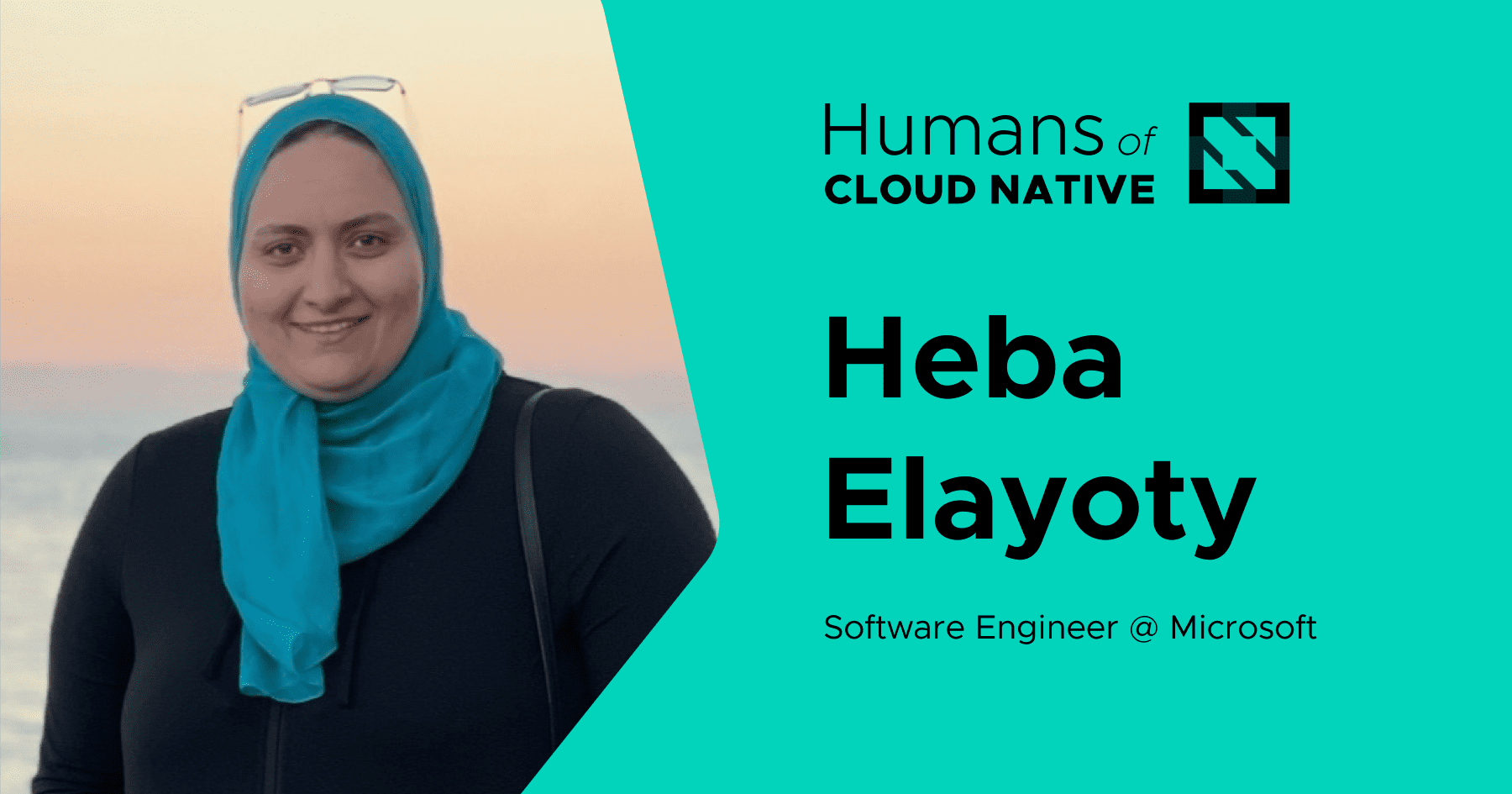 "The percentage of women who apply to shadow the Kubernetes Release Team is rising, but we need to advertise this more, we need to reach out to parents and let them know the opportunities are out there."

Heba Elayoty
Diving back into the tech waters after parental leave is a difficult journey. Not only are folks navigating work alongside a growing family, they're also contending with an ecosystem that's evolving at light speed.
When software engineer Heba Elayoty jumped back into tech in 2017, after taking a career break to raise her two children, she discovered a completely different world to the one she'd left just a few short years before. Today, she's a deeply valued member of #teamcloudnative, nominated as the bug triage lead for the upcoming Kubernetes 1.25 release and is helping parents carve a path in cloud native as experienced career returners.
A whole new world
"I've been a mom for 13 years and when I started to go back to work after my second maternity leave, it was like I didn't know anything about what was going on. I was off for two years and in those two years everything changed," Heba explained.
"When I joined Microsoft I joined a very different organization than where I'd worked before. It was a good time for me to ramp up with a lot of cloud services and Kubernetes, and what I was introduced to just fascinated me. I thought 'How amazing is this!' so I got stuck in and decided this is my area, this is what I want to dig into."
Community contributions
Heba's mentor at work encouraged her to get involved in the cloud native community, suggesting active folks to follow on twitter and contributing to Kubernetes projects. She started contributing to the Kubernetes Secrets Store CSI Driver and went to her first KubeCon + CloudNativeCon in San Diego in 2019.
"Everything really started when I went to KubeCon," Heba explained. "My mentor, Paul Bouwer, introduced me to other folks in the Kubernetes release team and the wider community, and so many great people. They said, 'hey how about you come and join the release team' so I applied and I got accepted as a shadow for the enhancement team for the Kubernetes 1.18 release.
"Jeremy Rickard was the enhancement lead back then and he was amazing. He really helped me understand what's going on and what the process is. By being in the release team you get to know the flow of things – you understand what you need to know about the project if you want to introduce new features, how debugging works, and how tracking enhancements and issues are managed."
Bridging the gap
After such a great experience, Heba applied again for the next releases, but was unsuccessful. Undeterred, she dug even deeper into the cloud native ecosystem and expanded her skill set.
"I went back, I contributed to more open source projects like the Kubernetes scheduler plugins, and even worked with the Microsoft Upstream team to implement a new scheduler plugin. I started to get noticed in the community because I had made a couple of contributions. Then folks started introducing themselves and offering to meet one-to-one, asking how they could help with my journey. And it's been a long journey, but it's just amazing how much the community has helped me throughout."
When she applied to the Kubernetes 1.24 release team she was accepted as a shadow for bug triage. Now she's nominated as the bug triage lead for Kubernetes 1.25.
Role Call
Having been through the process herself, Heba is eager to get more career returns into cloud native.
"There is a cool group on Facebook called Moms in Tech. It's open to anyone who defines as a mom and is working in tech and we have a huge community," Heba said,
"There don't seem to be as many very experienced women in the cloud native community, compared to the number of great students and folks in the early years of their careers, so I thought, 'why not share the release team application with these moms and give them a starting point?' So many of them didn't know about it, and they were like, 'Oh, my goodness, this is great, how can we contribute, how can we apply?'.
Today the number of women applying for Kuberntes release teams is steadily rising, from 9% on the 1.24 team to 11.5% for the 1.25 release.
Get Involved
You can start your cloud native journey anytime – we welcome all contributors, whether you're a coder or a creative. You can find out how to take your first steps on the contributors page and join the community conversations on the CNCF slack channels.