Throughout her career, Adriana Villela, senior developer advocate at Lightstep from ServiceNow, has experienced the power of communication and community for solving big challenges at work and outside of it.
Today, through her blog, co-hosting the On-Call Me Maybe podcast, co-chairing the OpenTelemetry End-User Working Group, and her role as a CNCF Ambassador, she's determined to open the door to new discoveries for everyone.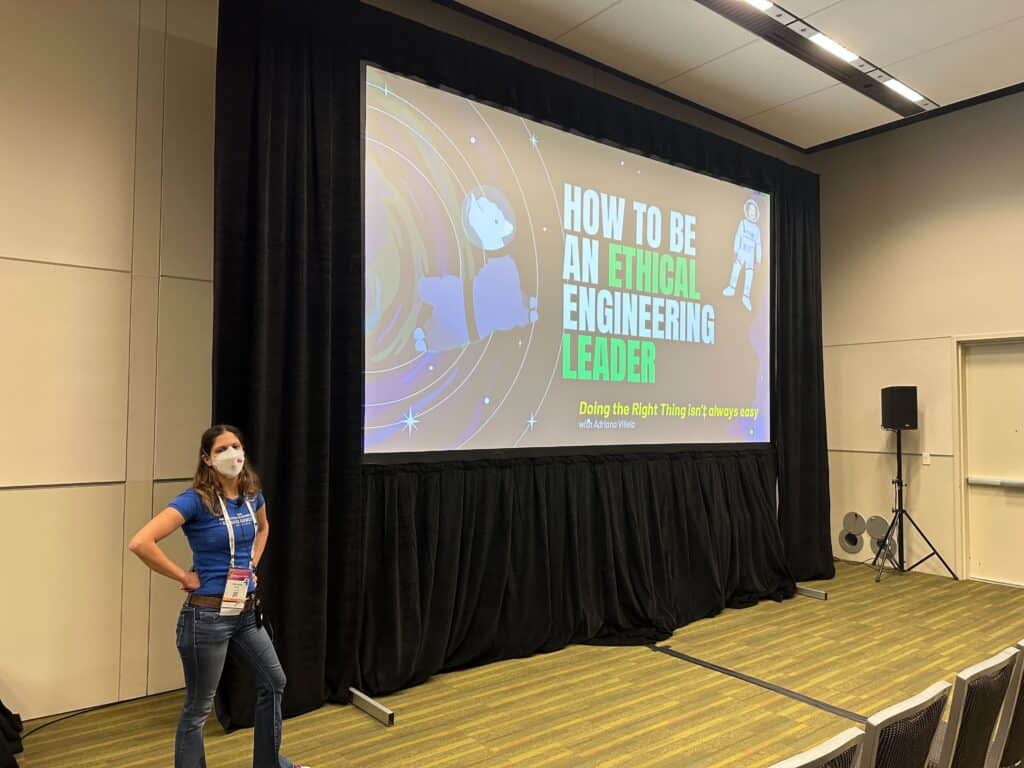 Community Knowledge
Community has always been pivotal to Adriana's career. When she was working through problems managing both a platform and an observability team at Tucows, it was her father – a software architect himself who introduced her to programming at age ten – who introduced her to DevOps' "magic" for preventing snafus in the development-operations cycle.
One of the challenges that Adriana faced in this role was the fact that the platform team that she managed was using HashiCorp Nomad. While she had extensive experience with Kubernetes from a previous role as a Release Engineer at Ceridian, and in her work managing a DevOps practices team at the Bank of Montreal (BMO), Nomad was quite new to her. To fill in the gaps in her knowledge, Adriana leaned on her direct reports for guidance and help, and documented her learnings on her Medium blog to share insights, gain feedback, and generally demystify Nomad. This work led her to becoming a HashiCorp Ambassador in 2022, barely six months after she started her Nomad explorations. She is now in her second year as a HashiCorp Ambassador.
Exploring Observability
During her time at Tucows, Adriana simultaneously managed an observability team. Although she was vaguely familiar with observability, she knew it was time to expand her knowledge in that area: "I said, 'I better well know what I'm doing if I'm managing this team. These people are looking up to me,'" she remembered. "I had an inkling about observability, but I said, 'I think it's time to dig in. So again, let's discover it and let's blog about it and share.'" Her research led her to spearhead the organization's move to OpenTelemetry (OTel), a CNCF-hosted instrumentation framework for enabling observability.
Adriana's observability blog posts garnered much fanfare online, including nods from folks at Honeycomb and her future employer, Lightstep. In fact, blogging is one of Adriana's favorite means to untangle complicated technologies for her own illumination and that of her readers.
Once at Lightstep, Adriana continued on her OpenTelemetry journey by making her first contributions to the project. She experienced once again how communication and community fuel individual and collective progress as she grew through interactions with OTel community members.
"I remember I was using one of the Helm charts for OpenTelemetry and I was talking to Tyler Helmuth, one of the OTel Helm charts maintainers, and I said, 'I think this is broken.' He said, 'File a bug.' I'm like, 'I'll do you one better. I will file a bug and send you a pull request.'"

Adriana Villela
Today she is an official OTel contributor, and co-leads the OpenTelemetry End-User Working Group (OTel EUWG).
Conversations to Contributions
Such interactions show how every chat, blog, podcast, social post, or meetup in the open source community can potentially impact projects and their human users. It's also why Adriana encourages others to join open source community gatherings, if only as a light user or observer, since eclectic voices result in enlightening conversations.
"I find meetings [like the OTel EUWG gatherings] are really informative, because I always feel like I learned something new. People are asking questions, and they've got these gnarly use cases where you're like, 'Oh, I never even heard of that; I didn't know you could do that'!"

Adriana Villela
Aside from blogging, Adriana also co-hosts a podcast called "On-Call Me Maybe" with co-worker and fellow CNCF Ambassador, Ana Margarita Medina. The podcast focuses on DevOps, SRE, observability, reliability, On-Call, and anything in-between, including mental health, which is a subject that is near and dear to their hearts. Their goal is to talk about technology in a fun and accessible way, like having a coffee chat with friends.
Get started Contributing
If Adriana's contributions have inspired you, why not get involved? The OpenTelemetry community lists multiple ways to get involved on its GitHub repo, from joining weekly meetings to diving into specialist areas through its special interest groups (SIGs).
If you're interested in other projects and initiatives, you can find out how to take your first steps on the contributors page and join the community conversations on the CNCF Slack channels.