Guest post by Sameer Danave, Senior Director Marketing at MSys Technologies
In January, we made predictions about trends in the digital transformation area for this year. As we approach the end of the first quarter, let's take a look at how these predictions are playing out, as well as any new developments that have emerged in this area:
1- Continued Rise in the Implementation of Low-Code Platforms
This trend is expected to continue as more organizations realize that low-code platforms speed up app development.Below are a few predictions to back up this fact:
According to Gartner, in the year 2023, there will be four times as many citizen developers as there will be professional developers working for major organizations.
Soon, Low-Code Application Platforms, also known as LCAPs, will constitute the most critical aspect of the market for low-code programming technology. It is anticipated that their growth will be close to 25%, bringing them close to $10 billion in 2023.
2- Increased Adoption of Cloud Computing
Cloud computing is gaining popularity due to its cost savings and scalability benefits. Cloud computing is expected to grow, with more businesses moving their data and applications to the cloud. According to projections made by Gartner, Inc., expenditure on public cloud computing would increase by 20.7% worldwide to reach a total of $591.8 billion in the upcoming months in 2023.
3- Continued Integration of AI and ML in the Q2 2023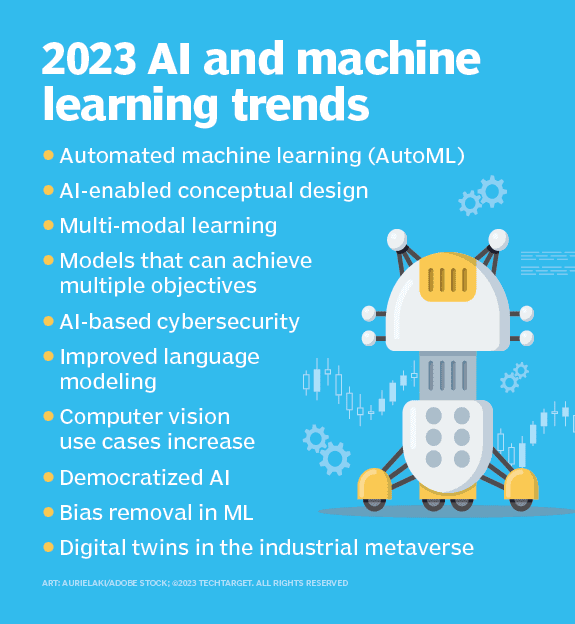 Source: Techtarget
We predicted that artificial intelligence (AI) and automation would become even more important in the tech industry, and this trend is certainly holding true.
A recent report from Grand View Research estimates that the global AI market will reach $733.7 billion by 2027, growing at a compound annual growth rate of 42.2% from 2020 to 2027. From 2023 to 2030, the worldwide artificial intelligence market is expected to increase at a CAGR of 37.3% from USD 136.55 billion in 2022.
By 2023, Gartner predicts 20–25% more pleased consumers in AI-powered organizations. This trend is set to continue in 2023, with companies projected to invest more than $500 billion in AI solutions.
4- Intelligent Search is Transforming the Way We Harness Data Insights in Q2 2023
Intelligent search has been identified as a critical tool in Q2 2023 in helping organizations move from data collection to efficient analysis and data usage.
A recent report by MarketsandMarkets estimates that the intelligent search market size will grow from US$ 7.9 billion in 2020 to US$ 19.2 billion by 2025, at a CAGR of 19.2%.
5- Business Process Automation is Driving Organizational Efficiency to New Heights in Q2 2023
Our prediction regarding the widespread adoption of business process automation across industries has been confirmed and is currently holding true.
MarketsandMarkets predicts that the size of the worldwide business process automation market will increase from USD 9.8 billion in 2020 to USD 19.6 billion by 2026.
According to research published by Gartner, an organization's finance department may reduce the manual labor it performs by 25,000 hours annually by using process automation (this equates to savings of roughly $880,000 annually).
6- Blockchain Investment in Q2 2023: Reflections on the Potential for Secure and Efficient Data Transfer
The Q2 2023 predictions for blockchain technology contain several promising entries, including:
AI-Blockchain Integration
AI-blockchain integration might enable creative application development. The International Data Corporation estimated 2023 AI spending at over $57.6 billion.
Social Media and Blockchain
Blockchain technology forecasts for 2023 suggest incorporating it into social media apps. Blockchain might address content relevance, privacy infringement, notable scandals, and data control privileges. Blockchain ensures content producers own their assets and data.
Statista predicts $19 billion in blockchain spending by 2024. This technology needs hundreds of billions more funding. Between 2023–2029, the blockchain market will expand 56% annually.
7- The Future of Work is Here: Virtual Collaboration Takes Center Stage in Q2 2023
In Q2 2023, we anticipate hybrid working patterns, cloud computing, and online tools & automation will let distributed teams operate more efficiently.
Remote employment is now part of the business environment. As a result, organizations must prioritize enhancing their virtual collaboration efforts to remain competitive and adaptive to evolving times.
8- The Power of Customer Data: Integrating Customer Data Platforms to Improve Business Strategy
Customer Data Platforms are set to become essential tools for businesses in 2023 and beyond due to their increased segmentation capabilities and comprehensive personalization strategies that significantly improve customer engagement rates.
In 2023, customer data platforms (CDPs) will become a necessity for marketers. CDPs provide improved segmentation and campaign personalization, increasing engagement with customers. Investing in a Customer Data Platform now has never been more critical.
9- Embarking on an Era of Maturation of Everything-as-a-Service (XaaS) Cloud Solutions
From 2023-2032, the worldwide Everything as a Service (XaaS) market is estimated to grow 20.77%. The market for Everything-as-a-Service (XaaS) is projected to reach a value of millions of dollars in 2029, based on its compound annual growth rate (CAGR).
10- Empowering Businesses for Greater Autonomy with Robotic Process Automation
As per the report "Robotic Process Automation Market Size, Share, COVID-19 Impact Analysis and Regional Forecasts 2022-2029" published by Fortune Business Insights, by the year 2029, the RPA market will have reached 43.52 billion USD.
Forrester takes a slightly more circumspect approach with its hypotheses and forecasts that the growing trend on the market will begin to level out starting the next year due to the reallocation of a portion of the expenses to AI-based solutions.
Final Thoughts
In Q2 of 2023, digital transformation is predicted to shift, and businesses may improve operations and gain a competitive edge by staying on top of trends and projections. In this continuously changing digital world, change and innovation are necessary to capitalize on these benefits.
Author: Sameer Danave, Senior Director Marketing, MSys Technologies
Bio: Sameer is a seasoned technology marketing professional with 16 years of full-stack marketing experience. He believes in 2 Cs – 'Customer Value' and Communications. All his Marketing campaigns and projects are packaged with it.
He drives phygital (physical + digital) campaigns that attracts and pulls customers towards the value of the brand. His marketing strategies apply omnichannel, conversational marketing tactics (Storytelling, Social, and Chatbot), AI-Enabled Inbound Marketing, backed by solid analytics, and insights with 'content' as a core part of the strategy.
Sameer is a team sport with meticulous planning, attention to details, and ability to perform under pressure – effortlessly.