Guest post by Alessandro Vozza, Andy Repton, Andrea Giardini, Ayodeji Ogundare, Marcel Kerker, Meg Stefouli, Pablo Musa, and William Rizzo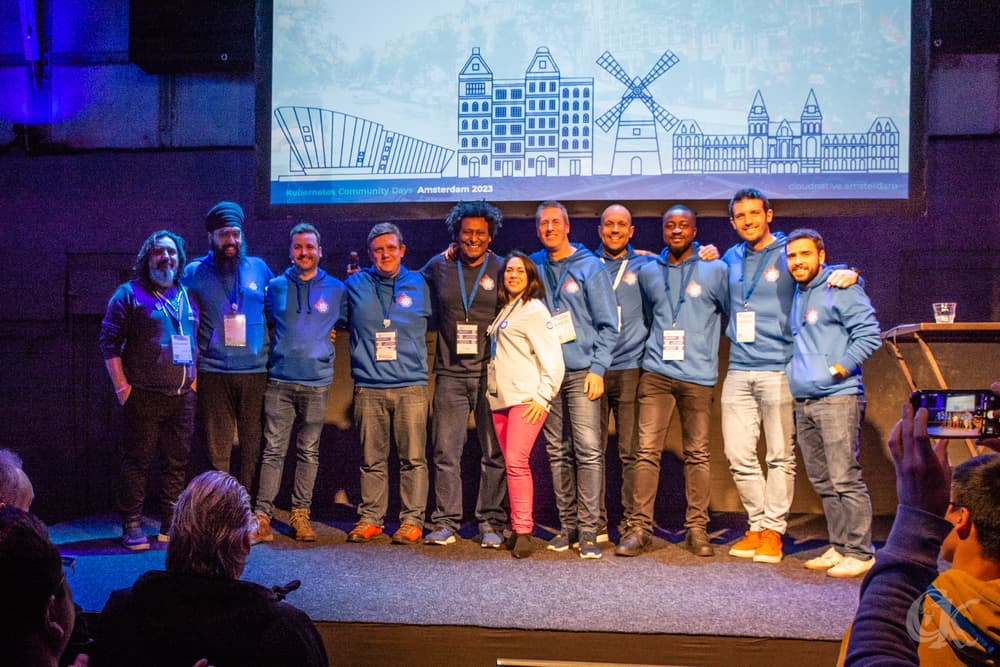 This is a story about community, resilience, grit, and friendship. The Netherlands is a small country with about 18 million people, but the community is really tight-knit and feels like a big family at times.
What started as a footnote in a CNCF blog in 2018, turned out to be one of the most appreciated series of conferences today. At the beginning of 2019, we were running a quite successful local Meetup, with over 2000 members and regular monthly gatherings. We had experimented with a one-off Kubernetes Day in 2018, thanks to Container Solutions and other community leaders, when one of us (Alessandro) was just admitted to the CNCF Ambassador program.
The idea of running the very first Kubernetes Community Days in Amsterdam slowly took shape. We focused on a hyper-local, sustainable event and adopted some ideas, like all-vegan catering, which later became one of our differentiators.
We built upon the experience of DevOpsDays and our long-standing community, culminating in a great day of community get-together, graced by the presence of the late CNCF Executive Director, Dan Kohn, and about 300 enthusiastic attendees (revisit KCD Amsterdam 2019 via these pictures and these videos).
We eagerly looked forward to the future and started planning for a bigger, stronger comeback in 2020; receiving a lot of great feedback and requests for helping to organize other KCDs all over the world. We were ready to share our learnings at the upcoming KubeconEU 2020 in Amsterdam, and CNCF further embraced the KCD concept in this blog.
How naive we were! The global pandemic and the consequent lockdown took us by surprise, despite us already investing the proceedings of 2019 into the new, bigger venue for 2020. We were forced to halt all community activities as we refused to move online, supporting the idea that our community focuses on local, in-person meetups, and put our dreams on ice as we prepared to weather the storm.
Time slowly passed, and as the global crisis receded, we made plans to come back, first in 2021, then in 2022, and then, finally, postponed to February 2023. In the meantime, we started gathering a small but tight team of organizers (it's just a coincidence that there were three Italians in it!), many at their first stint at organizing a conference. We started putting together a new call for paper, and with the amazing team at CNCF, we began the footwork process of gathering interest in attendance and sponsorship. Alessandro personally visited each and every one of the hundreds of booths at KubeconNA to pitch KCD Amsterdam. He sure got sore feet and tons of swags in the process!
Meanwhile, as we gathered more interest in bringing back this event we care so deeply about, the economic downturn and the close vicinity of KubeconEU made it harder to recruit sponsors. However, fortunately, we managed to fill all the slots. Moreover, we could secure a stellar lineup, having to painstakingly select our speakers from more than 160 submissions, with a focus on great diversity (a high priority to us). Even with our focus, we know this is something we can continue to improve upon, and we will strive for even more in the future.
Notably, we feel that the emphasis on local end-users and "from-the-trenches" talks made our conference different and more community-based. We kept the admission ticket price low to allow for more people without big corporate backing and junior developers to attend. We invited almost 80 students, and we added four workshops, including two basic Kubernetes tutorials to our lineup. We believe that to fulfill the CNCF mission of making cloud native ubiquitous, we should care and cater specially to the ones who are not yet fully immersed in the amazing world of Cloud Native apps and infrastructure. We were blessed to have once again the current CNCF Director, Priyanka Sharma,3, closing the conference.
We had a great time, and we want to share some lessons learned:
Have a clear focus on what you're trying to achieve: community strength and spreading the knowledge of Cloud Native. For us, KCDs are not "mini-Kubecons", and we used these ideas to pitch to sponsors, and it was our guideline for deciding the lineup.
Start early. There's a lot to do, and the sooner you start, the better.
Delegate as much as you can, but retain as a group creative control over the content and direction of the event; set the mood by letting folks self-organize and aggregate by avoiding micromanaging every aspect, you'll be setting yourself up for failure; let go and trust the process.
Prepare to get a lot of rejections, and yet always remember why you're doing what you're doing. For us, it was to get the community together.
Face adversity with humor and a smile! Remember, the whole point is to have fun and be of service to your community; no one likes a grouchy organizer.
Be bold and believe in yourself; most tickets will be sold in the last weeks, some sponsors will sign up at the last minute, and speakers will bail days before the conference. Stay steady and keep going (and have a backup plan)! Our decision to go vegan was criticized, but we politely, firmly, and respectfully held our ground as we believe in the positive impact, inclusivity, and sustainability we can all have as a community.
Last but not least: allow plenty of unstructured, social time between the talks and at the end of each day; the magic happens when people talk and engage with each other. Talks are great, but exchanging some ideas with someone you just met is just amazing. Moreover, our Techno Kube event on Friday clearly demonstrates that the cloud-native crowd absolutely loves to party, and many of them have some sick dance moves!
Finally, we would like to thank all the speakers, from CERN to big Dutch banks and all our sponsors: this could not have happened without them. We decided, in line with our goal of sustainability, to gift our speakers the present of trees planted in their name, focusing on reforestation in the Amazon. You can see our forest here! A big thank you also goes to our attendees, this time more than 500, and the amazing volunteers that helped us out. We will abide by your spirit and we are working already for the 2024 edition, focusing even more on the local community and being as inclusive as we can.
You can find some pictures here, the videos from the main room here, and our transparency report here. We are at your disposal for advice, suggestions, and support in building your own Kubernetes Community Days at any time. Come find us on the #netherlands channel on Slack! We are not going to rest on our laurels until next year: we organize monthly meetups all year round, and we're very excited for Kubecon: find us at the KCD Booth in Amsterdam or come listen to this panel with other KCD organizers.
On and onwards to 2024!
The KCD Team & Volunteers
Alessandro Vozza, Andy Repton, Andrea Giardini, Ayodeji Ogundare, Marcel Kerker, Meg Stefouli, Pablo Musa, William Rizzo, Daljit Singh, Jos van Schouten, Fahd Ekadioin, Lian Li, Serkan Capkan