What motivates developers to contribute to open source? What discourages them? Does it help their careers? The CNCF and TAG Contributor Strategy asked these and other questions in a new annual micro-survey. In this blog post, we share the results.
TAG Contributor Strategy
TAG Contributor Strategy (TAG CS) — TAG stands for Technical Advisory Group — is a group of CNCF community members that help CNCF projects build and execute sustainable contributor strategies for a healthy open source project. Areas of expertise include contributor experience, sustainability, governance, and openness guidance.
But to provide more than just "best practice" advice, TAG CS wanted to better understand contributors' motivations and pain points. That's why the CNCF and TAG ContribStrat launched the first contributor experience survey last fall. Over time, this annual effort will yield increasingly more actionable insights that project owners can leverage to improve their project health.
Ok, enough about us, let's dig into the data.
A commitment to contributing but also a resounding yes for compensation
More than three of four contributors to CNCF open source projects (78%) say their companies should pay for their time on the contributions, and 79% say contributing to open source has helped their careers.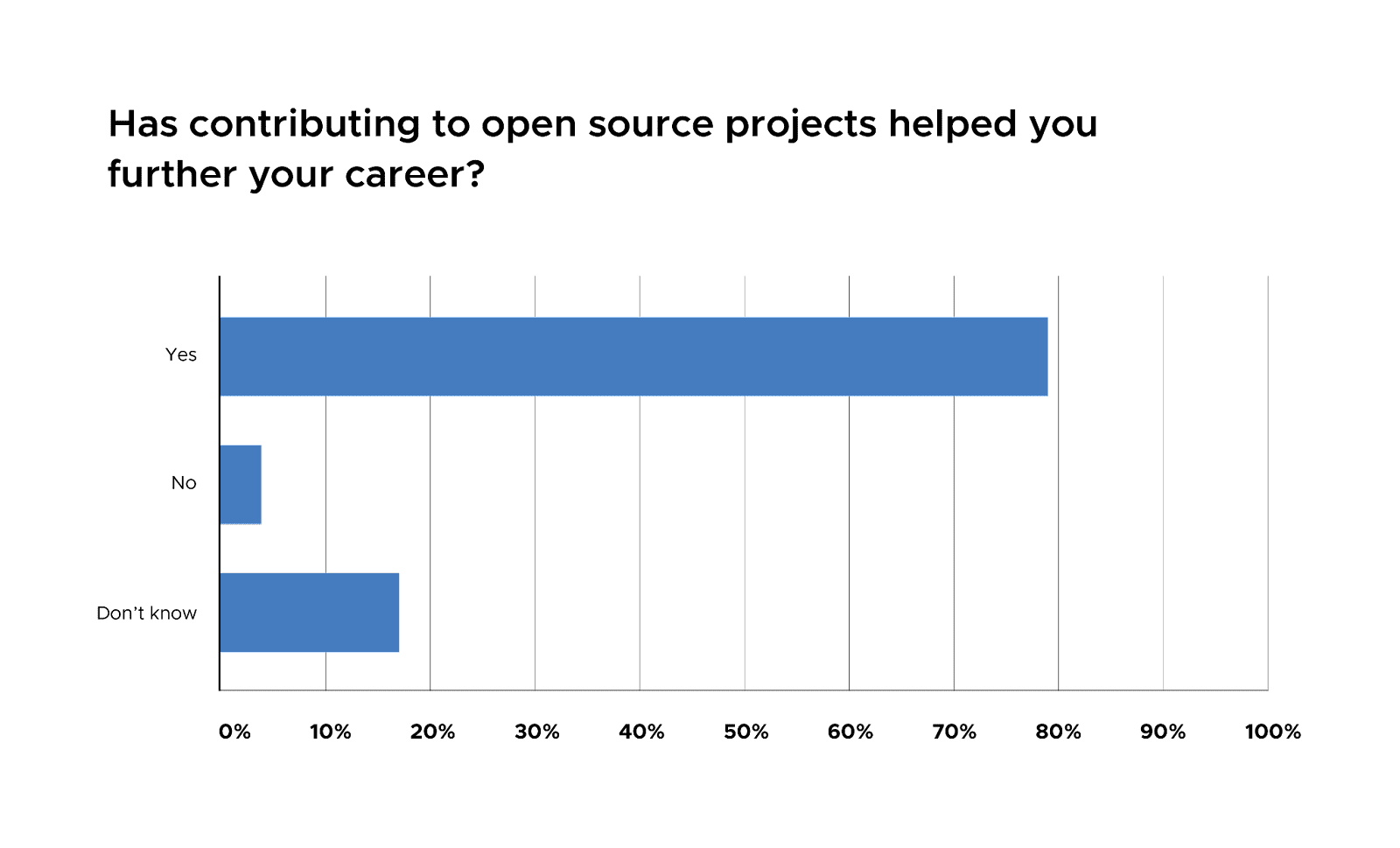 The microsurvey results underscore the growth and maturation of open source in the technology landscape, its spread in companies large and small, and it also reveals areas where improvements are needed to make contributing easier.
The continued upward trajectory for contributions to CNCF projects is good news for CNCF. Almost 6 in 10 respondents (59%) said they plan to contribute more to CNCF projects this year, and 28% say they'll contribute about the same amount as last year. A full 23% were new to contributing.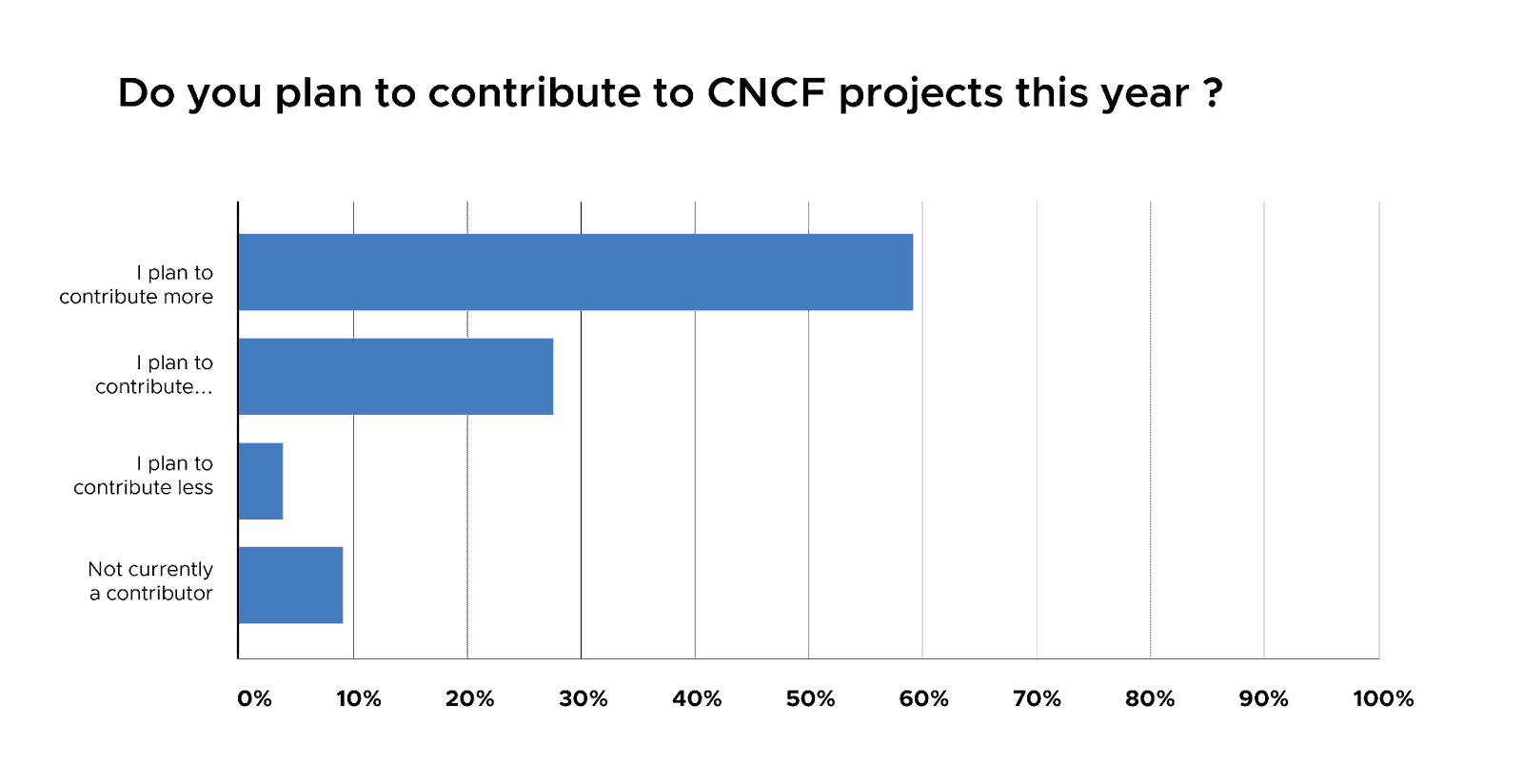 The microsurvey includes 159 respondents from around the world, with the largest chunk from the U.S. and Canada.
Almost 59% contribute to CNCF projects on work time, and 25% contribute as part of their main job. More than half, 53%, were at least regular, frequent, or high-volume contributors and one-third were maintainers. Maintainers play a vital role in keeping projects on track, interacting with contributors to ensure they have a positive experience, sticking around, and seeing that their work matters.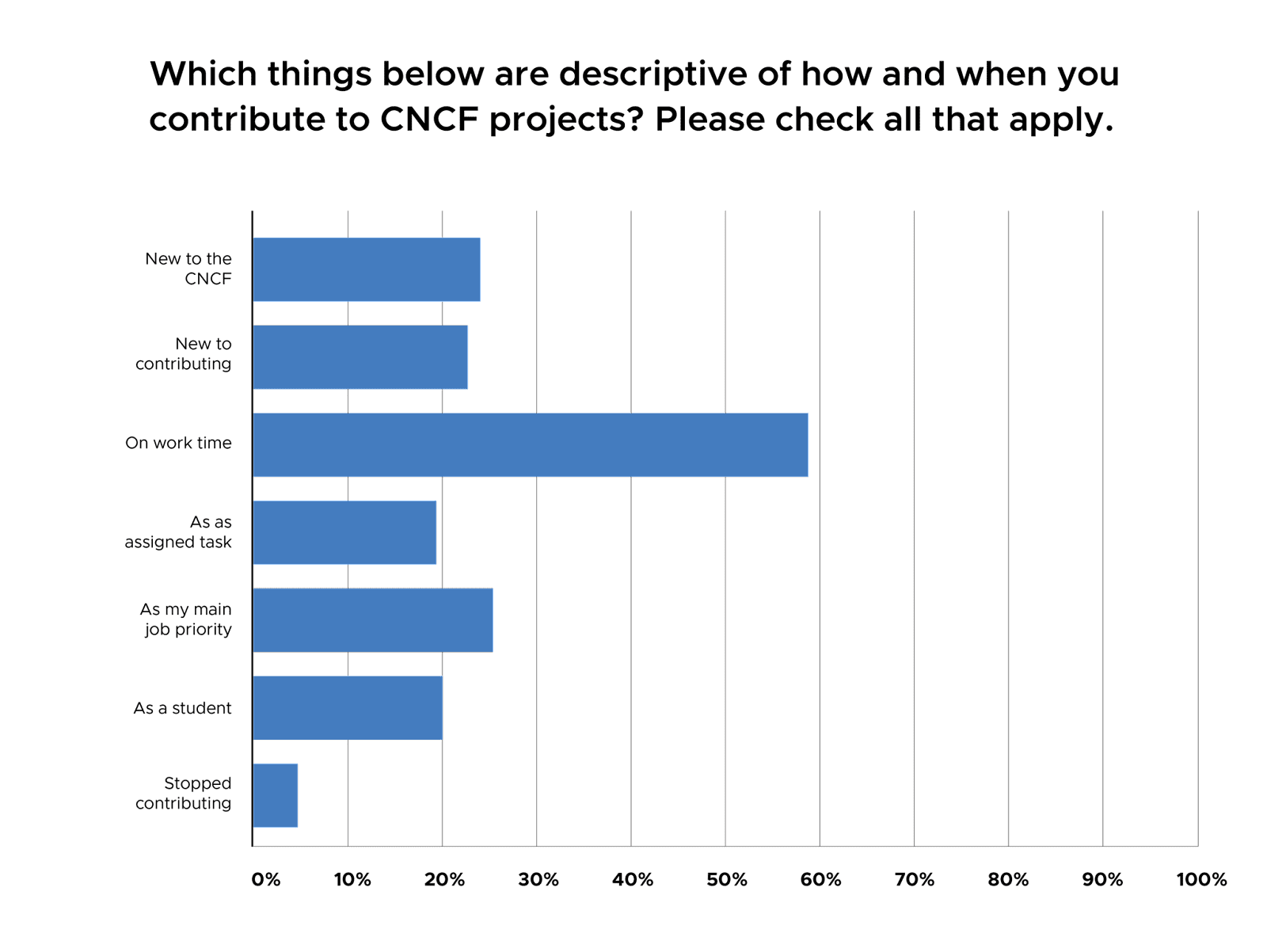 Open source advances careers
When asked exactly how contributing to open source helped careers, respondents said they:
• Learn from collaborating with other people, 87.3%.
• Advance their technical skills, 84.5%.
• Are more engaged because they see their contributions count, 67.6%.
• Are more engaged because they're working on cutting edge projects, 57.7%.
Drilling down into how they contribute, 65% said they code bug fixes, 62% write documentation, and 55% code features. All of these skills are highly transferable in software development roles.
More work ahead
Most contributors said they had a positive experience contributing to CNCF projects, with 18% describing the experience as excellent, 31% great, and 29% good.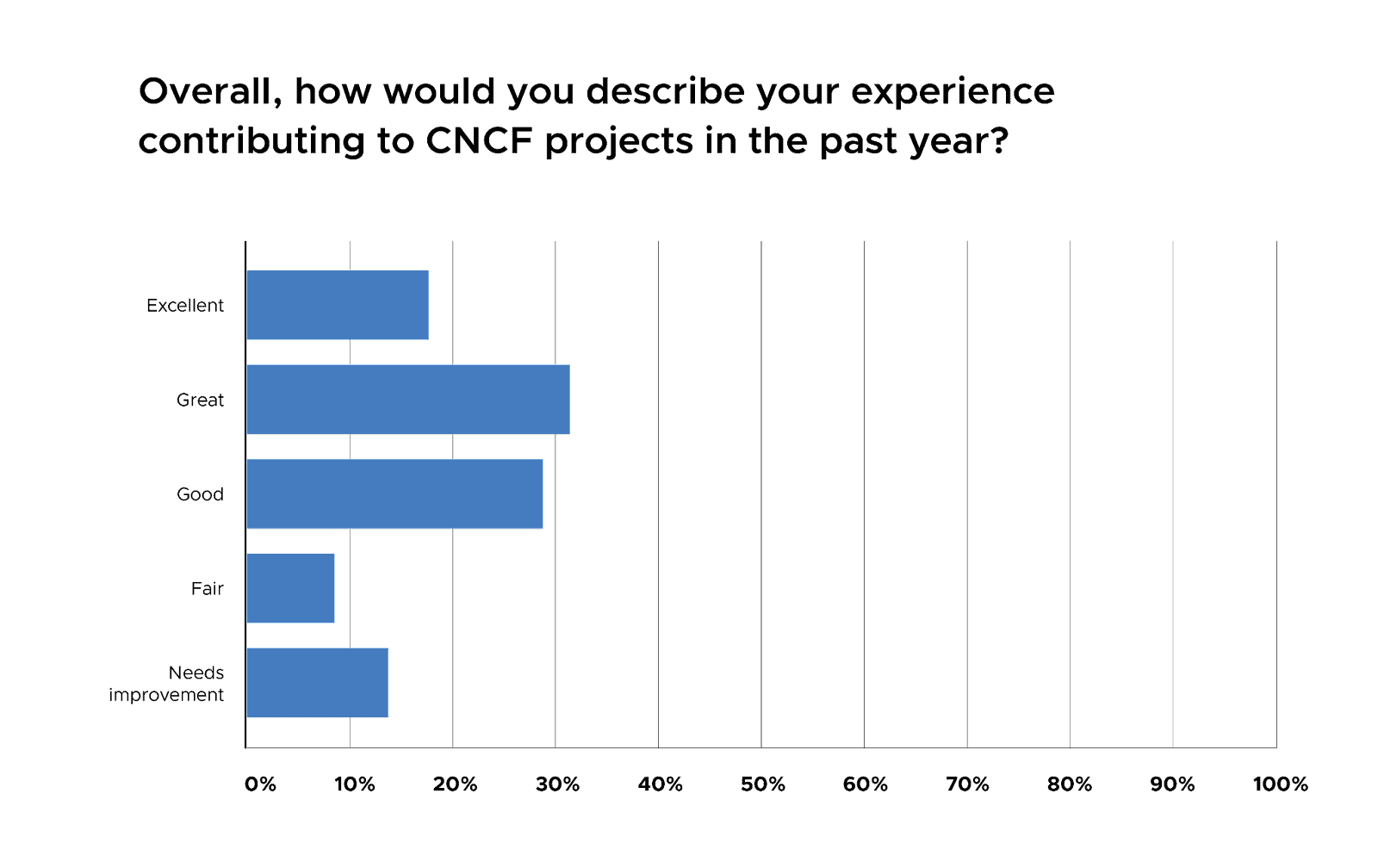 However, a solid 22%, mostly new contributors, described the experience as fair or needing improvement. The friction points were issues that have been long standing in open source and cloud native communities.
Four in ten (42%) contributors say they have difficulty figuring out where to contribute, 37% experience build, testing or other technical problems, 34% experience poor documentation, and 32% say the project is not responsive.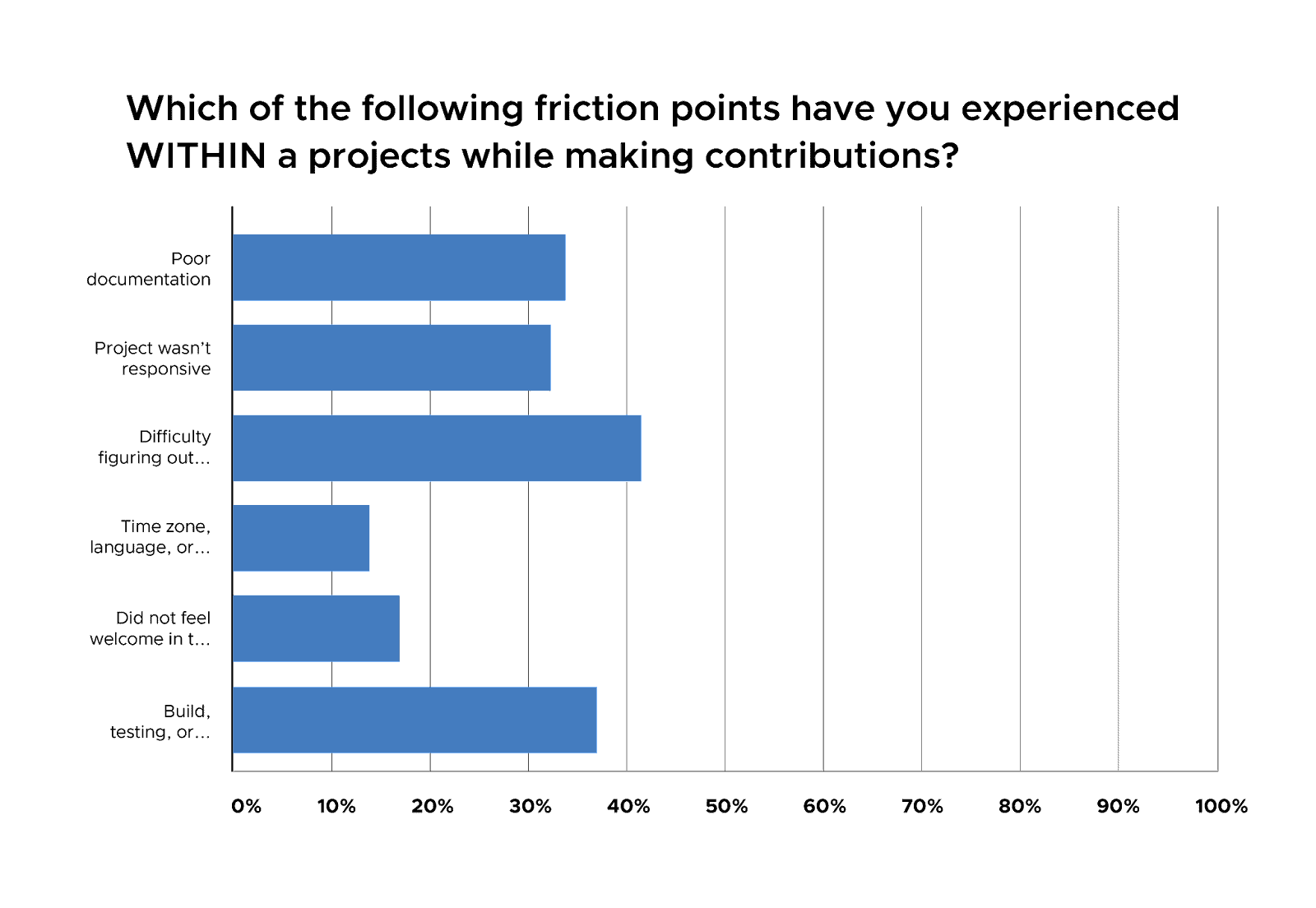 Sometimes friction comes from external factors. More than half cited limited work time, not enough personal time or energy and conflicts between work and project priorities. Four in ten said they experience a lack of management support and understanding.
Building for the future
The microsurvey results mirror much of the discussion at the last KubeCon + CloudNativeCon NA event in Detroit in late October. CNCF's Executive Director, Priyanka Sharma, leaned into the benefits and service that project maintainers provide.
With over 180,000 contributors to the cloud native ecosystem, Sharma also noted the responsibility we all have to contribute back to the ecosystem and community. This means both as individuals and as organizations that benefit from open source and cloud native technologies.
Contributors, help us understand you better
Understanding your motivations and friction points is incredibly important for projects to improve your experience. If you are a contributor, please consider participating next year. It really helps us help projects!
Maintainers, join us! There is no need to reinvent the wheel
Maintainers and contributors, whatever challenge you face today, others have faced before you. There is no need to reinvent the wheel. Join our cross-project maintainer community to connect, exchange ideas, and support one another. Sign up for our mailing list and join our meetings listed on the CNCF calendar. Just search for "contributor strategy." We look forward to meeting you!
To make it easier for CNCF project maintainers to attend events, the Foundation just announced a new maintainers scholarship! Think about applying for the upcoming #KubeCon + #CloudNativeCon Europe 2023, happening April 18-21 in Amsterdam. The scholarship deadlines are February 19 at 23:59 Pacific Time for in-person attendance and March 26 at 23:59 Pacific Time for virtual attendance.

We also hope you will join us at CloudNativeSecurityCon North America, happening Feb 1-2 in Seattle, WA!