Guest post by Karthik Satchitanand, LitmusChaos Maintainer & Principal Software Engineer at Harness
Introduction
Not unlike the previous editions, KubeCon NA 2022 @ Detroit was quite eventful for the LitmusChaos project. The interest around the project and chaos engineering in general, continues to grow, something that is best reflected in the increasing number and sheer diversity of presentations around it!
Considering we had important happenings on each day of the conference week, the team just decided the updates would be best written up in the form of a diary! So, here goes…
Oct 24th, Monday
It is no longer a joke to claim that CNCF project cycles are measured by KubeCons! Keeping with tradition, we announced the release of 3.0 Beta in the well-attended project meeting. The goals laid out for this next major version, to make Litmus leaner, more robust, and developer-friendly resonated well with the community. Litmus 3.0 will remain in beta over the next several months as we incorporate the incoming community feedback.
Head to the discussion board to chime in with your thoughts on what we have in the works for this new major version!
Oct 25th, Tuesday
The Litmus maintainers & members from the user community participated in the first-ever CNCF co-located event for Chaos Engineering at Kubecon, aptly titled Chaos Day, which Harness sponsored. The project has indeed come a long way since being announced at the Copenhagen KubeCon (2018), to influencing a day-long pre-conference celebration of cloud-native chaos. Umasankar Mukkara began proceedings with an insightful Keynote filled with chaos-myth-busters, predictions, and valuable tips for building an organization's chaos maturity model.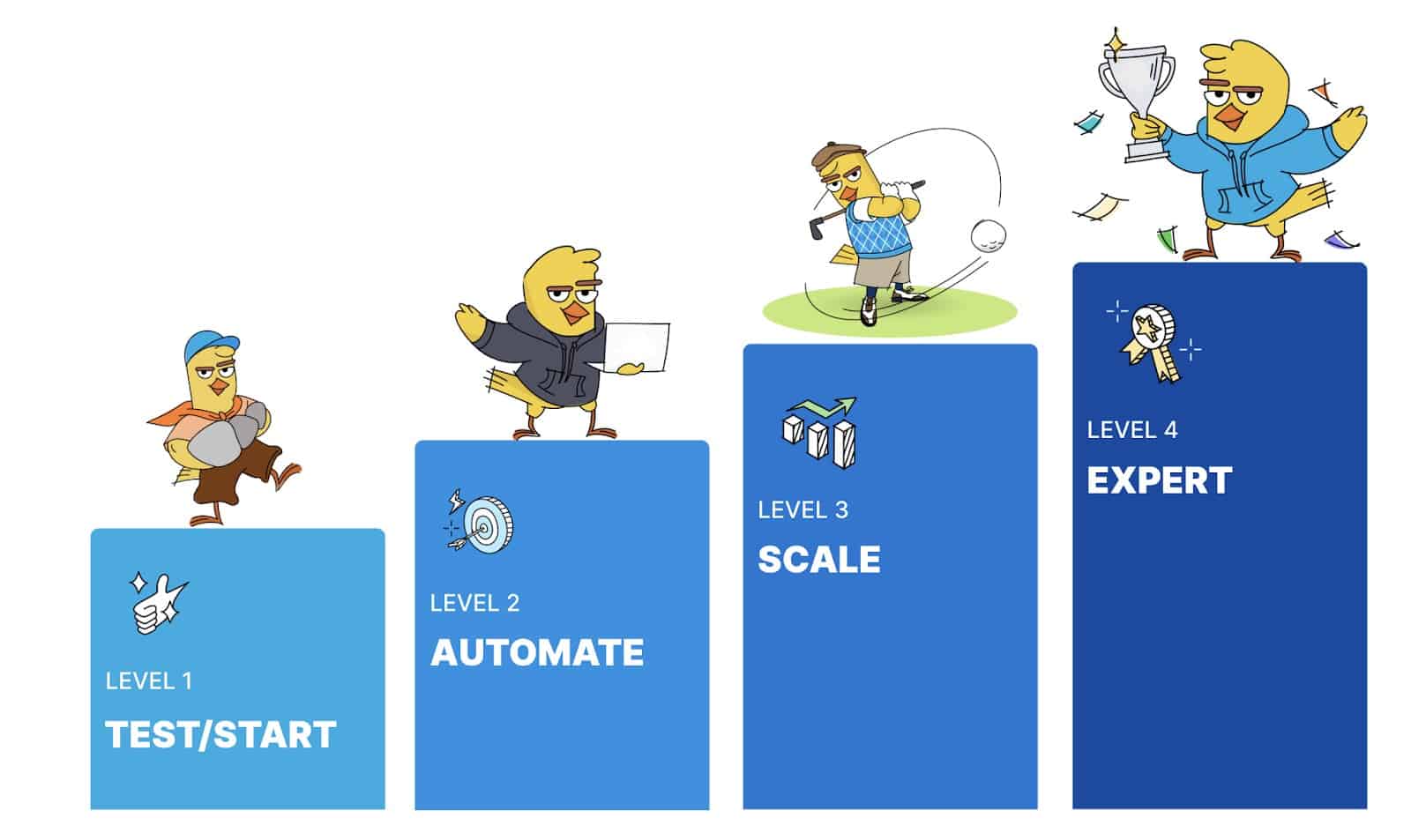 Then came some amazing user stories. Bianca Jiang spoke about how HCL Software extended Litmus to test node-pool level outages in the cloud, Crystal Lam elaborated on how Dow Jones leveraged the power of Litmus APIs to automate chaos on applications based on their taxonomy labels, and Drew Bently from Vulk Coop discussed how the CNF Resilience suite was strengthened with Litmus Chaos experiments.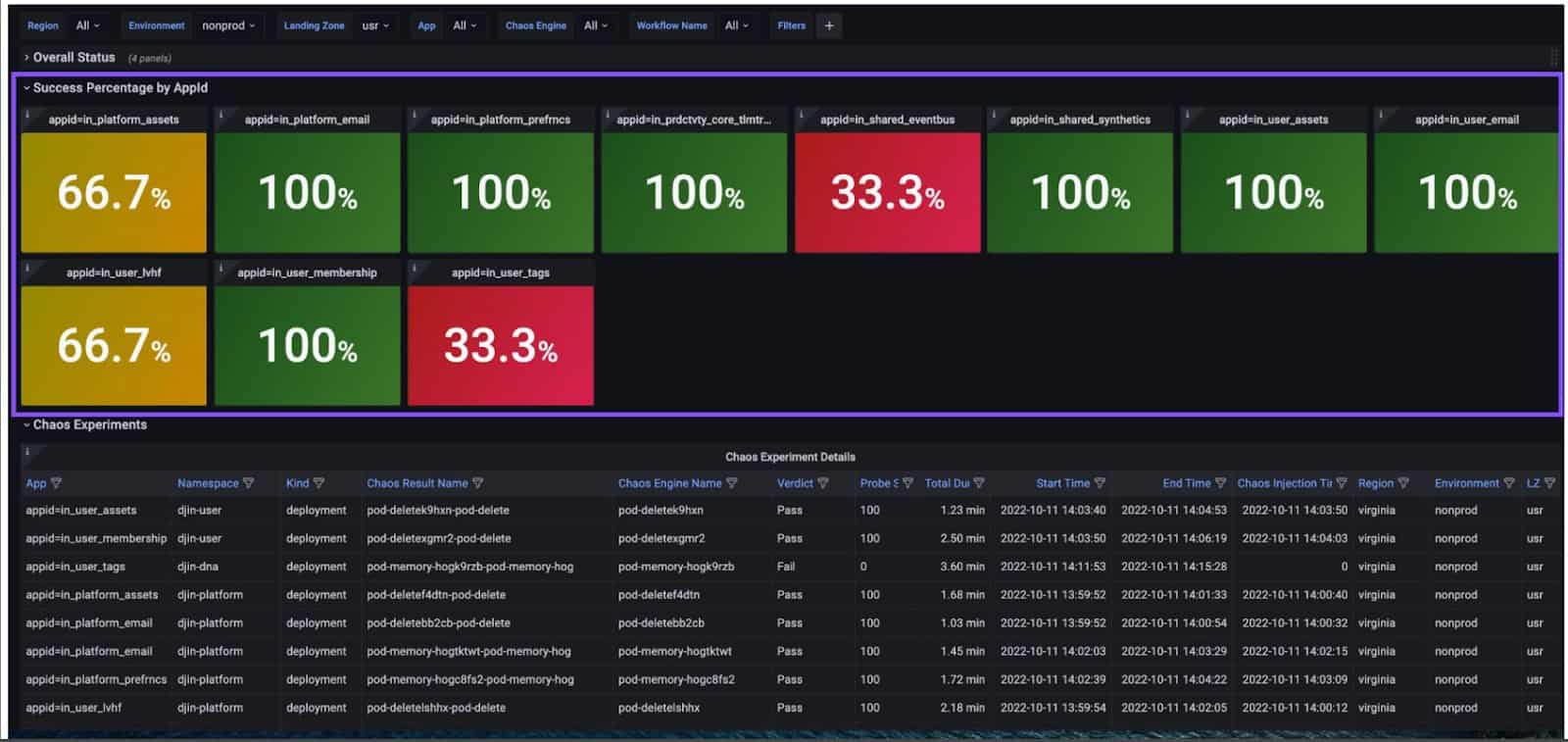 The Chaos Day saw more talks around best practices, discussions around practical challenges of chaos, and even some fun quizzes to round off a successful event.
Stay tuned for a detailed write-up summarizing the learnings!
Another important item on the itinerary was the TAG App Delivery Project Meeting. As members of the CNCF Chaos Engineering WG, we provided an update on the plans for the workgroup and discussed expediting the Cloud Native Chaos Engineering whitepaper. The WG is a great opportunity to join hands towards building quality material for those getting started/seeking resources on Cloud Native Chaos Engineering. Take a look at the background & charter here!
Oct 26th, Wednesday
The conference kicked off with a reasonably-buzzing booth (which picked up as we went along!) with demands for demos (and features :-P). Part of the goodness of KubeCon comes from the fact that it is a great platform to unite the community & meet friends of the project.
The day also featured a case study from Fidelity Information Services (FIS) on Chaos Engineering Applied To the FinTech Domain, presented by Raj Vadheraju & Neelanjan Manna. The talk elaborated on how Raj & his team formulated their approach to chaos engineering & successfully leveraged Litmus to ensure the resilience of their mission-critical services.
Chaos Engineering Applied To the FinTech Domain – Rajeshwar Vadheraju, FIS & Neelanjan Manna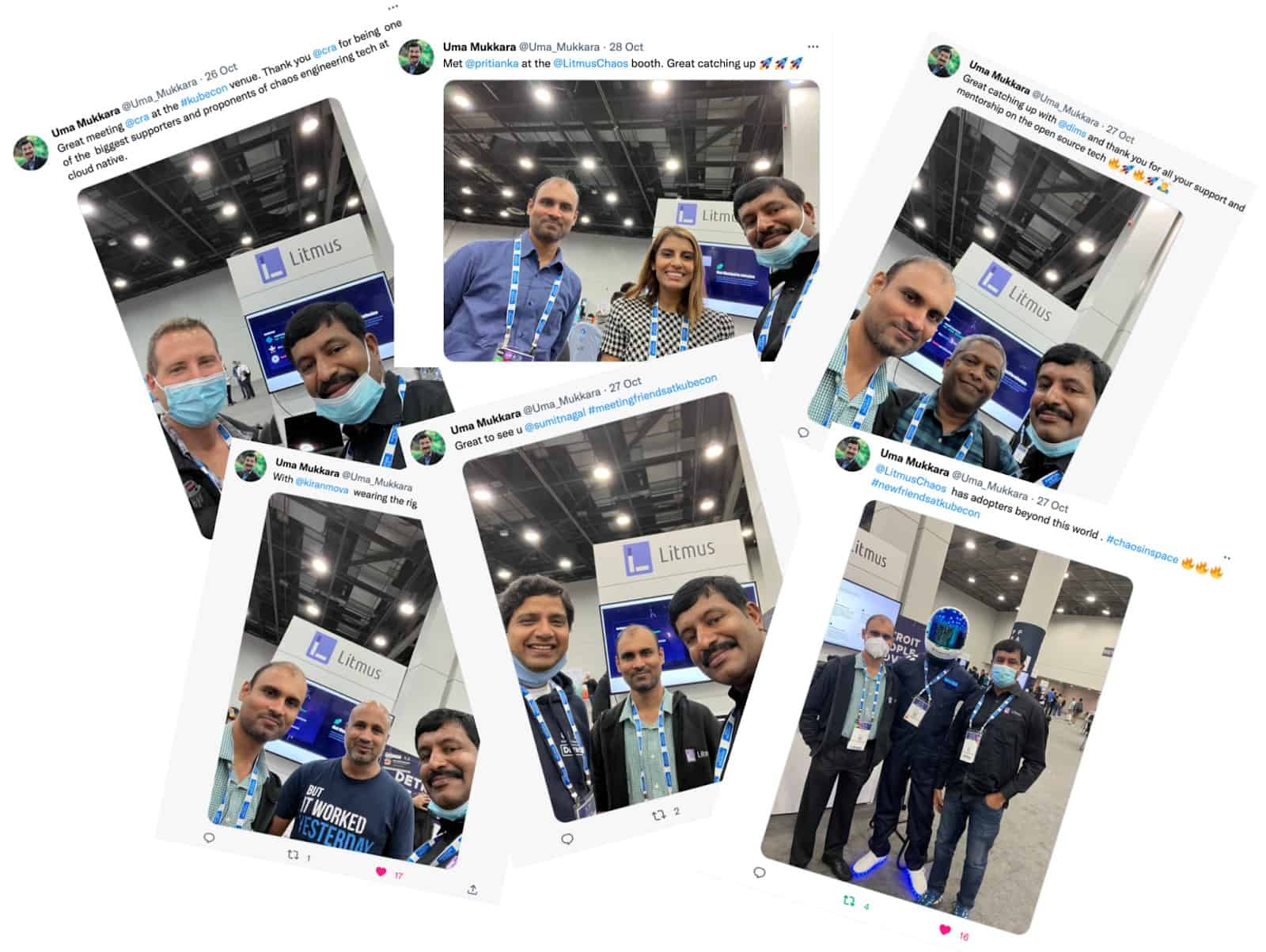 Oct 27th, Thursday
More questions, more advocacy of chaos engineering & discussions on potential integrations with other open-source projects!
As members of the project, we always felt there is great value in being able to trigger chaos experiments off a broader, diverse test suite, along with a homogeneous way to visualize results. The same sentiments were echoed by members of the Testkube project, who have built a cool Kubernetes-native test management/execution framework. Integration work is underway and should help the Kubernetes community to bring all types of tests under one umbrella.
Speaking of integrations, Sri Parthasarathy (IBM) & Shubham Chaudhary (Harness) described how you can use Iter8 & LitmusChaos together to validate your SLOs. The talk dealt with a unified approach to validation application SLOs regardless of whether it is cluster-local or externally exposed, whether it implements an HTTP or a gRPC endpoint, whether it is specified using built-in or custom Kubernetes resources, may use any type of horizontal or vertical autoscaling, and any CD/GitOps process for deployment.
Unified Chaos Injection And SLO Validation… – Srinivasan Parthasarathy & Shubham Chaudhary
Oct 28, Friday
We witnessed a better-than-expected turnout for a final-day post-lunch session about Chaos Engineering For Hybrid Targets With LitmusChaos presented by Uma Mukkara and yours truly (Karthik Satchitanand)! As a maintainer track presentation, we put together the pieces around the traditional chaos experimentation process and how Litmus enables it while stressing its value in hybrid-infrastructure environments. A sneak peek at the roadmap and shoutout to the community wrapped up our conference!
Chaos Engineering For Hybrid Targets With LitmusChaos – Uma Mukkara, Karthik S & Prithvi Raj
Conclusion
KubeCon never ceases to amaze us; each one is filled with great learning. Hopefully, this blog post helps boost your interest in Chaos Engineering and join our growing community!

Join Our Community #litmus channel in Kubernetes Slack. Contribute to LitmusChaos and share your feedback on GitHub. If you like LitmusChaos, become one of the many stargazers here.