The CNCF Technical Oversight Committee (TOC) has voted to accept Keptn as a CNCF incubating project.
Keptn is an event-driven orchestration engine that connects observability with operations in cloud native applications. The project uses a declarative approach to build scalable automation for delivery and operations, evaluates Service Level Indicators (SLOs), and provides a dashboard, alerts, and auto-remediation for them.
"Keptn improves the application delivery process with production-level quality gates, and SLO/SLI focused delivery strategies," said Lei Zhang, project TOC sponsor. "It integrates with various CI/CD, GitOps, APM, and monitoring systems as the continuous delivery control plane, bringing confidence to those managing applications on cloud native infrastructure. We look forward to seeing Keptn get wider adoption during its incubation stage."
Keptn has numerous integrations with the cloud native ecosystem, including ArgoCD, Backstage, CloudEvents, LithmusChaos, Prometheus, and dozens of other projects. Some users describe Keptn as:
Keptn feels like a reference implementation of Google's "Site Reliability Engineering" and "The Site Reliability Workbook" books
Keptn implements declarative operations for cloud native apps and puts observability in the driving seat of modern operations
Keptn takes open observability to the next level by automating operations and remediation
Keptn was created in 2019 inside Dynatrace and became a CNCF Sandbox project in 2020. Since joining CNCF, the project has grown tenfold in the number of adopters with more than 100 production instances and more than 40 companies using Keptn, including Citrix, Dynatrace, T-Systems, and more. The project also welcomed more contributors and dozens of new integrations created by its adopters and end users. The community developed a specification for application lifecycle cloud events and contributed to the CDEvents standard in the Continuous Delivery Foundation (CDF).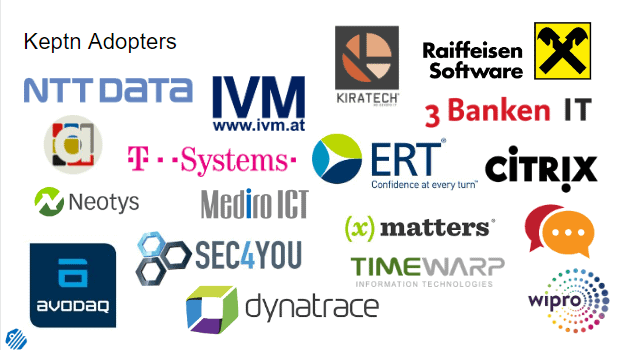 "When we started to move from observability towards automation, we were unhappy with the status quo, so we created Keptn to fill these gaps," said Alois Reitbauer, Chief Product Officer at Dynatrace and creator of Keptn. "Automation platforms did not have a good separation of strategy or workflow from the actual implementation of tasks. This led to lengthy scripts that were hard to manage and made tool integrations difficult as there was no common definition for application lifecycle events. Seeing Keptn adopted by the cloud native community and maturing to a CNCF Incubating project shows that the project satisfies a real need for DevOps and SRE teams."
Notable Milestones:
1,400+ GitHub Stars
7,500+ pull requests
3,000+ issues
200+ unique contributors
60+ Releases
1,000 members on Keptn Slack
30+ integrations on ArtifactHub
"As more organizations adopt cloud native technologies, leveraging the latest SRE best practices becomes critical for scaling organizations," said Chris Aniszczyk, CTO of CNCF. "Keptn combines an extensible integration ecosystem with GitOps practices and SLO-driven automation. We're excited to have Keptn in the Incubator and look forward to cultivating its community to the next level."
The Keptn community is looking forward to evolving the project, adding more integrations, interoperability through standard interfaces, and adopting best practices for cloud native computing. The project has a public roadmap showing upcoming initiatives in the community, including:
Keptn & GitOps – Add support for managing Keptn via GitOps and a control repository, including deep integrations with Flux and ArgoCD.
KEP-60 – Role-based Access Control (RBAC) – Allow fine-grained access control and user authorization for interacting with Keptn.
Remote management of Execution Planes – Support for multiple execution planes, including ones located on the edge in target environments.
Adoption of the CDEvents standard in Keptn.
Keptn 1.0 release, stay tuned!
As a CNCF-hosted project, Keptn joins 37 other incubating technologies as part of a neutral foundation aligned with its technical interests and the Linux Foundation, which provides governance, marketing support, and community outreach. For more information on maturity requirements for each level, please visit the CNCF Graduation Criteria.
To try out Keptn, share feedback, or participate in the development of its ecosystem, visit: https://keptn.sh/community/contributing/.
Maintainer Quotes
"When we initially started Keptn in 2019, our goal was to deeply integrate it into the cloud native ecosystem and provide value for the end user," said Jürgen Etzlstorfer, developer engagement lead for Austria at Microsoft and Keptn maintainer. "The newly achieved incubating status in CNCF has proven this. It has been an exciting journey, and a big thanks to everyone who contributed to Keptn and helped in unlocking this huge milestone."
"SLOs drive Keptn's orchestration decision, and I think it is one of the reasons we saw rapid adoption leading to incubation," said Andreas Grabner, DevOps Activist at Dynatrace and Keptn co-founder. "Keptn brings "SRE in a Box" to the existing toolchain of our users – allowing them to deploy and operate their critical services in alignment with their SLOs without changing their deploy, test, observability, and notification or change management tools."
"What a fantastic Keptn journey with a bright future ahead of us," said Johannes Brauer, Keptn co-founder. "Led by Keptn's vision of enabling DevOps platform engineers and SREs to master application delivery and operation in cloud native environments, it is great to see the broad adoption of Keptn. It is such an honor to be part of shaping this vision and driving the Keptn project from day one. Seeing Keptn now joining CNCF at the incubation level is even a more honorable achievement that would not have been possible without the amazing Keptn community!"
Industry Quotes
"Keptn has allowed us to extend our GitOps paradigm, powering interoperability between our toolsets through a modern event driven CI/CD orchestration, unlocking business value, and accelerating the safe delivery of our software," said Brad McCoy, CNCF Ambassador, Ortelius, Keptn User and Contributor
"I am very excited to see Keptn go from a Sandbox project to incubating," said Ana Margarita Medina, staff developer advocate at Lightstep and Keptn advisory board member. "Watching the Keptn ecosystem grow has been quite rewarding. I love hearing the user stories and can't wait to see what Keptn teaches many SREs and other folks in infrastructure engineering organizations. We finally get to focus on real work as Keptn uses real data and metrics such as SLOs/SLIs to move applications to the next stage. I'm so thankful to work with such a great team of maintainers, community, and advisory board."
"Keptn is a new way of thinking around observability and the automation of events," said Alex Jones, director of Kubernetes at Canonical, CNCF TAG AppDelivery tech lead.
"We're now able to build intelligent signal-driven systems that help us to scale in a reliable, deterministic manner. I am excited to see those managing cloud native lifecycles finally answer their calls for a complete solution."