Community post from the Kubernetes Community Days Chennai team
We are proud to present Kubernetes Community Days Chennai (KCD Chennai), a community-organized event supported by the Cloud Native Computing Foundation (CNCF). It gathers adopters and technologists from open source and cloud-native communities for education, collaboration and networking.
After receiving the go-ahead from CNCF for organizing the event, our immediate goal was to create a unique logo for KCD Chennai. We wanted to make a logo that glorifies Namma Chennai's (A fond way to say Our Chennai) cultural heritage as well as maintaining key ingredients for keeping the community spirit of the event.
Fortunately we need not look so hard as our city is chock-filled with so many cultural heritages that date as far back as the 7th century CE. From the ancient Kapaleeswar temple to the famous Ripon building, we have spectacular iconic structures from many different eras. It was really hard to pick out the "top" among so many choices so the results of our coffee table discussions were: "Take 'em all!"
And thus the Chennai skyline was formed. Taking the spirit of Kubernetes into account, we made a skyline that stretches across the iconic rudder logo of Kubernetes and filled with the iconic structures that makes Namma Chennai. We then included the colours of India's national flag, namely saffron for courage, white for peace and green for chivalry.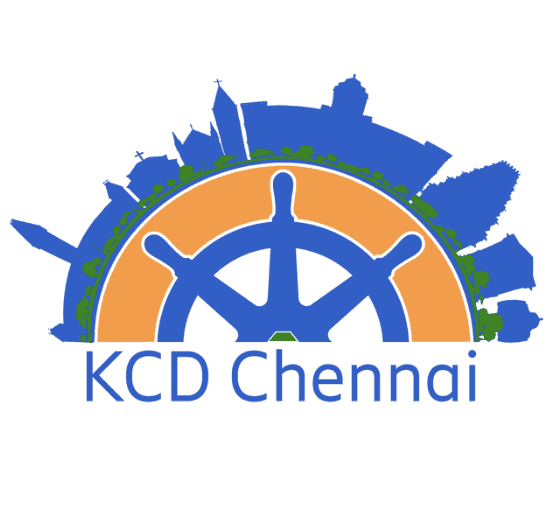 Here is a brief one-liner on each of the structures that fills the skyline:
Fort St.George – The first English fortress in India, founded in 1639 for trading activity.
Valluvar kottam – A chariot-shaped stone landmark honouring the ancient Tamil poet & philosopher Thiruvalluvar built in 1976.
Chennai Central Railway Station – Opened in 1873, this is the busiest railway terminus of Chennai and connects to places across India.
Kapaleeswar Temple – Built around the 7th century, it is an iconic Hindu temple that amazes even modern architects due to its complex interiors.
Santhome Church – Dating as old as 1523 AD, it was built by the Portuguese over the tomb of Thomas who was one of the Apostles of Jesus.
St Thomas Mount – This is a church that was also dedicated to St.Thomas and built in the place where he was martyred.
Ripon Building – Built in the year 1909, this iconic building is the seat and headquarters of the Greater Chennai Corporation.
Event Dates: 3-4 June 2022
RSVP: http://kcdchennai.in
Twitter: https://twitter.com/kcdchennai
LinkedIn: https://www.linkedin.com/in/kcdchennai/