Guest post by Sayantani Saha
Curious to know what it is?
I thought of penning down my experience, as I get a lot of DMs from people asking how to get selected or what is the procedure for LFX. Before we begin, you can find about the various mentorship programs that CNCF participates in here: https://github.com/cncf/mentoring.
Okay! so now let's begin…
First things first, you might not know what 'LFX mentorship' is. Basically, it is a program which offers structured remote learning opportunities to aspiring software developers. In simple words, you will be guided by experienced project mantainers and developers, who will help you being contributors in the open-source community.
LFX mentorship program happens thrice a year:
LFX Mentee experience
Couldn't have asked for something better than this, I feel honoured and delighted that I was selected as a mentee.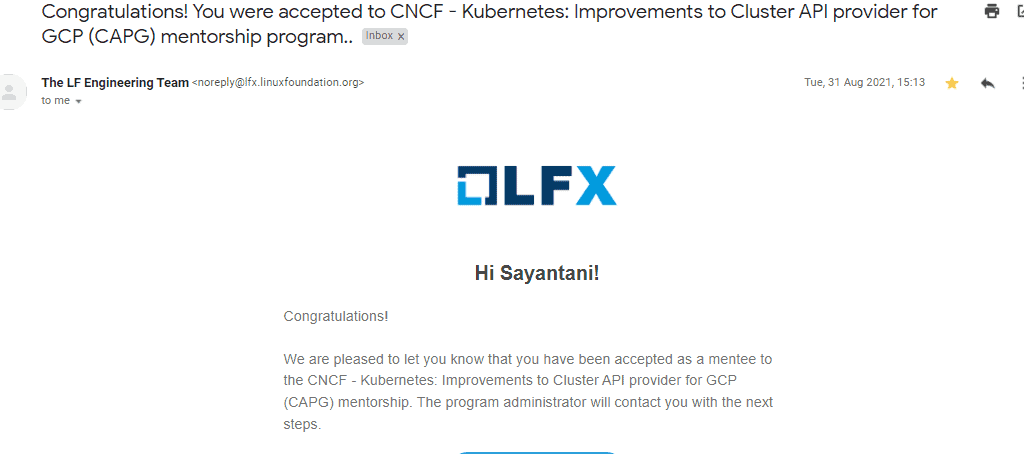 I was an active contributor to Kubernetes-SIGS community, and I feel this also played a imortant part in the selection. As seen above, I was selected for 'Cluster API Provider for GCP (CAPG)' , I have had contributed to similiar projects previously.
So a tip from my side would be to be active in the community.
What to do after being selected?
That's a very common query that you can have in your mind. LFX Mentorship mostly revolves around learning along while contributing. I was mentored by Carlos Tadeu Panato Junior and Davanum Srinivas, and if I am being honest couldn't have asked for anyone better than them.
As per my experience, I was taught some pretty basic but very important things about the project. On the other hand, if I faced any issues while making a PR, I was offered help by either one of them.
As a LFX mentee, you should look on how to make the project better. A point to be noted is that, betterment can also mean non-code contributions.
So, in conclusion your responsibilities will be understanding the project, propose features that can help in enhancemnet and betterment of the project, and also try to encourage new contributions.
Yes, it is sure that you might feel a bit overwhelmed at the start but over time with the mentors being at your help you'll be good.
What is the time commitment one would need in the whole process?
Umm… This varies from project to project and it's very difficult to say a definite time commitment. But any mentorship program will ask you to commit 35-40 hours a week. Also, the projects participating are at different levels of maturity. If you see that there's one mentee from another project who's making PRs every day and it's not the same for you… Don't worry you will also be working soon.
What comes after completing the mentorship program?
That's something totally upto you!! You can keep on with the contributions to your LFX Project, and can also try exploring other projects. You can even try becoming a mentor in the next LFX term!
The main aim is to 'learn and give to the community'.
Here are a few appreciations I received for my contributions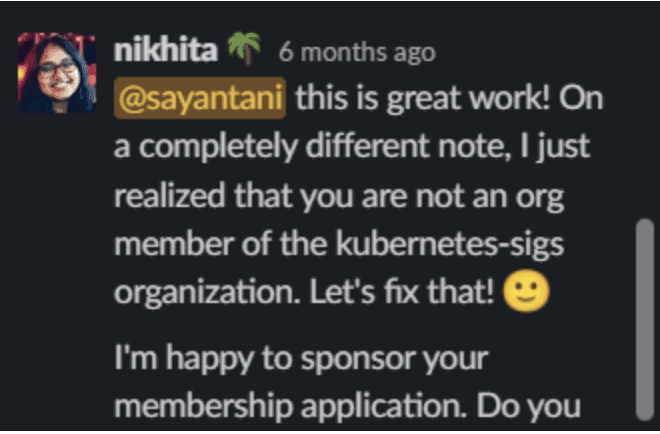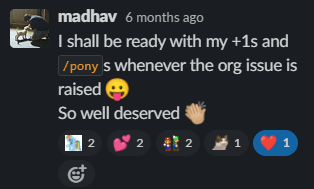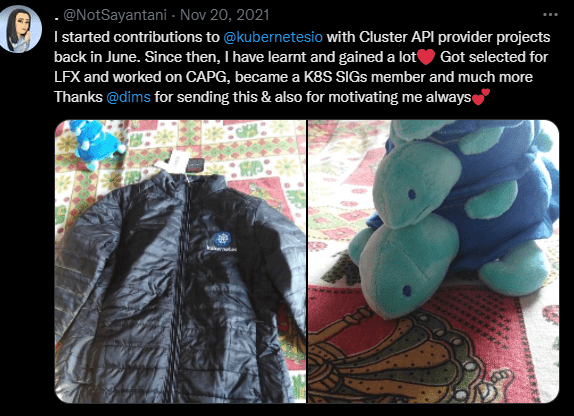 Finally, I am an Kubernetes-SIGS member. Cheers!