The CNCF Technical Oversight Committee (TOC) has voted to accept Backstage as a CNCF incubating project.
Backstage is an open platform for building developer portals maintained by a global community. It unifies an organization's tooling, services, apps, data, and docs into a single, consistent UI that allows developers to easily create, manage, and explore software.
Backstage was created at Spotify in 2016 when the company was growing incredibly quickly and onboarding new engineers was becoming a challenge. The project became Spotify's mission-critical tool for containing software chaos and empowering engineers to work faster and more efficiently. Spotify open-sourced Backstage in March 2020 to share its experience with the broader community.
"Software stacks are growing larger and more complex by the day – Backstage was built to address issues like SaaS sprawl and cloud-everything which can make the developer experience complex," said Erin Boyd, CNCF TOC member and project sponsor. "Improving the developer experience is increasingly important, and we're excited to see the Backstage community take this next step and look forward to increased collaboration among the ecosystem."
Since Backstage entered the CNCF Sandbox in September 2020, the project has grown in core components and features, plugins, contributors, adopters, and community engagement efforts. The team has spent time updating, refining, documenting, deprecating, and stabilizing core components ahead of the upcoming 1.0 release of the Core Framework, including Software Catalog, Software Templates, TechDocs, and API Reference.
Today, Backstage is used by 100 publicly listed adopting companies, including American Airlines, Expedia Group, HelloFresh, Netflix, Peloton, Roku, Splunk, Wayfair, Zalando, and more. Adoption ranges across various companies and industries, including retail, gaming, financial services, manufacturing, and government. It also has a thriving open source community of over 500 developers submitting PRs, adding new features, and building plugins.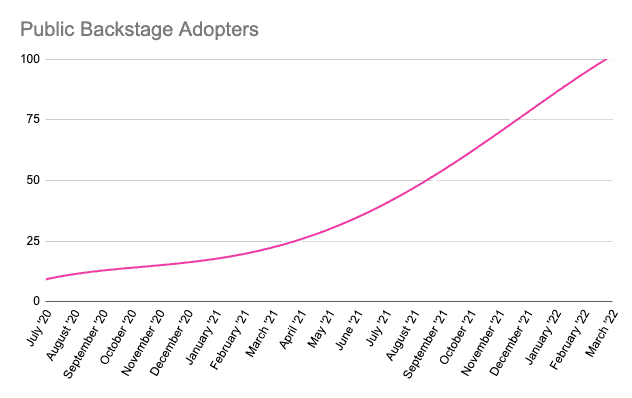 "It's amazing to see organizations from vastly different industries adopting Backstage as their development platform and working together at making the developer experience better for everyone," said Johan Haals, Senior Site Reliability Engineer at Spotify. "Our community has grown tremendously this past year, and I'm excited for the efforts the community is bringing to increase the project's velocity."
Core Components:
Backstage Software Catalog for managing all your software (microservices, libraries, data pipelines, websites, ML models, etc.)
Backstage Software Templates for quickly spinning up new projects and standardizing your tooling with your organization's best practices
Backstage TechDocs for making it easy to create, maintain, find, and use technical documentation, using a "docs like code" approach
Backstage Plugins for expanding customizability and functionality through a growing ecosystem of open source tools that easily integrate into your Backstage experience
Notable Milestones:
60+ open source plugins in the Plugin Marketplace, including official plugins (Snyk, FireHydrant), highly requested plugins (PagerDuty, Prometheus), and plugins based on new ideas and functionality (XCMetrics, Tech Insights)
More than 100 publicly listed adopters
2k+ forks
20k+ commits
500+ contributors
9k+ PRs & issues
15k+ stars on GitHub
4k+ Discord members
"With the rise of cloud native development, the ability to catalog and index services are necessary to improve developer experience and drive efficiencies," said Chris Aniszczyk, CTO of CNCF. "Developer portals, like Backstage, build on the idea of a service catalog for cloud native deployments and provide an ability to extend the portal through a variety of plugins. As the project's plugin ecosystem grows, we expect to see accelerated adoption by platform engineering teams across the world."
Backstage is evolving quickly thanks to the core maintainers working on the maturity of the platform and the overall community of contributors constantly providing enhancements, bug fixes, and new features through the plugin ecosystem. The team is committed to keeping the public roadmap up to date to help the community understand how and where to contribute and is planning to start coordinating Special Interest Groups (SIGs) to foster community contributions.
As a CNCF-hosted project, Backstage is part of a neutral foundation aligned with its technical interests, as well as the larger Linux Foundation, which provides governance, marketing support, and community outreach. Backstage joins incubating technologies Argo, Buildpacks, CloudEvents, CNI, Contour, Cortex, CRI-O, Dragonfly, emissary-ingress, Falco, Flux, gRPC, in-toto, KEDA, Knative, KubeEdge, NATS, Notary, OpenTelemetry, Operator Framework, Rook, SPIFFE, SPIRE, and Thanos, For more information on maturity requirements for each level, please visit the CNCF Graduation Criteria.
To learn more about Backstage: