In the world of open source software, end users are the best resource for providing feedback to projects on usability, feature additions, and improvements. They also offer incredibly valuable feedback to each other. Chances are if your organization is struggling to figure out how to implement a particular technology, another organization has experienced the same and can offer advice.
The CNCF End User Community aims to help end users navigate the cloud native ecosystem, recruit talent, and successfully adopt cloud native tools and technologies. It helps organizations identify the best use cases for cloud native, and then develop and deploy implementations that take advantage of the agility, flexibility, and cost-effectiveness of cloud native technologies.
CNCF boasts the largest end user community of any open source foundation or standards body, with more than 140 members. So we wanted to take a moment to highlight some of our End User Members and their experiences in the cloud native ecosystem.
The End User Journey report highlights active End User Community members – how these organizations have grown as technology leaders, and how they have benefited since joining the CNCF End User Community.
Spotify
Our first End User Journey report features Spotify, the organization behind the world's most popular audio streaming subscription service. The company was an early member of the End User Community, joining CNCF in early 2018 after beginning a transition to cloud native and Kubernetes-based infrastructure. The team quickly realized that CNCF membership would enable it to innovate faster with open source technology.
Highlights:
Spotify has become one of the largest contributors and thought leaders inside CNCF.
The team contributed the rapidly growing Backstage project to the CNCF Sandbox
Team members are represented on the Technical Oversight Committee, the Developer Experience TAG, and more.
Spotify team members have made more than 27,000 contributions to 13 CNCF projects.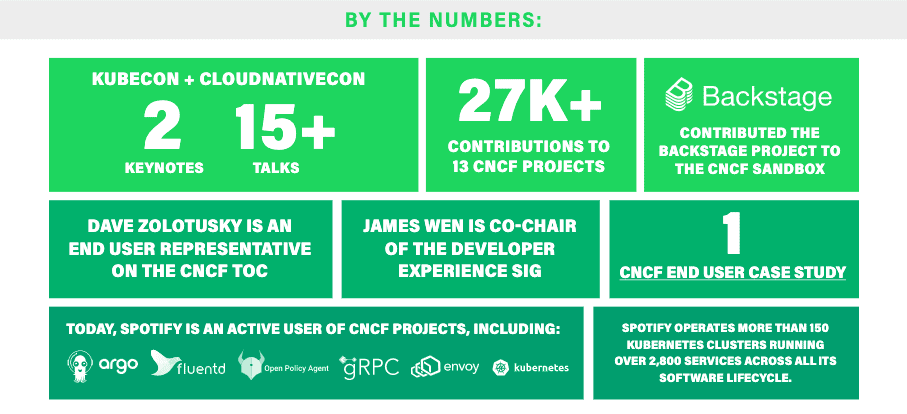 A huge thank you to Spotify for being a valued member of the CNCF End User Community, and for sharing your CNCF experience with us!
Read the full report to learn about Spotify's CNCF journey!
Our goal at CNCF is to make cloud native computing ubiquitous and a critical component of this is empowering the ecosystem to reach its full potential by supporting the doers that make up the community. This includes project creators, maintainers, contributors, the builders who provide the technology, and the end users who consume the technology and contribute back to ensure project progress. Learn more about the End User Community and get involved!