Guest post from the KubeEdge Maintainers
Intro
Multi-Access Edge Computing (MEC) is developing rapidly. As 5G MEC is being widely commercially deployed, edge-cloud synergy becomes a common requirement. The KubeEdge community recognizes this trend and sets up MEC SIG based on the mature governance mode of CNCF.
To solve challenges faced by edge-cloud synergy in MEC, MEC SIG provides solutions on application management, networking, open ecosystem, and other issues. These solutions cover 5G-powered cloud-edge application deployment, service discovery, microservice traffic governance, open capabilities, and ecosystem integration.
MEC SIG hopes to work with operators and developers to promote 5G MEC and achieve mutual business success.
Background
According to a report from Frost&Sullivan, it is expected that the MEC market will grow at an astonishing compound annual growth rate (CAGR) of 157.4%, and generate revenue of US$7.23 billion by 2024, up from US$64.1 million in 2019.
In Gartner Top 10 Strategic Technology Trends for 2020 [1], Gartner lists edge computing as one of the top ten technologies that will become the mainstream and have the greatest impact on I&O in the next five years. Now in edge computing, 5G MEC edge-cloud synergy is gaining more and more attention.
5G Edge-Cloud Synergy from Different Perspectives
OTT
AWS releases Wavelength, an edge cloud service with integrated software and hardware, to provide 5G-backed edge network and cloud services. Cooperating with operators such as Version, Vodafone, SK Telecom, and KDDI, AWS is gradually rolling out the service in the US, Europe, South Korea, and Japan.
Google launches the global mobile edge cloud (GMEC) strategy to create a 5G network edge PaaS platform, and build global 5G solutions and ecosystems with operators such as AT&T and Orange. Google also plans to provide access to the Anthos ecosystem to enterprise and individual customers through operator networks.
Azure releases Azure Edge Zones with Carrier and Azure Private Edge Zones to extend central cloud capabilities to operators' 5G network edges and enterprise private networks, and establishes partnerships with operators such as AT&T, Telefonica, and Vodafone.
Operator
In China, China Unicom launches the CUC-MEC edge cloud platform [2] to integrate CT+IT+OT. The company actively cooperates with OTT vendors to seamlessly connect public clouds, industry clouds, and private clouds. According to the overall architecture of the edge service management platform of China Unicom, edge-cloud synergy is realized by the MEPM edge manager.
Experts from companies like China Unicom and China Telecom hold that edge-cloud synergy will be an important feature of MEC platforms.

Industry
GSMA initiated the Operator Platform [4] project with 22 operators worldwide to accelerate and simplify the deployment of MEC apps across operators and clouds.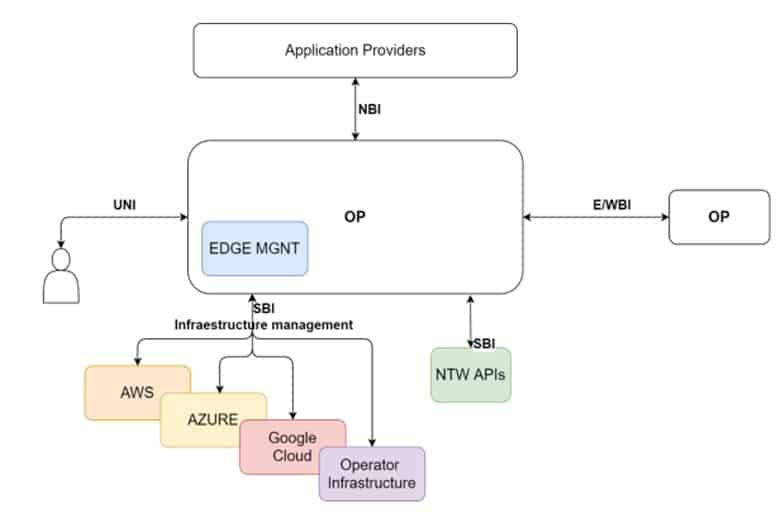 How does edge-cloud synergy help operators realize cloud-network convergence? What challenges will it face?
Challenges in 5G Edge-Cloud Synergy
How to manage a large number of geographically dispersed edge sites easily and efficiently? How to optimize edge applications based on 5G network events to match edge computing resources of different levels (including the field edge, operator network edge, and central cloud)?
How can terminals efficiently determine target services at different levels and access the nearest one to minimize the latency?
How to simplify network configuration and ensure network security during edge-cloud deployment? How to manage edge-cloud microservice traffic to simplify application development and improve application running reliability?
How to integrate third-party capabilities such as 5G, blockchain, and AI, into the MEC platform and make them open to users through a cloud native approach? How to quickly integrate cloud and 5G ecosystems?
Introduction to KubeEdge MEC SIG
KubeEdge is a popular open-source edge-cloud synergy project in the industry. Initiated by members of the KubeEdge community, MEC SIG is set up based on the mature governance mode of CNCF, with an aim to develop 5G edge computing technologies and expand the ecosystem to better address those challenges described above.
MEC SIG focuses on the following fields: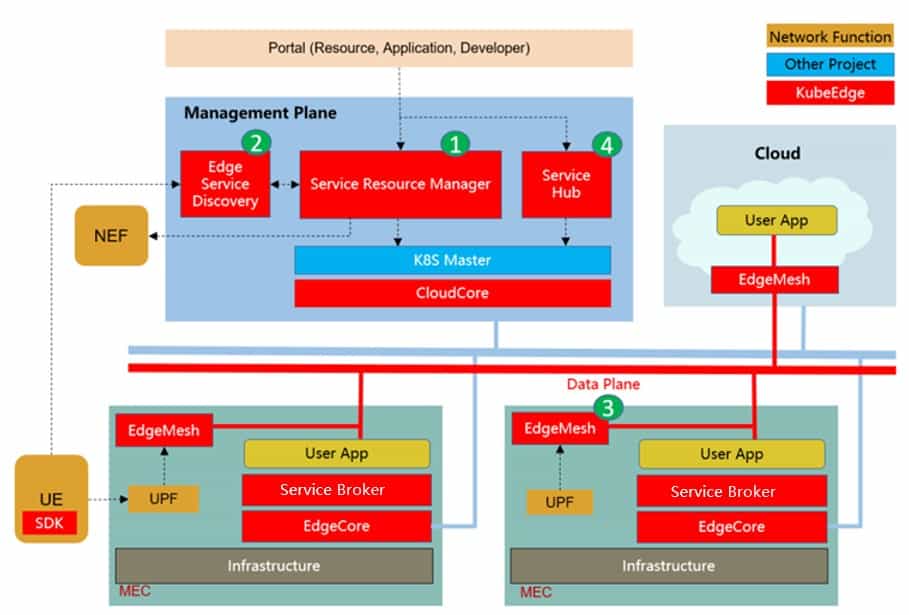 Service Resource Manager: Realizes global application deployment and network resource management across the edge and cloud. It interworks with the 5GC NEF to enable application scheduling based on 5G network events, 5G traffic distribution, QoS configuration, and application migration. Edge sites support multi-tenant management.
Edge Service Discovery: Enables edge-cloud service discovery and nearby access. It can work with Service Resource Manager to deploy applications on demand based on the geographical location and the shortest network transmission path.
EdgeMesh: Provides edge-cloud container network configuration and security management at layer 3, and governance capabilities such as full-link routing, traffic limiting, and circuit breaker for edge-cloud microservice communication.
ServiceHub: Integrates network capabilities and third-party developers' capabilities, such as the block chain, general AI, high-precision indoor location, wireless network measurement information, and QoS assurance capabilities, into the MEC platform, which are open to users. By working with Service Broker, ServiceHub provides a cloud-native approach and APIG capabilities such as service registration, authentication/verification, and access control.
Conclusion
Edge-cloud synergy is a common requirement of MEC and an important topic in edge computing. How to realize edge-cloud synergy to help operators achieve strategic transformation? How to help application developers better use 5G networks? How to achieve better industry win-win? KubeEdge MEC SIG will continue to explore in these directions.
References
[1] Gartner Top 10 Strategic Technology Trends for 2020
[2] China Unicom Whitepaper "5G MEC edge cloud platform architecture and business practice" (in Chinese)
[3] 5G Edge Computing Trend Forum – China Telecom: Open MEC Innovation Environment, Enabling the Future of the Industry (in Chinese)
[4] GSMA Operator Platform Concept Whitepaper
[5] CNCF Special Interest Groups (SIGs) Note (in Chinese)
For more details about KubeEdge, visit
Github: https://github.com/kubeedge/kubeedgeWebsite: https://kubeedge.io/e