KubeCon + CloudNativeCon Europe 2021 – Virtual sponsored post by Cisco and written by Vijoy Pandey VP Engineering, Emerging Technologies and Incubations, Cisco
Unless you've been living in a cave, KubeCon, the CNCF conference focused on cloud native computing and all kinds of open source goodness, took place virtually last week. Cisco participated again in a big way, with this event being Cisco's 10th consecutive sponsorship, and our 8th time as a Diamond-level sponsor. Our theme of Transforming for an Application-first world drove our keynote, talks, and booth demos, primarily in the areas of cluster management, large-scale cluster connectivity at the application and API layers, security at the application and API layers, and full-stack observability. The demos themselves took a new approach on how Cisco explored, and solved for, the pain points of four distinct personas in any organization – Developers, Platform Operators, NetOps, and SecOps.
Second ScaleX Day 0 Event
For the second time in a row, Cisco hosted our ScaleX Day 0 conference – a full day of sessions that explored what building for scale and reliability means to a modern cloud native developer, backed with real-world experience. Now, any event is only as good as its speakers, and we had a great set of speakers with thought provoking topics ranging from banking (BBVA), retail (Under Armour), networking (PacketFabric, ngena), large-scale compute (Liqo), security (doc.ai), Fintech (orca.so), and, of course, Cisco. As with the last event, all proceeds from the conference went to the CNCF Diversity Scholarship Fund. Recordings of all the sessions can be viewed on the ScaleX YouTube channel.
Arthur Dent Makes a Visit to KubeCon
Who is Arthur Dent you ask? Seriously? Well, maybe you first need to grab your own copy of The Hitchhiker's Guide to the Galaxy and read it cover to cover as many times as you please. You would then find out that the protagonist, Arthur Dent, having his monolithic Planet Earth blown apart for an intergalactic highway, was suddenly facing large-scale, distributed (interplanetary) travel. Arthur learns that in this large-scale distributed system that is the Galaxy, a towel is about the most massively useful thing an interstellar hitchhiker can carry. It would allow him to possibly sail down the slow heavy River Moth, use it in hand-to-hand combat, use it to avoid the gaze of the Ravenous Bugblatter Beast and, of course, wrap it around for warmth in your travels across the moons of Jaglan Beta, amongst other things.
A Mesh is the Most Massively Useful Thing

Not very different from Arthur's Earth blowing up, our monolithic application world is being blown apart in favor of highly distributed cloud native apps. It is in this large-scale physically and logically distributed world, a developer realizes that a Mesh is the most massively useful thing a cloud native developer can explore. A Mesh, any Mesh, has many practical uses, especially in a distributed system composed of many, many small elements:
– First and foremost, a Mesh allows a developer to discover elements (APIs, services, capabilities, components) across this distributed environment, from any element provider.
– Once you have discovered these elements, you embark on creating something with them. Consistency of consumption across these multiple providers, and consistency of policy across these elements become important as use #2, especially in a heterogeneous world.
– Having discovered these elements and created something with them, use #3 for a Mesh is enabling the flow of data or information between these elements, securely. And then add some performance attributes to the flow – such as the ability to scale, as well as better availability and reliability.
– Finally, use #4 is the ability to provide observability up and down the distributed system stack, and across all the elements of the distributed system – for SLO adherence, debug-ability, and reduction in mean time to resolution.
There is More than Vogon-speak in the Galaxy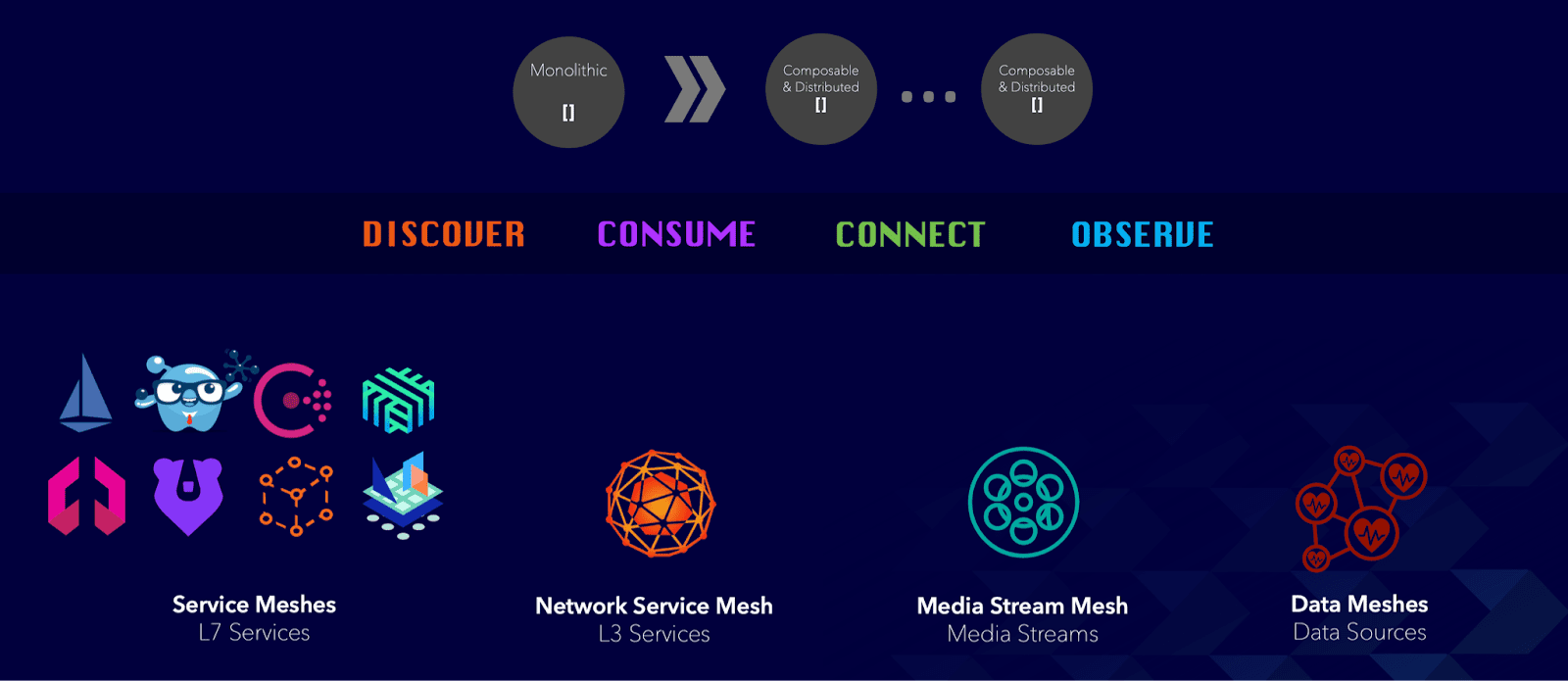 Since most readers are familiar with Layer 7 service meshes (e.g. Istio, Linkerd, AppMesh, Kuma and others), think of these elements as L7 (HTTPS, gRPC) services, and think of L7 service meshes as providing discoverability of L7 service endpoints, consistency of consumption and policy across an Istio, Linkerd, AppMesh, etc. hosted heterogeneously, traffic flow between these L7 services, and deep observability across these L7 services.
But the universe of distributed systems is not all Layer 7 services – in fact, that subset is quite tiny. As a community, we have unfortunately put most of our efforts in that tiny sliver of L7 service meshes. At last count, there were at least 8 L7 service meshes – Istio, GlooMesh, Consul Connect, Linkerd, Aspen Mesh, Kuma, AppMesh, and Open Service Mesh – and probably more.
Our ask of the community is to start exploring the need and solving for other distributed systems problems out there. At Cisco, we have started looking at some of these problems. For starters, the Network Service Mesh (NSM) project in the CNCF looks at Layer 3 services and provides the 4 value propositions of (secure) discoverability, consistency, connectivity, and observability across L3 services. The Media Streaming Mesh (MSM) is starting to look at the biggest contributors to traffic on the Internet – UDP-based Media Streaming endpoints providing the same 4 value propositions for large-scale media applications (think gaming, video, conferencing).
For something completely different than service endpoints, we have started looking at the monolith that was a data lake or warehouse, which itself is undergoing transformation into various Data Meshes. A Data Mesh would provide those same 4 value propositions across any type of data source from any provider. Cisco is exploring one such data mesh – the Public Health Data Mesh – for large-scale public health use cases as part of our work in the Linux Foundation for Public Health.
International Mesh Day

In case you didn't know, Douglas Adams' fans have nominated May 25th to be the International Towel Day, in his memory. Because we are floating in this world of large-scale distributed systems and all sorts of meshes, we propose that the community seriously consider making every May 25th, an International Mesh Day.
Join us in celebrating that sentiment every year. #internationalmeshday