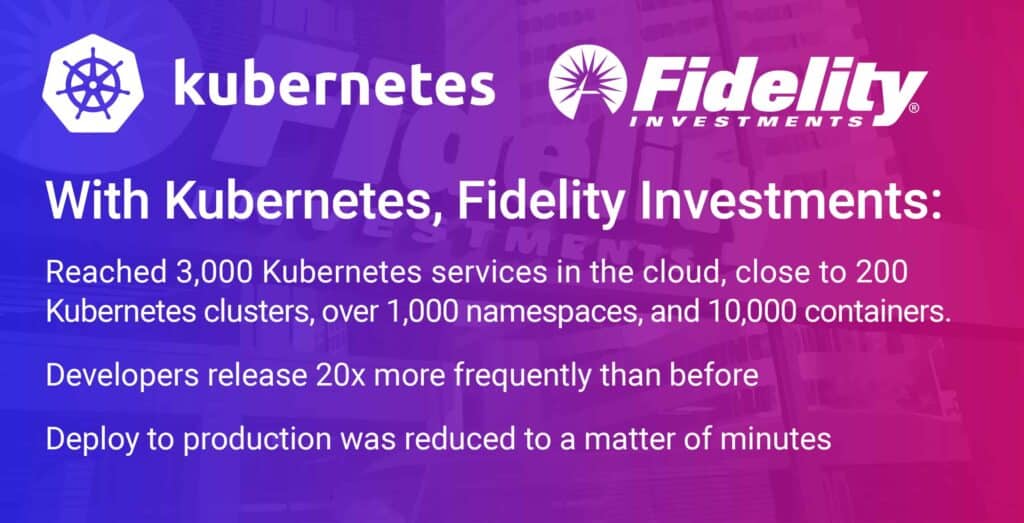 Fidelity Investments started its cloud journey several years ago when it launched a digital transformation and effort to embrace a multi-cloud strategy. As one of the largest financial services companies in the world serving more than 35 million investors with more than 76 million accounts, Fidelity migrated thousands of critical, highly regulated, low-latency applications to multiple cloud providers over the course of several years.
The solution for the organization ended up being a multi-level platform built on top of Fidelity Cloud Fabric, which has Kubernetes and other CNCF technologies at its foundation.
So far, the benefits have been clear:
In a short period of time, Fidelity investments reached close to 3,000 Kubernetes services in the cloud, close to 200 Kubernetes clusters, over 1,000 namespaces, and 10,000 containers.
Thanks to the adoption of CNCF technologies, developers release 20x more frequently than before
The amount of time a developer spends in trying to deploy to production has significantly reduced. What was previously several days (involving lots of manual interventions) has now been reduced to a matter of minutes.
Migrating to a different cloud provider is a matter of hours, against what was before a matter of months or even impossible in some cases
"The very first thing we do is look at the CNCF tool kit and the projects that are going in. We'll try our best to reuse whatever possible. This is another important thing for us: We always look at the community direction, so even if there is an easy way, but we think that the community is actually going in a different direction for certain reasons, we take the approach of not going for anything short term. Let's try to stay together with the community in terms of doing something." – Rajarajan Pudupatti, Cloud Platform Architect at Fidelity InvestmentsFor more on Fidelity Investments' cloud native success story, read the full case study.