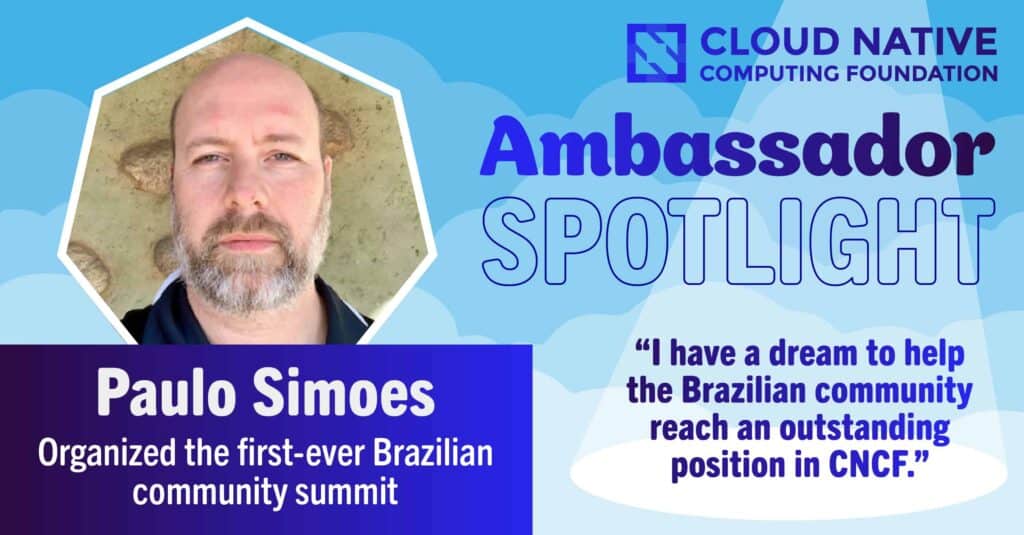 "I have a dream to help the Brazilian community reach an outstanding position in CNCF," says CNCF Ambassador Paulo Simoes. "I want to help increase the participation on projects, directly on the foundation, and TOC. I am not talking about numbers only but also in quality. And, from the other side, I want to help spread the CNCF word to the community."
A big step toward that goal was the first-ever Brazilian community summit, held online July 28. Kubernetes is well-known in the Brazilian community, but CNCF and its other projects are less so, Simoes says: "In my opinion, it is a little bit abstract, because they could not see the people and the organization." To solve that problem, he invited CNCF's General Manager, Priyanka Sharma, and other CNCF staff to speak at the summit.
Today at 2:30pm (GMT-3)! The #CloudNative Brazilian Community has a great pleasure to Welcome @pritianka, @kamcmahon, and @idvoretskyi, from @CloudNativeFdn, on the CNCF Community Brasil Livestream 2020.. Don't lose this amazing opportunity.#communitymatters #OpenSource pic.twitter.com/X4lxC1UsWQ

— Paulo Simoes (@pasimoes) July 28, 2020
With more than 100 participants, the event "was awesome," Simoes says. "The special highlight was the inspirational speech from Priyanka." Simoes now plans to hold quarterly events, with each focusing on different CNCF projects or topics such as women in cloud native.
Simoes, a Cloud Specialist at Oracle focused on cloud native adoption, has spent more than 20 years working as a software engineer. After experiencing other transformations like the shift to service-oriented architecture, he began to investigate cloud native principles three years ago. "I started to search for references where I can do a deep dive, expand my technical knowledge, and I found CNCF," he says.
Impressed with CNCF and its mission, Simoes became a CNCF Ambassador. (He is also a Hyperledger Foundation Chapter Leader for Brazil.) "The Foundation was leveraging a worldwide community, so I decided to engage and help CNCF to expand this presence in Latin America, and on the other hand, to help professionals, students, academics, and companies to know and be engaged with this unique Foundation," he says.
Simoes believes the best part of being an Ambassador is "bringing more connection to the community. I hope we can maintain our growth in participation and create a more tight relationship with the foundation. At the same time, we can help our companies and users to adopt better cloud native technologies based on CNCF drivers and projects."
Part of his mission is to enable Latin American community members to participate more in cloud native events. (Check out the community's YouTube channel here.) To that end, he'd like to create a chapter of CNCF for Latin America, especially Brazil, which he points out is one of the largest economies in the world.
Maybe one day, Simoes says, there could be an annual flagship event there too: "There is KubeCon EU, China, and U.S. Why not Brazil?"