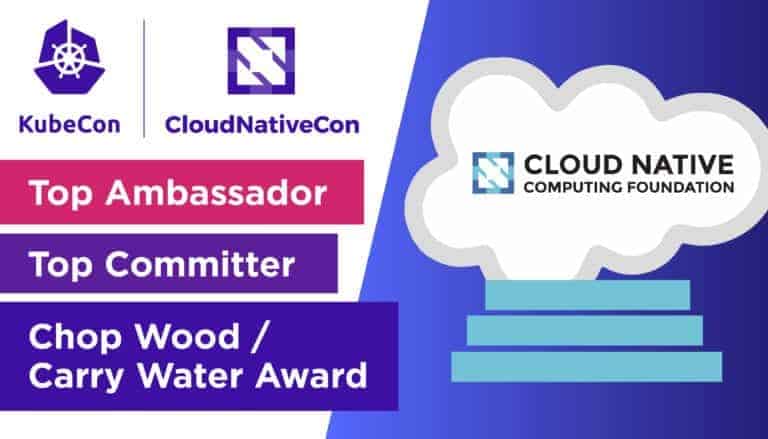 The nomination process is now open for the fourth annual CNCF Community Awards. These awards recognize the community members, developers and advocates working hardest to advance cloud native.
If you know a deserving ambassador, maintainer and/or advocate working hard to advance cloud native innovation, please check out the categories and forms below and nominate them for this year's awards:
CNCF Top Ambassador: A champion for the cloud native space, this individual helps spread awareness of the CNCF (and its incubated projects). The CNCF Ambassador leverages multiple platforms, both online as well as speaking engagements, driving interest and excitement around the project.
CNCF Top Committer: This will recognize excellence in technical contributions to CNCF and its projects. The CNCF Top Committer has made key commits to projects and, more importantly, contributes in a way that benefits the project neutrally as a whole.
Chop Wood/Carry Water Award: This is given to a community member who helps behind the scenes, dedicating countless hours of their time to open source projects + completing often thankless tasks for the ecosystem's benefit. The winner of this award will be chosen by the TOC and CNCF Staff.
Previous winners of the Community Awards include Michael Hausenblas, Jordan Liggitt, Dianne Mueller, Jorge Castro, Paris Pittman and many more!
Nominations are now open, and will close on October 2nd. We'll be announcing the awards at KubeCon + CloudNativeCon North America 2019 in San Diego on November 19.
Voting, which will be open starting October 2nd, will be performed using the CIVS tool, using emails from the CNCF database for the following groups:
CNCF Ambassadors are eligible to vote for the Top Ambassador
CNCF Maintainers are eligible to vote for the Top Committer
Nominate now, and be sure to register for KubeCon + CloudNativeCon 2019 to find out the winners!