We're thankful the community has supported the EmpowHER networking event opportunity for our attendees who identify as women or non-binary individuals over the past few years at KubeCon + CloudNativeCon. It's a great event to kick off the conference. We received feedback last year though that it was time to evolve the name to one that more appropriately reflects the invited audience as a whole, thus EmpowHER becomes EmpowerUs moving forward. The participants welcomed to the event will remain the same.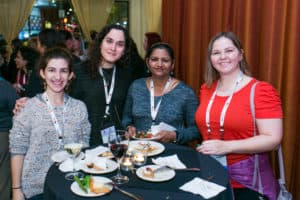 So while the name is changing to EmpowerUs, the sparkling conversation, community bonding, and tasty hors d'oeuvres remain. This year's EmpowerUS event will take place Monday, May 20 from 18:00 – 20:00 pm at The Hotel Porta Fira in Nixe, 1st floor.
We found a location right across the street from the Fira Gran Via conference center–with an amazing ambiance and skyline view. Thank you to Red Hat for sponsoring the party and supporting all things cloud native and diversity, inclusivity and civility in our fast-growing ecosystem.
Space is limited, so be sure to register soon.