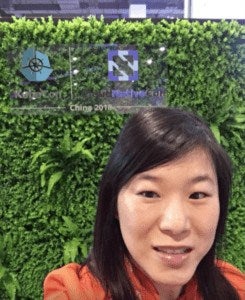 CNCF offered diversity scholarships to developers and students to attend KubeCon + CloudNativeCon China 2018. In this post, Emmelyn Wang shares her Diversity Scholarship experience of visiting China for the first time as a person of Chinese descent, valuable conference takeaways + much more. Anyone interested in applying for the CNCF diversity scholarship to attend KubeCon + CloudNativeCon Europe 2019 in Barcelona May 20-23, can submit an application here — applications are due March 11th — and anyone interested in attending KubeCon + CloudNativeCon China 2019 in Shanghai June 24-26, can submit an application here — applications are due April 15th.
By Emmelyn Wang, Principal Services Architect and API Strategist at Axway
I'm based in Texas and was fortunate enough to attend the first KubeCon + CloudNativeCon conference in China after Hoopy.io's DevRelCon London and speaking at API the Docs.
Before KubeCon + CloudNativeCon, I…
Felt overwhelmed about where to start and intimidated about contributing to open source software projects.
Joined a core team of a technical specification (AsyncAPI which is related to OAS) to learn more about contributing as a technical writer with specific API and microservices knowledge and experience.
After KubeCon + CloudNativeCon, I…
Felt grateful to visit China for the first time in my life, as a person of Chinese descent and as a recipient of the CNCF's Diversity Scholarship.
Feel confident about continuing contributions to the open source software community.
Feel knowledgeable about CNCF documentation sprints because of my experience at the event, meeting maintainers — including Dr. Brad Topol — contributors, and reading the O'Reilly book I received, Deploying Kubernetes in the Enterprise.
My Top 3 valuable conference takeaways are…
Attending KubeCon + CloudNativeCon showed me how microservices and native and hybrid cloud architecture scale at an enterprise level.
Making contributions accessible is key to reaching developers around the world asynchronously. I appreciated talks like this session that are foundational to inviting and involving new contributors.
My global view of container, cloud native, and open source collaboration is now complete. The conference experience provided a glimpse into local companies from China and the amazing things they're doing—Alibaba, Huawei, Tencent, Rancher, Caicloud, Daocloud, JD.com, and more. This portion has always been the missing piece for me since I have only worked in North America—understanding how APAC is building and contributing. It was exciting to hear the announcement about Harbor https://goharbor.io/, the first CNCF project founded in China https://github.com/goharbor/harbor moving into Incubation status while at the conference.
Through the event, I also met my coworker — David Wang, Principal Services Architect I, Axway — who is based in Singapore. I asked him about his experience:
"This is the first time for me to join KubeCon + CloudNativeCon. For me, this event is a good opportunity to learn how these open source projects, like Kubernetes and Istio, are used by different companies and the best practices of implementing Kubernetes and Istio in different clouds and on prem environments.
From my perspective, the lessons they have learned and shared when migrating to Kubernetes are also very helpful. More importantly, I noticed that Kubernetes and Istio are becoming the actual standard for container orchestration and microservices.
As an API architect, if we want to be more confident when getting involved in the discussions with customers or prospects, we need to understand how Kubernetes and Istio work and the underlying technologies. A good understanding of container and microservices techniques will become one of the key factors to the success of API projects, no matter they are on-prem or cloud."
Special thanks to the CNCF Diversity Scholarship committee for choosing me. I will continue sharing my story and encourage technical communicators, software developers, and architects to contribute to open source projects. For example, I can share specific instructions and ideas with groups including WWCode Women Who Code, Write the Docs, API the Docs, and Developer Conferences around the world.
Here is a brief photo gallery of my journey to the first KubeCon + CloudNativeCon China + feel free to connect with me via Medium or Twitter!