CNCF offered diversity scholarships to developers and students to attend KubeCon + CloudNativeCon China 2018. In this post, our scholarship recipient Raksha Roy, an Enterprise Resource Planning Associate from Nepal, shares her experience attending sessions and meeting the community. Anyone interested in applying for the CNCF diversity scholarship to attend KubeCon + CloudNativeCon Europe 2019 in Barcelona May 20-23, can submit an application here — applications are due March 11th — and anyone interested in attending KubeCon + CloudNativeCon China 2019 in Shanghai June 24-26, can submit an application here — applications are due April 15th.
By Raksha Roy, an Enterprise Resource Planning Associate from Nepal
Blog originally posted on Medium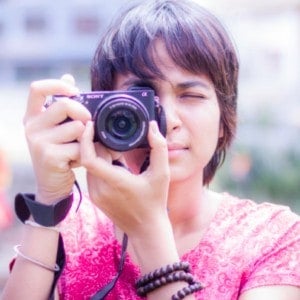 While Kubernetes is dominantly rising today as the world's most popular container orchestration tool, with large community as well as its competitors, I barely heard about it in my country, Nepal. I am thankful towards MOOCs where I could start learning Kubernetes from. Further exposure was provided by The Linux Foundation by providing "Diversity Scholarship" to attend KubeCon + CloudNativeCon Conference, Shanghai, 2018. I would not have been capable to talk about Kubernetes back in my country among my peers had it not been that opportunity I received to attend the conference. The series of learning and networking that started after getting the scholarship acceptance email have not just enriched my knowledge, but also enhanced my capacity for professional growth. Moreover, interacting with diverse professionals helped me get involved in the community easily.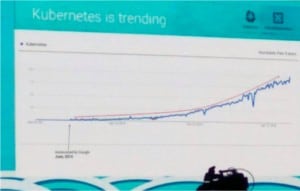 There were 2500 attendees including CNCF project maintainers, open source community members, technology enthusiasts and other users from very popular JD.com, Alibaba and eBay. I used JD.com for years without knowing that it now runs the world's largest Kubernetes cluster in production. There is not just one topic you get to learn about from this conference! It's just not learning about Kubernetes increasing resource utilization, or largest companies moving to cloud native, or shooting up of clouds usages all over the world, or containers replacing VMs widely, or learning new architectures and algorithms. It is limitless opportunity to see the world gather at a single spot and pick numerous things to learn.

JD.com grabbed the 2018 End user award
Keynotes, especially the ones in the mornings at Kubecon CloudNativeCon conference fuel up with great energies for the remaining day, involving speakers from some of the tech giants, like, Aqua Security, Cloud Native Computing Foundation, VMware, Google, Alibaba Cloud, Microsoft, IBM, Rancher Labs, Huawei, Lyft, Tencent Cloud and GitLab.
The day grew intense with discussions, presentations and deep dives on projects from CNCF, Fluent Bit, SIG (Apps, Cloud Provider, Autoscaling, Service Catalog), Kubernetes, Rook, Containerd, Falco, gRPC, Prometheus, Jaeger, Helm,Harbor, and more!
"Harbor is not only the first project donated by VMware to CNCF, but it is also the first Chinese program developed in the Chinese open source community donated to CNCF"- CNCF.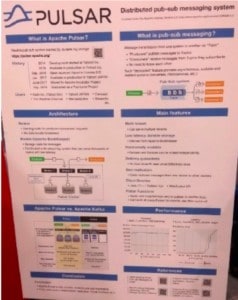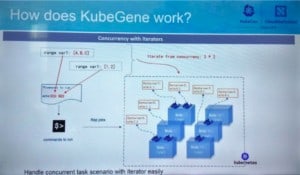 Throughout the day, the vendor showcase had much more to offer than freebies, cute goodies and free t-shirts. Demos and other illustrations provided an opportunity to closely interact with the presenters and learn about specific products in detail.
The platform has provided an excellent learning experiences, both in terms of professional and personal development. There were fun performances too at the day end, to relish upon rich Chinese culture, providing an opportunity for global participants to have some insights into local events.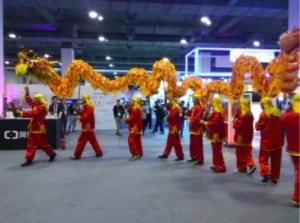 There was a popular spot at the conference, where career opportunities could be awaiting for many. One could pin a job or find one, posted on the board.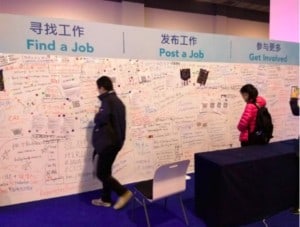 Another complimentary highlight of the conference was an hour of Tai Chi class.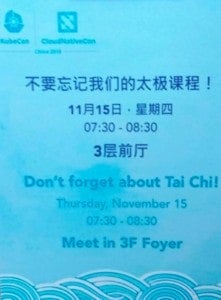 There are several challenges growing up and working in a developing country, majorly related to infrastructures and learning platforms. I have been highly privileged to receive the diversity scholarship, where I could learn and share knowledge among global communities. I am thankful as I can now initiate to bring back home Kubernetes, in my work network, and share global experience in a local platform. Overall, the KubeCon + CloudNativeCon conference has instilled in me more confidence and provided more room to grow. Thank you Kubecon + CloudNativeCon!