With KubeCon Seattle now behind us, here's a snapshot of all the cloud native goodness at our most jam-packed show to date. The sold-out KubeCon + CloudNativeCon North America 2018 had the largest attendance and waiting list of any past CNCF event with more than 8,000 contributors, end users, vendors and developers from around the world gathering for over three days in Seattle, Washington to further the education and adoption of cloud native computing, and share insights around this fast growing ecosystem.
#KubeCon keynote room is … BIG pic.twitter.com/W8PLgEt94f

– Tim Hockin (@thockin) December 11, 2018
The size of the #KubeCon #CloudNativeCon Seattle keynote is awe inspiring! https://t.co/PctpGJ8ip7

– Brad Topol (@bradtopol) December 11, 2018
With 8,000 attendees in-person and another 2,000 on the waitlist experiencing major FOMO as they watched the live stream keynotes and read their Twitter feed, KubeCon Seattle attendance was a 83% increase from last year's KubeCon event in Austin. And while the attendee numbers grew, the great "developer conference" experience remained the same!
Having great time at #KubeCon… Lot of new learnings.. New technologies.. Awesome people.. Got sometime to chat with @brendandburns.. Loving it.. and met #phippy too.. pic.twitter.com/blvzCaPzdM

– Phani (@phanikm) December 11, 2018
One of the reasons I love #kubecon #cloudnativecon is that it is a pure expression of the tech conference. Sure, the are sponsored talks but it's not dominated by corporate announcements. Pure geek.

– Tom Petrocelli (@tompetrocelli) December 12, 2018
It's truly exciting to see how fast this community is growing. And in case you missed the massive job board at the show – the market is hiring!
There are LOT of jobs in the #cloudnative ecosystem right now, it's the momentum! Live from #CloudNativeCon + #KubeCon cc @DPouponneau @CecileBazzini pic.twitter.com/FOSDt8tQzJ

– Philippe Ensarguet (@P_Ensarguet) December 12, 2018
The women of KubeCon Seattle
During the three days of keynotes, women were front and center as we heard from KubeCon Co-Chair Liz Rice who gave a CNCF community update, alongside a number of our project maintainers — including a Helm update from Michelle Noorali of Microsoft; an Envoy update from Matt Klein of Lyft; and an overview of Kubernetes growth from Aparna Sinha of Google.
Not sure how #Kubernetes would progress without so many active women contributing to the effort including @lizrice @michellenoorali kicking off #KubeCon keynotes. Looking forward to @apbhatnagar @Wendy_Cartee @janet_kuo coming up

– Larry Carvalho (@robustcloud) December 11, 2018
It's great to see such diversity in the #KubeCon #CloudNativeCon keynote. Maybes it's the nature of a open source community but it's nice to see the IT community reflect our real life community.

– Edwin Yuen @ #KubeCon #CloudNativeCon (@edwinyuen) December 11, 2018
Awesome to be at #kubecon where not only was it a gender balanced set of keynote speakers, it even leaned slightly female! "Achievement unlocked" #WomenInTech

– Tara Hernandez (@tequilarista) December 11, 2018
With 40% of all keynotes coming from women, the ladies of cloud native were running the stage! KubeCon Co-Chair Janet Kuo of Google explained by Kubernetes being "boring" was a good thing and Liz Rice put her Aqua Security role hat on for another keynote emphasizing the importance of security, saying, "CNCF is not here to throw glitzy events, but to help us coordinate as a community and ensure we have proper governance in place and make it harder to hand privileges to some random dude, and that is important as more and more companies rely on open source technologies. Good governance is how as a community we can save ourselves from a security attack." To cap off all the keynotes, Kelsey Hightower gave a shout out to the amazing real women of hidden figures, his mom and the queen of Motown Diana Ross in his Serverless keynote.
Now @kelseyhightower keynote @CloudNativeFdn #KubeCon connecting @HiddenFigures (best tech movie ever! ) with the Path to #serverless #Fortran lives! #Kubernetes @cra @lizrice @janet_kuo pic.twitter.com/KxsjxbvvCU

– Jeffrey Borek (@jeffborek) December 13, 2018
the @CloudNativeFdn is crushing it with diverse representation on stage today #kubecon. At a glance, it looks like cloud native is being driven by women, with a few token men to keep things honest. so many great women leaders in the K8s ecosystem.

– opinionated infrastructure (@monkchips) December 11, 2018
I mean, women are literally running the keybote stage @ #Kubecon rn

– Sarah Z @ KubeCon (@szelechoski) December 11, 2018
End user keynotes and sessions
Amazing women in technology leadership roles were also seen in important "How do you make this work in the enterprise" keynotes and sessions. Airbnb software engineer Melanie Cebula identified key problems that make out-of-the-box Kubernetes less friendly to developers. She also laid out 10 strategies for addressing these issues based on Airbnb's experience empowering one thousand engineers to develop hundreds of Kubernetes services at scale.
#Airbnb offers strong keynote example of development speed improvement via evolution towards a microservices architecture. It has gone exponential in increase in deployment frequency – now including with use of #Kubernetes. #KubeCon pic.twitter.com/Ln7RqKLqhI

– Rhett Dillingham (@rhettdi) December 12, 2018
Uber's Celina Ward and Matt Schallert, who shared their experience creating an operator for a unique stateful workload. They discussed the major shift in thought and provided the audience with a framework for expressing their stateful workloads using Kubernetes primitives, and advice for navigating the difficult process of codifying innovative abstract ideas without over-engineering solutions.
The storage requirements for @UberEng M3DB, via @mattschallert and @Shaleenaa at #KubeCon

A useful checklist for anyone moving stateful workloads to the cloud pic.twitter.com/xNaoTm0C7o

– Daniel Bryant (@danielbryantuk) December 13, 2018
And Capital One announced their increased commitment to the community by leveling up and becoming a CNCF Gold End User Member!
Other end user breakout sessions and booth exhibits included: Home Depot, Nordstrom, Lyft, Buffer, University of Michigan, Nokia, T-Mobile, Samsung SDS, Yahoo Japan Corporation, BlackRock, AT&T, USA Today Network, Two Sigma, and many more!
Building a strong and diverse community!
While having so many women speakers at KubeCon Seattle was a giant step forward, there were a number of activities that brought together the diversity of the cloud native community; including speed networking and mentoring, diversity lunch, sessions on building a community through Meetups and KubeCon attendee scholarships.
The Diversity Lunch at #KubeCon. "Be good to yourself, be good to each other." – @ParisInBmore @krisnova pic.twitter.com/NASe3mBTJV

– patricia_dugan (@patricia_dugan) December 12, 2018
#KubeCon "Building Communities From Scratch"

Shoutout to @pythondj for dropping an important knowledge nugget. pic.twitter.com/D9q0sgv7Pz

– Vallery Lancey (@vllry) December 11, 2018
CNCF's diversity program offered scholarships to 147 recipients, from traditionally underrepresented and/or marginalized groups, to attend KubeCon Seattle! The $300,000 investment for Seattle — the most ever invested by a conference for diversity — was donated in majority by CNCF, along with contributions from scholarship sponsors Aspen Mesh, MongoDB, Twistlock, Two Sigma and VMware. Including Seattle, CNCF has offered more than 485 diversity scholarships to attend KubeCons in the past 2 years.
(most of) The Seattle #DiversityScholarship recipients – loved having you all join us for the biggest #KubeCon + #CloudNativeCon yet Thanks again to those who sponsored passes, airfare, hotels, etc. with us: @AspenMesh, @MongoDB, @twistlockteam, @twosigma & @VMware! pic.twitter.com/pm9Pa9WyRE

– CNCF (@CloudNativeFdn) December 13, 2018
CNCF also collaborates with the Kubernetes mentoring program to offer networking opportunities for mentees at KubeCons. 66 mentors and 180+ mentees participating in this program during KubeCon Seattle.
Calling it early for #KubeCon – busy day tomorrow!

7:30am: Mentor for Speed Mentoring
10:50am: Presenting, Intro to @agonesdev
3:10pm: Mentor for Speed Mentoring

So if you want to talk CRDs, controllers/operators, gaming infra, or OSS, etc – you know where I am!

– Mark Mandel #Kubecon (@Neurotic) December 12, 2018
Awarding hard work and dedication:
For the third year in a row, the CNCF Community Awards, sponsored by VMware, highlighted the most active ambassador and top contributor across all CNCF projects.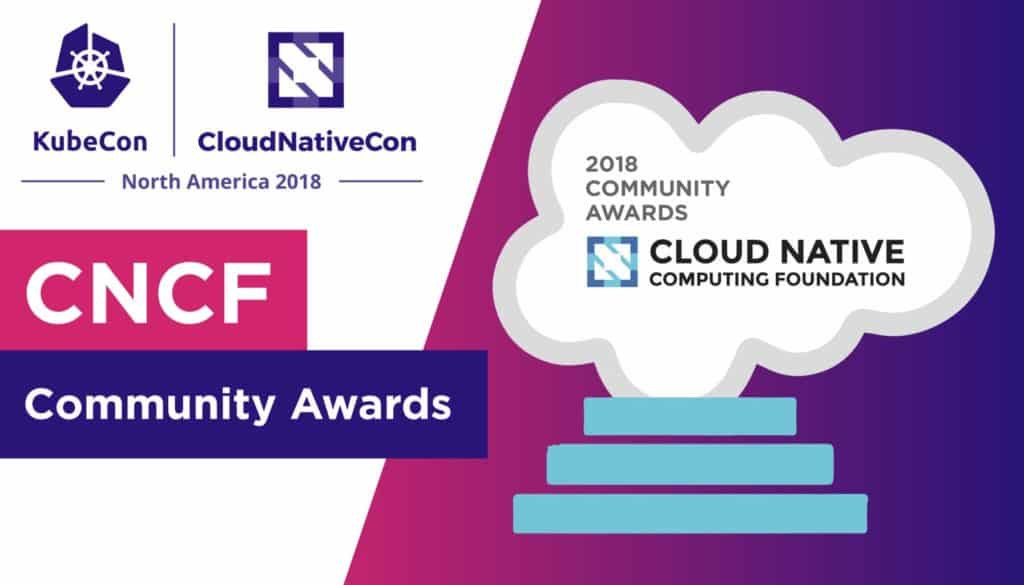 Top Cloud Native Committer – an individual with the incredible technical skills and notable technical achievements in one or multiple CNCF projects. The 2018 recipient was Jordan Liggitt.
Top Cloud Native Ambassador – an individual with the incredible community-oriented skills, focused on spreading the word and sharing the knowledge with the entire Cloud Native community or within a specific project. The 2018 recipient was Michael Hausenblas.
Jordan is one of the hardest working engineers I've ever met – and takes the time to mentor and support everyone he works with. Extremely well deserved. #KubeCon https://t.co/hWyUHKpdfw

– Christoph Blecker (@tophee) December 12, 2018
Congrats to the Top CNCF Ambassador Award winner @mhausenblas #KubeCon + #CloudNativeCon (awards graciously sponsored by @VMware) pic.twitter.com/dXsF09UkVd

– CNCF (@CloudNativeFdn) December 12, 2018
With any open source project, it is impossible to overlook those giving countless hours of their time to complete often mundane tasks. That is why Chris Aniszczyk brought back the Chop Wood/Carry Water awards. This year's awards recognize the tireless efforts of Davanum Srinivas, Dianne Mueller, Christoph Blecker, Nikhita Raghunath, Paris Pittman, Richard Hartmann, Tim Pepper, April Kyle Nassi, Jorge Castro, Babak "Bobby" Salamat, Reinhard Nagele, Zach Arnold, Kris Nova, and Stephen Augustus.
Completely overwhelmed and humbled to be on stage with these brilliant friends, receiving a Chop Wood, Carry Water award for the #Kubernetes community. Let's do even more together next year!!! #KubeCon #CloudNativeCon #kubiesinseattle #smellslikekubespirit https://t.co/3kjzB5tAC7

– Stephen Augustus @ #KubeCon / #CloudNativeCon (@stephenaugustus) December 12, 2018
Co-located events
27 co-located events occured on Day 0 (December 10th) of the conference. There were a number of great technical and community building sessions; including Linkerd in production 101, Kubernetes contributor summit and the first ever EnvoyCon!
Taking a load off for the first time since 8AM. Phew! What a day! Thank you so, so much to everyone who helped make #envoycon a spectacular success. Every talk was amazing! It blows my mind to see such an engaged community come together like this. Can't wait for next year! â¤ï¸

– Matt Klein (@mattklein123) December 11, 2018
We tried to take a group pic thanks to @dekkagaijin for being even taller on a chair

This marks an end to 2018 Kubernetes Contributor Summits. Now on to 2019 planning! pic.twitter.com/fvpvYX1Dw2

– Paris @ KubeCon (@ParisInBmore) December 11, 2018
CNCF projects present and accounted for
A number of CNCF projects had announcements, great breakout sessions, quick lightning talks, community building meet the maintainer opportunities, and technical deep dives.
Top 5 reasons why Kubernetes lives up to the hype. #Kubecon pic.twitter.com/EPtDhXLXXd

– Ashley McNamara (@ashleymcnamara) December 13, 2018
Thanks to @xiangli0227 for presenting etcd's donation to CNCF with me today. And more importantly his dedicated leadership in the project in the last 5 years! https://t.co/j69sgBDmYN

– Brandon Philips (@BrandonPhilips) December 11, 2018
Great shout-out by @lizrice to @CloudNativeFdn @project_harbor this morning at #KubeCon – and great running into @zhanghaining at the #VMware booth pic.twitter.com/inmcbQ2JPc

– Bjoern Brundert @ #KubeCon (@bbrundert) December 11, 2018
@PrometheusIO can handle a millions data points per second and maintain that rate for years! (That's pretty impressive!) #kubeCon

– Justin Paul (@recklessop) December 11, 2018
Did my first talk in CloudNativeCON in Seattle. About CoreDNS and Kubernetes @corednsio @CloudNativeFdn @kubernetesio. Impressive attendance. pic.twitter.com/BchJL7zYdG

– Francois Tur (@FrancoisTur) December 12, 2018
Vitess 3.0 is out – Making MySQL Sharding Much less Painfull Sugu Sougoumarane, Jiten Vaidya #mysql #vitess #sharding https://t.co/AVc3JFQTVS

– Peter Zaitsev (@PeterZaitsev) December 13, 2018
Phippy joined the CNCF family!
In 2016, Deis (now part of Microsoft) platform architect Matt Butcher was looking for a way to explain Kubernetes to technical and non-technical people alike. Inspired by his daughter's prolific stuffed animal collection, he came up with the idea of "The Illustrated Children's Guide to Kubernetes." Thus Phippy, the yellow giraffe and PHP application, along with her friends, were born.
On the keynote stage during Day 1 of the conference, Matt and co-author Karen Chu announced Microsoft's donation of Phippy to CNCF and presented the official sequel to the Children's Illustrated Guide to Kubernetes in their live reading of "Phippy Goes to the Zoo: A Kubernetes Story".
As part of Microsoft's donation of both books and the characters, CNCF has licensed all of this material under the Creative Commons Attribution License (CC-BY), which means that you can remix, transform, and build upon the material for any purpose, even commercially.
best news out of #kubecon #cloudnativecon today "Phippy + Cloud Native Friends Make @CloudNativeFdn Their Home" https://t.co/467RQuvG36 pic.twitter.com/49dpfEYQd8

– Chris Aniszczyk (@cra) December 11, 2018
Pure genius #KubeCon pic.twitter.com/ZbDMomTyiQ

– Sean Kerner (@TechJournalist) December 11, 2018
We couldn't resist Phippy and friends #kubeCon #CloudNativeCon @alisonjudy pic.twitter.com/JqtI22rYu5

– Shilla Saebi @ #KubeCon #CloudNativeCon in Seattle (@ShillaSaebi) December 12, 2018
Happy 3rd birthday CNCF
It may be hard to believe with all of our expansive growth – CNCF membership increased 110% this year, adding 169 new members – but CNCF is still young in years. We celebrated our third birthday this week with the cloud native community!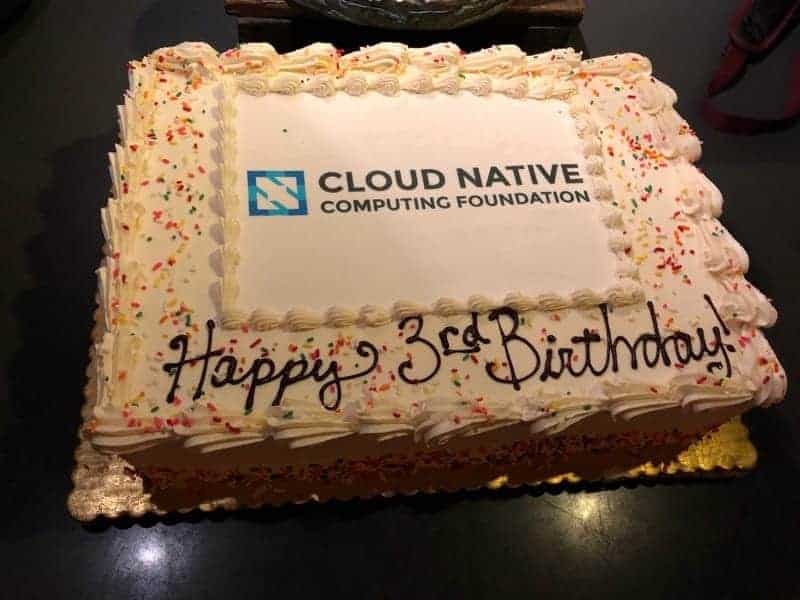 All attendee party at MoPOP, Chihuly Gardens and Space Needle
At the all attendee party, conference goers experienced the intrigue of the Museum of Pop Culture (MoPOP), the beauty of the Chihuly Garden and Glass and the views from the top of the Space Needle.
The #KubeCon + #CloudNativeCon party tonight is dope! pic.twitter.com/vlCAwSjTdY

– Janet Kuo @ KubeCon + CNC (@janet_kuo) December 13, 2018
Got to experience this beauty. Thanks #kubecon pic.twitter.com/keQ99HKSjg

– Kenneth Massada (@kmassada) December 13, 2018
Keynote and session recordings now available
All presentations and videos are available to watch. Here is how to find all the great content from the show:
Slides for the conference's keynotes and session presentations are available from the schedule: session details include links for the presentation and the video on YouTube
Watch keynotes and all other sessions in this Youtube playlist
Find photos on Flickr!
Thank you all!
I really want to thank all of the speakers at SEA18 #kubecon. The content is getting more technical, more helpful, and you guys were all so professional! THANK YOU for all of the hard work you put into them. I really enjoy watching this community mature. cc: @CloudNativeFdn

– Brandon B. Jozsa (@v1k0d3n) December 13, 2018
As keynotes for #KubeCon wrap up, major, major kudos to @CloudNativeFdn and organizers for putting together such a diverse, insightful, and inspiring set of speakers. THIS is how it's done. (seeing a diversity photo being set up now is just icing on cake).

– Fernando Montenegro @Kubecon/CNCFcon (@fsmontenegro) December 13, 2018
Save the dates!Register
now for KubeCon + CloudNativeCon Europe 2019, scheduled for May 20-23 at the Fira Barcelona, Barcelona, Spain. CFPs are open and close January 18, 2019.
KubeCon + CloudNativeCon China 2019, scheduled for June 25-26 at the Shanghai Convention & Exhibition Center of International Sourcing, Shanghai, China. CFPs will open later this month and close February 1, 2019.
KubeCon + CloudNativeCon North America 2019, scheduled for November 19-21 at the San Diego Convention Center, San Diego, California. CFPs will open May 6, 2019 and close July 12, 2019.