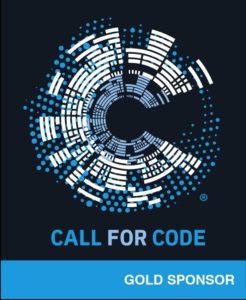 The CNCF, the Linux Foundation, and the entire open source movement would be nothing without community. The ability to come together and foster an ecosystem, develop new, ground-breaking technology, and accelerate innovation is truly inspiring. It's a testament to the commitment and desire to look beyond their immediate needs and consider what is best for the community at-large (all while balancing the needs and responsibilities of their respective companies).
It is with this same spirit of togetherness and community that CNCF lends its support to Call for Code.
There is so much more we can do than develop platforms for running business applications, or helping businesses to grow. Developers have the power to save lives. Call for Code challenges developers to create sustainable software solutions that address natural disasters. Developers can use the technology to build for and solve complex global problems that impact societies around the world. Call for Code aims to harness the energy, creativity, and collaborative aspects of our work in open source, proving that we can develop solutions to humanity's greatest problems.
CNCF joins IBM, David Clark Cause, the Linux Foundation, United Nations Human Rights Office and The American Red Cross in making Call for Code a reality. The contest, which awards $200,000 to the winner, is an opportunity to rally developers around a common cause and have a lasting impact. Last year was one of the worst years on record for natural disasters, and the right technology can mitigate the loss of life and property damage.
I encourage you to register for the challenge at CallforCode.org, but there are a few more ways that you can get involved immediately:
Commit to the cause: Share the message with your followers, your company, your fellow developers, and express your support via social media. You can start by retweeting one of our recent posts:


After one of the worst years on record for natural disasters, CNCF is proud to support @CallForCode – a global challenge asking #developers to create solutions that significantly improve preparedness for natural disasters & relief when they hit https://t.co/5w4LvRLUUE pic.twitter.com/ViXzJUhvPi

– CNCF (@CloudNativeFdn) July 30, 2018

Push for change: Interested in bringing Call for Code to your company in a more formal way? Run a Call for Code Day at your company by signing up here: https://callforcode.org/why-push/
Answer the call: Form a team, join a team, or build a solution solo. Register for Call for Code at CallforCode.org and start building today.
Since 2000, natural disasters have directly affected 2.5 billion people, with $1.5 trillion in economic impact since 2003. And over the last 30 years, flooding is up over 240%. As developers, we can help people be more prepared, help them during a natural disaster, and help them recover afterward. We can make communities more resilient together.
Call for Code judges include iconic developers like Linus Torvalds, plus leaders from the United Nations Human Rights Office and the National Center for Disaster Preparedness. The winning team and two semifinalists will receive support from The Linux Foundation to host their submission as an open source project and build a community around it, ensuring that it is deployable around the world in the areas of greatest need.
Each one of us wields great power as a developer, but together, we're even stronger. I encourage you to visit callforcode.org today and show the world that developers-and the technology they create-can save lives.