CNCF offers diversity scholarships to developers and students to attend KubeCon + CloudNativeCon events. In this post, scholarship recipient, Mohammed Zeeshan Ahmed, Associate Software Engineer at Red Hat, shares his experience attending sessions and meeting the community. Anyone interested in applying for the CNCF diversity scholarship to attend KubeCon + CloudNativeCon North America 2018 in Seattle, WA December 11-13, can submit an application here. Applications are due October 5th.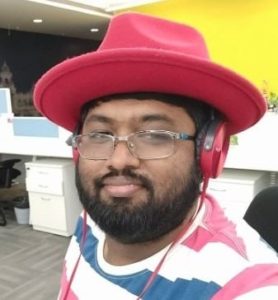 By Mohammed Zeeshan Ahmed, Associate Software Engineer at Red Hat
Hailing from Bangalore, India, I got introduced to computers when I was about 13 years old. I still remember the old Unix based operating system, on which I wrote my first C program and compiled it with gcc, on a friends computer. That feeling you get when you get a box to do something you want is amazing.
Ever since then I was hooked, growing up with various Linux distributions and technology. I am also a gamer, and that only served to increase my hunger for technology.
My introduction to the world of containers happened two years ago, when I stumbled upon one of my now great friends, Neependra Khare, at my first technical conference, in India.
I am very grateful for the introduction to this world that happened on that fateful day. The day I found Kubernetes (amongst many other things).
I also want to give a shout out to Kelsey Hightower, whose "Kubernetes the Hard Way" talk helped me gain a good understanding regarding this complex container orchestrator.
The diversity scholarship:
Receiving the scholarship came as a pleasant surprise. I have been working with Kubernetes and OpenShift as a user as well as a developer, building tools around it for some time now. I really wanted to dig deeper into this world. This scholarship actually gave me an opportunity to interact with the amazing communities working on cloud technology and to learn a lot from them. It also helped me get started on one of my biggest goals of contributing back to these amazing communities.
I identify myself as a person of color, from India. It was therefore really amazing to see steps being taken by the communities, to ensure inclusion of women and people of color.
The conference:
Hey Copenhagen, we're here! Can't wait to ring in #KubeCon + #CloudNativeCon EU w/ more than 4,100 members of the #cloudnative community pic.twitter.com/F4iA6Zfjqj

– CNCF (@CloudNativeFdn) April 30, 2018
Kubecon EU 2018, in the Bella Center, Copenhagen, Denmark, turned out to be one of the most amazing conferences I have attended. To see such a well-organized event, at such scale is pretty damn amazing. The venue was huge and really well decked out. There were barely any problems for the attendees.
I had signed up for the Kubernetes Contributor Summit that happened on May 1st and it was awe inspiring to be in the room with the people who build this amazing software. It was the largest turnout so far in a Kubernetes Contributor Summit.
I was present for the new contributor workshop which helped me learn a lot about how to contribute to Kubernetes. It has now lead me to join the Kubernetes sig-release, the first step for me in this direction.
I met some really amazing people there. I even got some really cool swag such as the Kubernetes Contributor patch, which has encouraged me to step up my game.
The next three days worth of keynotes were really amazing, especially when Kelsey Hightower showed off his no code repository to everyone. The list of projects under CNCF is growing, and it was very amazing to see the various stages in which the projects were. Congratulations to Kubernetes by the way, for graduating.
#KubeCon Kelsey Hightower pic.twitter.com/XjbAE0aZ7F

– Zeeshan Ahmed (@zee_10000) May 2, 2018
The sponsors came on stage and talked about their journeys and shared their wisdom. The ones that i enjoyed the most personally was CERN, who showed a lot of information about how they were using a large number of Kubernetes clusters, in their day-to-day research.
Another keynote speech that I enjoyed was by Dan Kohn about the status of code in the projects. Makes you think about the sheer size and scale of these projects and the amount of testing, like three million lines of testing code and man hours that go into maintaining all of it.
Now members of the @CERN team sharing impressive #s of #datacenter capacity and use of @OpenStack and #Kubernetes @CloudNativeFdn #KubeConEU #CloudNative 320K cores, 10K hypervisors, 210 K8 clusters #Wow! pic.twitter.com/OyYi5fKlHM

– Jeffrey Borek (@jeffborek) May 2, 2018
Another really commendable part of the conference that I enjoyed were the face-to-face interactions with the maintainers. It was really nice to hear about the projects from the people who maintain them. I am looking to start contributing to some of them as well, apart from Kubernetes.
We also had amazing diversity lunch, courtesy of our sponsors. Great people, amazing discussions about inclusion (and other stuff of course) and good food. What more could you want?
Also, what an amazing dinner that was at the Tivoli Gardens!! To be in a magical place, surrounded by amazing folks, all you can eat food, and all you can ride rides. An experience I will never forget.
One of the best parts though was hanging out with people from all over the world, and my fellow scholarship recipients. The stuff we did, I will never forget.
Final thoughts:
"Unity in Diversity." It reverberated in every fabric of KubeCon + CloudNativeCon EU 2018. At the times when the world is tearing itself apart, it is nice to see so much love, cooperation, and sharing going around.
This was my first KubeCon, heck first international conference. I thoroughly enjoyed my experience, and am looking forward to many more.
I have also started on the path to much better contributions to amazing upstream projects, and am looking forward to stepping up and doing a whole lot more.
Thanks again, to the Linux Foundation, to Cloud Native Foundation, for giving me this opportunity to expand my horizons. To meet great people, to make cool, amazing friends. To learn and to grow …