CNCF Demos Kubernetes Enabling ONAP Running On Any Public, Private, or Hybrid Cloud at Open Networking Summit This Week
To ensure CNCF projects work across all cloud providers, the CNCF CI Working Group has been working on the Cross-cloud CI project to integrate, test and deploy projects within the CNCF ecosystem. The group recently released CI Dashboard v1.3.0, which is licensed under the Apache License 2.0 and publishes results daily.'
The Cross-Cloud CI team, pictured below, has been adding CNCF projects to the dashboard at the rate of about one a month. The dashboard displays the status on both the latest release and the latest development version (i.e., head). The newest release includes, for the first time, the Linux Foundation Open Network Automation Platform (ONAP) project. It can be seen at: https://cncf.ci.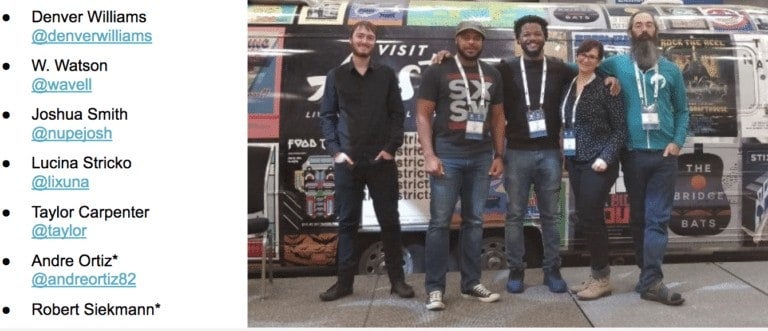 CNCF contracted with a team from Vulk Coop to design, build, maintain and deploy the cross-cloud project.
The Cross-cloud CI project consists of a cross-cloud testing system, status repository server and a dashboard. The cross-cloud testing system has 3 components (build, cross-cloud, cross-project) that continually validate the interoperability of each CNCF project for any commit on stable and head across all supported cloud providers. The cross-cloud testing system can reuse existing artifacts from a project's preferred CI system or generate new build artifacts. The status repository server collects the test results and the dashboard displays them. To better understand the genesis of the project and work to date, view this Updated High-Level Overview README.
CNCF & ONAP at open networking summit this week in Los Angeles
Kubernetes is being used to enable ONAP to run on any public, private, or hybrid cloud. Kubernetes allows the ONAP platform for real-time, policy-driven orchestration and automation of physical and virtual network functions to deploy seamlessly into all these environment.
The opening keynotes at the Open Networking Summit today in Los Angeles will demonstrate and test ONAP 1.1.1 and 1.9.4 Kubernetes deployed across multiple public clouds and bare metal. This will also be demonstrated in the CNCF booth at ONS.
Backed by many of the world's largest global service providers and technology leaders, including Amdocs, AT&T, Bell, China Mobile, China Telecom, Cisco, Ericsson, Cloudify, Huawei, IBM, Intel, Jio, Nokia, Orange, Tech Mahindra, Verizon, VMware, Vodafone and ZTE, ONAP brings together global carriers and vendors to enable end users to automate, design, orchestrate and manage services and virtual functions. ONAP enables nearly 60 percent of the world's mobile subscribers.
Companies like Comcast and AT&T are using Kubernetes, while Vodafone said it is seeing around a 40 percent improvement in resource usage from going with containers compared with virtual machines (VMs) at MWC last month.
"The promise of containerization is the ability to deploy to any public, private, or hybrid cloud. CNCF continues to see ongoing migration from VMs to containers and our architecture enables that," said Dan Kohn, CNCF executive director. "CNCF is attending ONS this week in Los Angeles to expand our focus beyond the enterprise market to the networking industry. Our CNCF demo at ONS will illustrate to carriers that Kubernetes and ONAP are key to the future of network virtualization."
To learn more, be sure to check out "Intro to Cross-cloud CI" and "Deep Dive for Cross-cloud CI" at KubeCon + CloudNativeCon Europe, May 2-4 in Copenhagen.
To get involved: