CNCF offered six diversity scholarships to developers to attend CloudNativeCon + KubeCon Europe 2017. In this post, our scholarship recipient Kim Lehtinen, second-year student at University of Vaasa in Finland, shares his experience attending sessions and meeting the community. Anyone interested in applying for the CNCF diversity scholarship to attend CloudNativeCon + KubeCon North America 2017 in Austin December 6-8, can submit an application for here. Applications due October 13th.
By Kim Lehtinen, second-year student at University of Vaasa, in Finland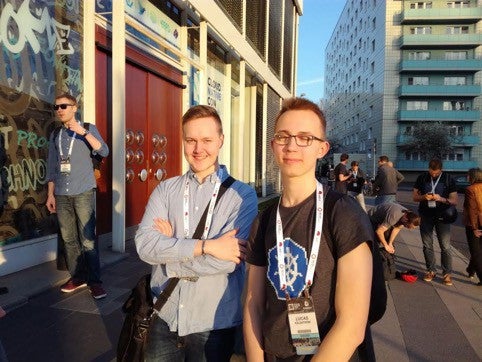 As a second-year student at University of Vaasa in Finland studying information technology, I plan to get my bachelor's degree next year and continue my studies to receive a master's degree in software engineering. In Finland, it is actually uncommon not to pursue a master's if you study at a university.
My friend and Kubernetes maintainer Lucas Käldström introduced me to Kubernetes last year and since then we have been hacking with Kubernetes. He has taught me a lot. It's also been amazing to follow his work, as he has achieved so much in such a short time.
Lucas attended CloudNativeCon + KubeCon North America 2016 on a diversity scholarship last year and was selected as a keynote speaker for CloudNativeCon + KubeCon Europe 2017. He encouraged me to apply for the diversity scholarship from the Linux Foundation to attend the show with him and I was lucky enough to be accepted.
I still can't believe it, will I ever? It's been such an honor to attend the event, I've learned so much from such nice, smart and passionate people.
There were a lot of great companies at the event. It was amazing to see how companies use Kubernetes to make new platforms and software to meet internal and user needs. The most amazing thing about the people at the conference was not how smart they were or what they have accomplished, but how passionate they are about what they are doing. It's such an inspiration.
I had the chance to talk with one my biggest inspirations: Mr. Kelsey Hightower himself. I've followed his work for a long time now, watched all his talks on YouTube, all the podcasts he has been featured in and I finally got to meet him! Of course I had to take a selfie!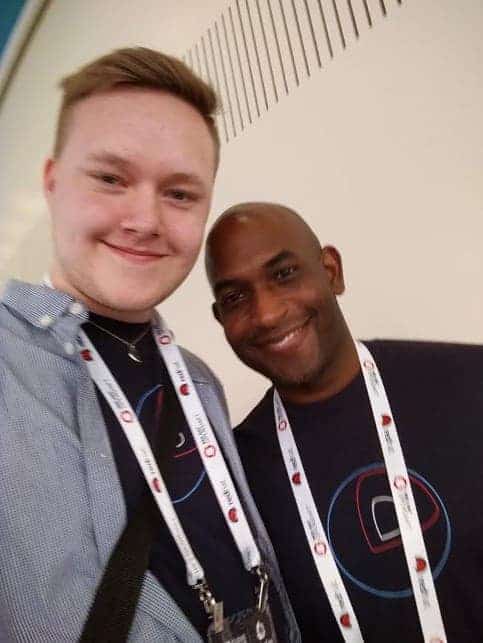 A bit blurry selfie with Kelsey Hightower, but still got one!
Other great highlights from the event include Lucas's talk about multi-platform Kubernetes, and Joe Beda's talk on growing the Kubernetes user base. In general, what I enjoyed the most was talking with all the amazing people.
Although I haven't had a lot of time to experiment and hack with all these amazing cloud native technologies as I am very busy with school, I've still learned so much from all the amazing speeches, companies and attendees. You do not have to be a genius to realize how these people are changing the world. My goal is to start contributing to Kubernetes. Right now, I'm most interested in the cluster lifecycle SIG. My long-term goal is to convince companies in Finland to start using Kubernetes because it is not that widespread here yet.
Thank you Linux Foundation and CNCF for the scholarship, the opportunity and experience…thank you for everything!