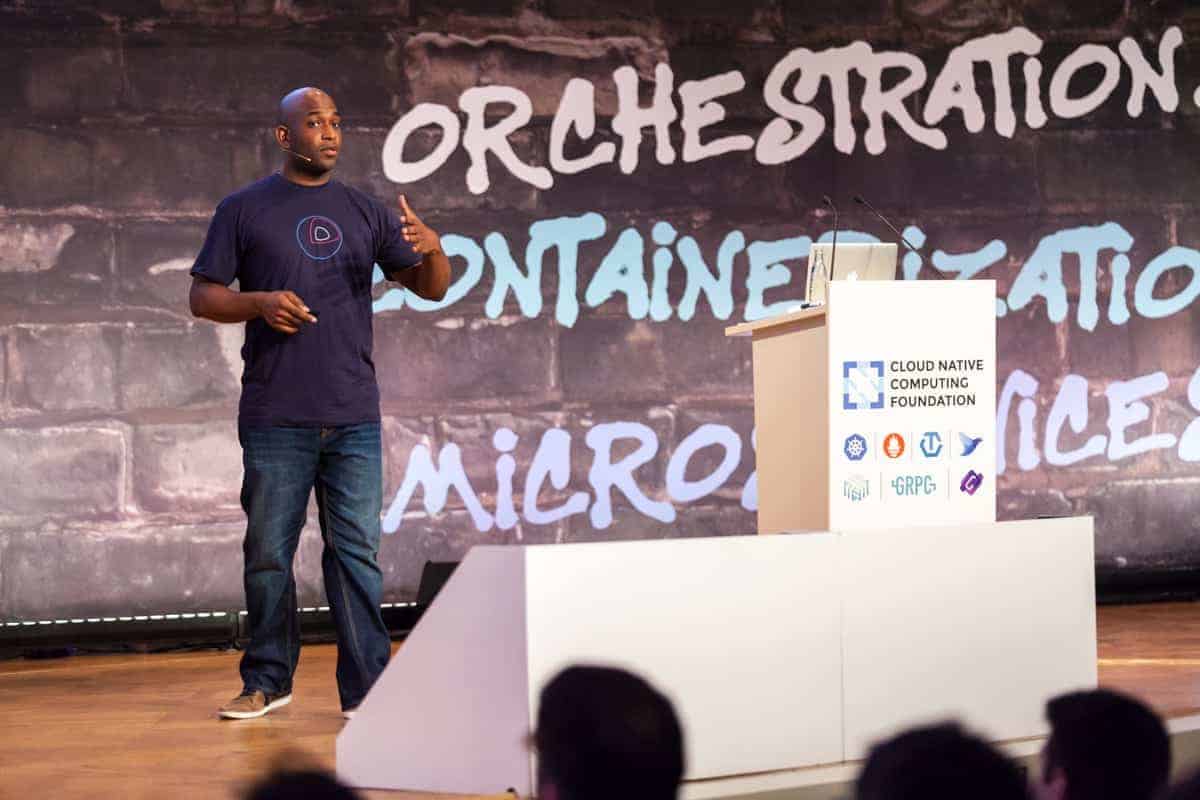 Throughout the next few weeks, CNCF is sponsoring, speaking and exhibiting at a number of exciting community events, including: Amazonia, OpenStack Summit Boston, OSCON, DevNet Create, Open Source Summit Japan, CoreOS Fest and LinuxCon + ContainerCon + CloudOpen China.
These open source conferences help foster collaborative conversation and feature expert insight around containerized applications, microservices, the modern infrastructure stack, uniting women in tech, Kubernetes and much more.
We hope to see you at our booths, meetups and talks during the following events!
Amazonia
May 6, 2017
London
As London is home to many Women Who Code meetups and workshop events, Amazonia is a hyperlocal gathering open to all female-identified (cis and trans) and non-binary people – showcasing technical might, promoting diversity in tech and fostering cross-community relationships.
CNCF is a proud sponsor of Amazonia!
May 8-11, 2017
Boston
On May 9, from 8 AM – 5 PM, CNCF will host a Kubernetes Day as part of OpenStack's Open Source Days. As one of the highest velocity projects in the history of open source, please join us for a deep-dive into the system and to learn about how Kubernetes is changing computing.
CNCF will also be exhibiting on the show floor all week. Our booth, staffed with the Foundation team and member company technologists, will be located at C20 – don't forget to stop by!
Don't miss "Migrating Legacy Monoliths to Cloud Native Microservices Architectures on Kubernetes" – a session from Dan Kohn, executive director of the Cloud Native Computing Foundation, at 4:10 PM, Thursday, May 11 in MR 210.
May 8-1, 2017
Austin
CNCF will be exhibiting at Austin Convention Center (Hall 4) Booth 609 all week. Don't miss the following presentations and speaking engagements from CNCF community members and ambassadors:
May 23-24, 2017
San Francisco
On May 23, CNCF ambassador Val Bercovici; Mackenzie Burnett, product at CoreOS; Mark Thiele, chief strategy officer at Apcera; and Stephen Day, senior software engineer at Docker, will participate in a panel titled "Becoming Cloud Native: Taking it One Container at a Time."
On the same day, Dan Kohn will also present "Migrating Legacy Monoliths to Cloud Native Microservices Architectures on Kubernetes."
May 31-June 2
Tokyo
CNCF is a proud Gold Sponsor of the Summit and will host a Fluentd Mini Summit on May 31 during the event, which will introduce attendees to the CNCF technology project, cloud native logging and more. To view the schedule, learn about the sessions and register to attend the Fluentd Mini Summit, please visit http://bit.ly/2q5Lqwi.
On day one, attendees will hear Dan Kohn present "Migrating Legacy Monoliths to Cloud Native Microservices Architectures on Kubernetes" at 11 AM in Room 1.
Also on May 31, do not miss a panel discussion on "The Future is Cloud Native: How Projects Like Kubernetes, Fluentd, OpenTracing, and Linkerd Will Help Shape Modern Infrastructure" moderated by Chris Aniszczyk, COO of CNCF and featuring speakers Keiko Harada, Program Manager at Microsoft; Ian Lewis, Developer Advocate at Google; and Eduardo Silva, Open Source Engineer at Treasure Data.
May 31-June 1
San Francisco
CNCF is proud to be a Star Sponsor and can't wait to gather with systems architects, DevOps engineers, sysadmins, application developers, security engineers and more at Pier 27 later this month!
LinuxCon + ContainerCon + CloudOpen China
June 19-20, 2017
Beijing
On June 20, catch Dan Kohn presenting "Migrating Legacy Monoliths to Cloud Native Microservices Architectures on Kubernetes" and Chris Aniszczyk presenting "How the Open Container Initiative (OCI) is Setting Standards for Container Format and Runtime."