Author: Leah Petersen, Systems Engineer Samsung CNCT
Contributed blog from CNCF Platinum member Samsung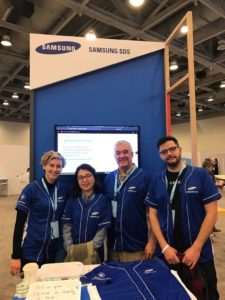 "Tell me your opinion about diversity in tech."
…not something you expect to be asked at a technology conference booth. This year at the Samsung Cloud Native Computing Team sponsor booth we decided to ask Google Cloud Next attendees their opinion about a problem in our industry – the lack of diversity. We could immediately see a trend – some people nervously shied away from us, laughing it off, and others marched straight up to us and began speaking passionately about the subject.
We chose this unique approach to interacting with conference goers for a few reasons. As big supporters of diversity in tech, we wanted to gather ideas. We asked if their companies were proactively taking any measures to increase the diversity at their company or retain diverse individuals. We also wanted to get people thinking about this issue, since the cloud native computing space is relatively young and we see a great benefit in assembling a diverse group of people to move it forward. Finally, as information-bombarded, weary attendees navigated through the booth space, we wanted to offer something beyond yet another sales pitch.
The three day long conference turned up a lot of interesting ideas and new perspectives. A favorite was how one person defined lack of diversity by describing a group of entirely "Western-educated males" making decisions for a company. After defining what a diverse workforce does or doesn't look like, lots of people talked about what their companies were doing to take action.
Many companies were involved in youth programs, coding camps, university outreach, and mentoring programs. Salesforce hired a Chief Equality Officer to put words into action. One CTO from a Singapore-based company told us how more women in Asian countries commonly chose a STEM education track and 65% of his engineering team is female. Another company removed names and university names from resumes to address implicit biases in the interviewers. Most of the women we talked to simply thanked us for bringing up this issue and described how isolating it can be being the lone female on a team.
Another common, less positive story was how their company had tried a diversity program but gave up. This scenario underscores the unavoidable truth: bringing diversity into tech isn't easy. Encouraging children to choose STEM careers is a long game that will bring change, but bringing diversity into the workplace right now is another story.
There's a diverse, willing, and intelligent pool of workers, but they need training. People of different backgrounds, who weren't able to get the classic Western STEM education need opportunities to transition into tech. As one man pointed out, adult training programs are the answer, but companies need to do more than just offer training. Finding the time and energy to break out of the demanding lifestyle of a single parent or low-income adult is near impossible.
Apprenticeships with financial support are the answer to getting a mature, diverse workforce.
The week's undeniable message from everyone was: we NEED diversity and more specifically we need diversity in leadership positions. We need more points of view and we need a better representation of our society in the tech industry.
Diverse teams are more adaptable overall and build better products that serve more people.