Top computing, container and microservices technologists and open source project leaders to gather to further the education and advancement of cloud native computing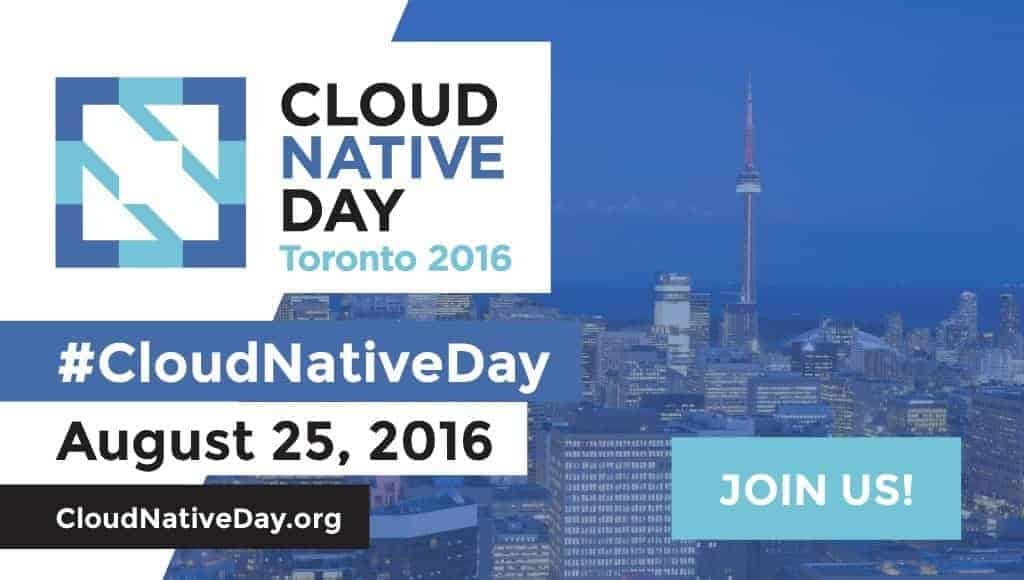 SAN FRANCISCO – June 30, 2016 – The Cloud Native Computing Foundation, a Linux Foundation project and organization dedicated to advancing the development of cloud native technology and services, today announced the full program and speakers for CloudNativeDay, which takes place on August 25 in Toronto.
CloudNativeDay will bring together leading contributors in cloud native computing, containers, microservices, central orchestration processing, and related projects to further cloud native education. By co-locating with ContainerCon, CloudNativeDay will provide a platform for showcasing a full range of technologies that support the cloud native ecosystem and leading expert discussion on cloud native projects.
Attendees will have the opportunity to meet with upstream developers and operations experts, ranging from hobbyists to startup CTOs, from corporate developers to language designers to senior technology executives from all over the world. The latest features in container technology, Kubernetes, Prometheus and other cloud native architectures will be discussed.
"Cloud native requires a broad set of components to work together and an architecture that departs from traditional enterprise application design," said Dan Kohn, executive director, CNCF. "Opportunities for in-person collaboration are an important part of bringing the benefits of cloud native computing to any size company in any industry. Best practices from companies and developers at the vanguard of cloud native computing will be shared, making CloudNativeDay an excellent forum for driving alignment among technologies and platforms."
A roundtable discussion with the Technical Oversight committee, Board of Governors, featuring will feature Alexis Richardson (CNCF TOC Chair), Craig Mcluckie (CNCF Governing Board Chair) and Diane Mueller (Director Community Development, Red Hat). Open to any TOC members attending the event, it will cover how CNCF adds value to projects; what is the role of BOG vs. TOC; what makes a good CNCF project; and pipeline of new projects.
Additionally, the schedule includes a mix of case studies, panels and lightning talks, featuring the following presenters:
"Cloud Native in the Enterprise: Real-world Data on Container and Microservice Adoption," Donnie Berkholz, research director, 451 Research

"Whither Security in a Cloud-Native World?" panel, Christopher Liljenstolpe, founder and chief technology officer, Tigera

"The Architecture of Cloud Native: Open Source Projects Powering a Pluggable Infrastructure," Brandon Philips, chief technology officer, CoreOS

"The Journey to Cloud Native – A Case Study with mantl.io," Ken Owens, chief technology officer of the cloud native platform, Cisco

"What's Hot in Containers and OpenStack," Duane De Capite, director of product management & strategy, Cisco

"Cloud Native, Event Driven, Serverless, Microservices Framework – OpenWhisk," Animesh Singh, STSM and lead cloud architect, IBM

"Containerizing PostgreSQL and making it Cloud Native Ready," Jeff McCormick, cloud developer, Crunchy Data Solutions
The full schedule of sessions can be viewed here.
CloudNativeDay is made possible by support from Diamond Sponsor IBM and Red Hat; Platinum Sponsor Cisco; and Gold Sponsor Navops. For more information on sponsorship, please visit http://bit.ly/290XW3h.
For attendees who register before July 24, the event pass fee is $250 for individuals and $400 for corporations. Visit http://bit.ly/267LXJR to register today. Separate registration fees are required for CloudNativeDay and ContainerCon. To attend both events, register for ContainerCon and add the CloudNativeDay agenda item to the registration prior to check out.
CNCF Diversity Scholarship
Equal access and diversity are important to the Cloud Native Computing Foundation, which is why we are offering three scholarships to attend CloudNativeDay. Visit http://bit.ly/2958nFA to learn more about the scholarship and apply.
About Cloud Native Computing Foundation
The Cloud Native Computing Foundation (CNCF) is a nonprofit organization committed to advancing the development of cloud native technology and services by creating a new set of common container technologies informed by technical merit and end user value, and inspired by Internet-scale computing. As a shared industry effort, CNCF members represent container and cloud technologies, online services, IT services and end user organizations focused on promoting and advancing the state of cloud native computing for the enterprise. For more information about CNCF, please visit: https://www.cncf.io/.
###
Media Contact
Natasha Woods
The Linux Foundation